The traditional auto parts quoting process at the dealership can lead to a poor buying experience that can drive customers away from your business directly to your competitors.
Often, it can cost you time, resources, and money. Turning parts quotes into final sales is an essential process, and when done correctly can help improve your sales numbers. 
But if the traditional quoting process isn't working for the average dealership, what can you do to fix it?
How Your Current Quoting Process Impacts Customer Experience
The traditional quoting process is often slow, inefficient, and lacks transparency. This can lead to several issues that result in a poor customer experience.
Slow Response Times
Waiting for a quote can be frustrating and the longer it takes to receive a quote, the more likely the customer is to look elsewhere.
The typical parts department relies on long parts forms and endless phone calls to complete the quoting process.
This results in missed calls, voicemails, and frustrated customers. It also leads to lost sales and low retention.
Inaccurate Information
In a manual quoting process, there's a higher chance of errors in part details or pricing. It's easy to make order errors over the phone.
Customers may give the wrong VIN number, or parts staff might mishear the type of part wanted from the customer.
When information has to go from one person to another, and then transferred again, mistakes happen.
A high volume of mistakes can lead to lost sales and customer dissatisfaction.
Lack of Communication
Customers may feel left in the dark, unsure of when or if they'll receive a quote.
When there's a long time between the inquiry and the final quote, customers will automatically go to a competitor for the same part.
This lack of communication can lead to distrust and negatively impact customer relationships.
Four Tools to Implement Into Your New Quoting Process
So you've decided to get rid of your outdated parts quoting system. Where do you go from here? You need to implement a more streamlined, automated process to help you maintain quality customer service.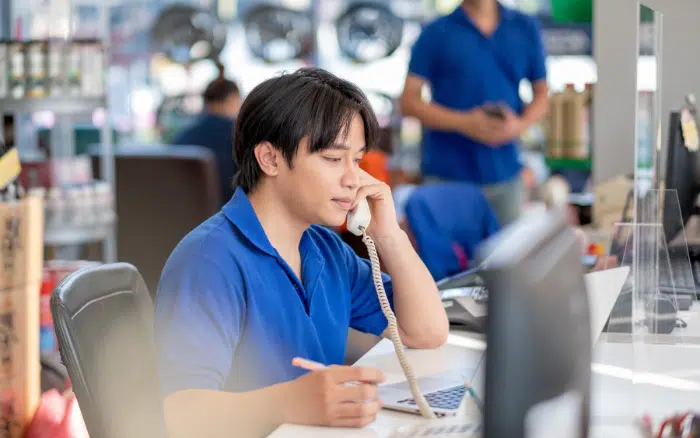 To create a better buying experience for your customers, consider using the following tools.
▶ CRM (Customer Relationship Management) System
A CRM software system helps you manage customer information, track interactions, and streamline the buying process.
It can also enable sales staff to access customer and product data quickly, resulting in faster and more accurate quotes.
CRM tools are an essential component of your customer experience strategy.
▶ eCommerce Platform
The right eCommerce platform can provide your dealership with a website plugin that allows customers to search for parts, view pricing, and place orders right on your dealership's website.
This can save time for both the customer and the dealership while reducing the likelihood of errors.
They can also check to see if parts are in stock, back ordered, or out of stock.
This will help them get a better idea of how long it will take to get access to those parts. 
▶ Automated Quote Generation
Integrate software that can automatically generate quotes based on predefined rules, like discounts for bulk orders or price adjustments for specific customers.
This can speed up the quoting process and minimize human errors.
The RevolutionParts Quoting Tools is the perfect example of how technology can be used to help automate quotes for customers, whether the request comes over the phone or by email.
Check out the video below to learn more about how the RP Quoting Tool works.
▶ Customer Communication Tools
Utilize tools like email, text messaging, or chatbots to keep customers informed about the status of their quotes.
Transparent communication can help build trust and improve customer satisfaction.
It's also a great way to help train your parts team on their customer communication skills.
Utilize all of these tools to help you streamline your quoting process and maximize your overall efficiency.
Set Up a New Standard Operating Procedure 
You know what tools and systems you need to implement to ramp up your new quoting process.
You're ready to get the ball rolling, but you need a plan of actionable steps to take to make sure you don't overcomplicate the process before you start to use it.
Consider following these five steps to establish a new, more efficient SOP for your auto parts department.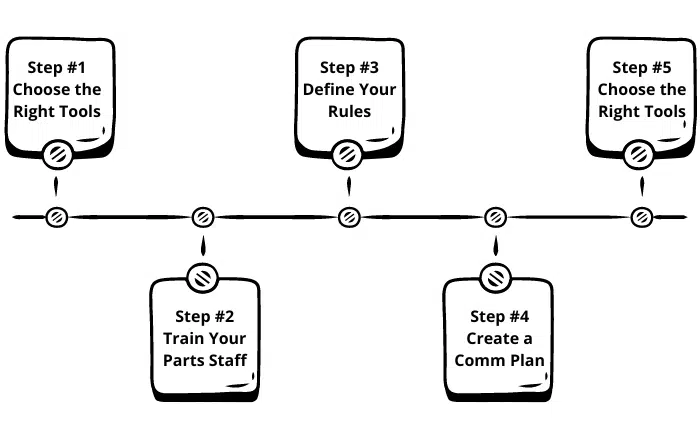 Step 1: Choose The Right Tools
Evaluate and invest in a CRM system, an eCommerce platform, automated quote generation software, and communication tools that best suit your dealership's needs.
Ensure they can be integrated with your existing systems to streamline the process.
Step 2: Train Your Staff
Train your parts department staff to use the new systems and tools effectively.
Ensure they understand the importance of accurate data entry, timely communication, and providing prompt quotes to improve customer satisfaction.
Have regular training follow-up sessions to help them get used to new tools and processes and reinforce this knowledge. 
Step 3: Define Your Rules
Establish standardized pricing and discount structures to be applied consistently across all quotes.
Incorporate these rules into your automated quote generation software to ensure accurate and consistent quotes.
Step 4: Create a Communication Plan
Develop a clear communication plan for keeping customers informed throughout the process.
This should include:
Confirmation message acknowledging receipt of the quote request.

Regular updates on the quote's progress.

Notification when the quote is ready.

Follow-up messages to ensure customer satisfaction.
Step 5: Implement the New SOP
Roll out the new quoting SOP, ensuring all staff are aware of the changes and understand their roles within the parts department.
Help them train new hires to maintain these processes and keep the customer experience consistent.
Improve the Customer Experience to Double Your Sales Growth
Improving the customer experience is essential to growing your parts sales and securing future business for your dealership.
Streamlining your quoting process is just one piece of the puzzle.
It's important to look at all customer journey aspects and identify your weak points. This will help you meet customer expectations in the future. 
Looking for more ways to improve the customer experience at the parts department?
Check out one of our most popular guides here to learn three top strategies that can help you do that.