Every year, the number of customers who want to shop online increases. After all, it's easy, convenient, and often less expensive than in-store purchases. Dealership shoppers are no exception! Are you considering an online sales channel for auto parts and accessories?
If you're not, you're leaving money on the table!
Selling auto parts online is the trend of the future and a market opportunity that's expanding at a ridiculous rate.
Experts say that the future of automotive eCommerce is bright, and thousands of customers are now buying auto parts digitally. With such an insane potential to increase your dealership's profits, maybe you've considered expanding to reach the online community.
Exciting Statistics about Selling Auto Parts Online: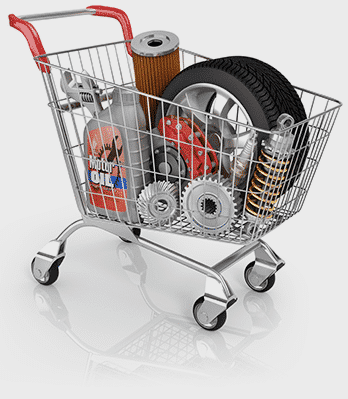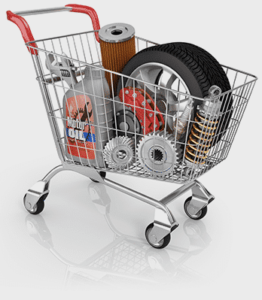 Which eCommerce platform is the best to help you sell auto parts online?
There are a TON of eCommerce solution providers available. You could sift through eCommerce providers ALL DAY trying to find the right one.
And guess what? They probably all claim to be the best.
Spork Marketing put together a complete list of auto parts eCommerce options, along with tips for choosing a platform. Check it out!
The catch – How many are specialized for selling auto parts?
Selling auto parts online really can't compare to selling clothes, books, or jewelry. The online automotive industry has very specific needs, so it makes sense that you need a specific automotive-focused eCommerce solution, too.
Generic platforms just won't cut it. They can't offer you a reliable OEM catalog, for one, and that's an absolute must when it comes to running a parts website.
Each year, the parts eCommerce market grows bigger, and you need to dominate the market while it's still young. To help you figure out which system is best for you and your dealership's success, we've come up with this practical guide on how to find the right eCommerce solution to sell auto parts online.
READ MORE: Top 8 FAQs Dealerships Ask Us about Parts eCommerce
1. What are your goals for selling parts online?
Once you've decided that selling auto parts online is a good fit for your dealership, spend a moment to set some goals. This will help you choose a solution that can support your plans.
Exactly how fast do you want your parts business to grow?
Would you be happy with a few extra part sales a month or do you need to grow sales aggressively?
Do you want to sell across multiple platforms?
Local vs National vs Both
How you run and operate your online parts business changes depending on whether you want to sell parts on a local or national level.
The national level may have a higher payout, but it's also more competitive. This can also mean more time and effort to invest in staying at the top (but also a larger opportunity to make it big!).
You also have the option to sell parts locally, with the help of an online storefront. If you're still unsure about all this online business, you might better off targeting customers in your local area who already visit your website, and then expand nationally once you get the hang of it.
Finally, other selling channels like eBay and Amazon have some great benefits, too. No matter what you decide to do, find an eCommerce solution that can tailor their service to what you want. They should be able to meet your current goals, but scale to meet your future goals, too.
Questions to consider:
Do you want to sell on a national level, a local level, or both?
Do you want to grow rapidly and aggressively, or just get started?
Do you want to sell on your own domain, or on a separate site?
Do you want to sell on multiple channels like eBay or Amazon?

2. Is the parts website reliable?
If your website is down, you can't sell parts. Simple as that.
Website downtime will cut into your profits AND  make your company seem unreliable and unprofessional. You need to have an auto parts website that customers can trust.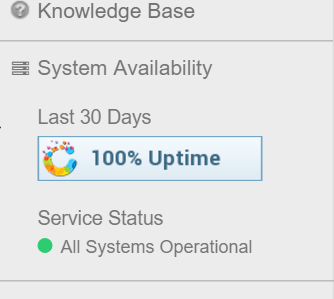 The best parts eCommerce platforms will be completely transparent about your site uptime. In the rare case that something goes wrong, they should let you know when it happened, how long your site was down, and what caused the outage.
It's essential that the parts eCommerce solution you choose has a history of reliable service and a reputation for quick fixes on the rare occasion that your website does run into problems.
Questions to consider:
If your website goes down, what is your plan of action? Who can you contact?
Does the eCommerce platform have reliable uptime?
Does the eCommerce platform respond quickly and efficiently?
Is the eCommerce platform open and honest with you about when and why downtime occurred?
3. How helpful and responsive is the support team?
If you run into problems while setting up or running your online storefront, you'll need someone to go for personalized and effective support—whether it's tech support, advice, or just a quick question.
An eCommerce solution with a strong support team can move things along quickly and efficiently compared to one that takes weeks to respond to a simple question.
Every vendor will claim they have first-rate support, but not all will deliver on the promise.
When you're looking at a platform, call other dealerships currently using the service and ask them what the support is really like. Or try calling the support line yourself just to see if they pick up!
Questions to consider:
What kind of support does the provider offer?
Is support included, or does it cost extra?
How responsive is the support team? How helpful? How effective?
How can you reach them? Phone, email, chat?
4. What is the customer experience like to buy parts?
If the customer has a poor experience on your website, they probably won't come back.
While browsing your options, ask the potential eCommerce solution platform for a demo. You can also look at other dealer pages powered by that solution to see their work first hand.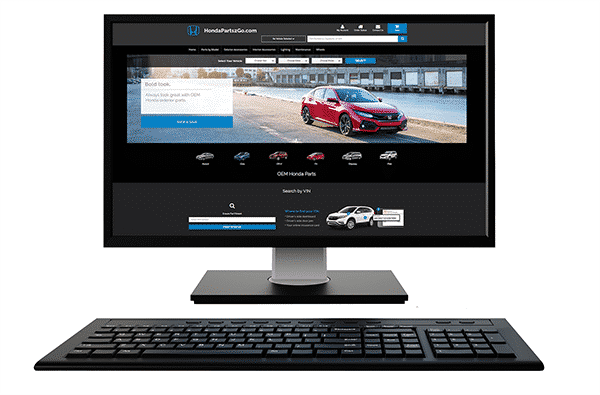 CLICK HERE to see some live websites powered by RevolutionParts!
Customer Experience is Key
Customer experience is incredibly important and often the bottom line when it comes to building up your business and selling more parts online. Keep a happy customer in mind while choosing your eCommerce solution.
Put yourself in the customer's shoes as you click through a sample website and "make a purchase." Remember that the more steps it takes for a customer to find and purchase the part, the more likely they'll give up on the sale.
Is the website frustratingly slow? Is it clear and easy to confirm that you've found the part you need?
Think Mobile-Friendly
In recent months, parts stores have seen a HUGE increase in mobile activity. Make sure the parts eCommerce provider can provide a great experience to all your buyers, whether they're on a smart phone, desktop, or tablet. As an added bonus, responsive designs can also boost your online visibility!
Not to mention Google's upcoming mobile-first indexing. With a higher priority in high-quality mobile websites, your parts business could fall behind if you work with the wrong parts eCommerce solution. (RevolutionParts customers don't have to worry! We build responsive websites that look great on all devices.)
RELATED: 10 Things the Best Mobile-Friendly Parts Websites Have in Common
You can check if your website is mobile friendly using Google's Mobile-friendly test.
Questions to consider:
Is the site easy to navigate?
Is it easy for a customer to find and verify the right part? Are there images or diagrams?
How many steps does it take to purchase an item? Is it easy to add to cart and checkout?
Is the site mobile-friendly or responsive?

5. Can you make the parts website YOURS?
Since the design and layout of the web page is the first thing a customer will notice, it's important to take this part into consideration. Customers should associate the site's appearance with your brand and the type of service you can provide them.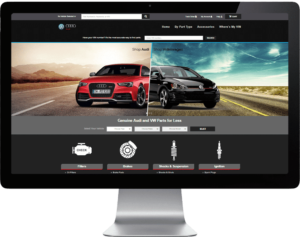 So you need to make a good impression.
A clean, modern, user-friendly, and professional design will make your website the preferred choice over others. Familiarize yourself with what the best auto part website designs have in common.
At the same time, a lot of solution providers use the same template over and over for all the parts sites they power, without even bothering to change the colors or personalize it for you. You don't want your website to look like a carbon copy of someone else's, because that's just awkward.
The freedom to make adjustments by yourself can be a powerful thing, too. Some eCommerce providers make you manually request each change, and then you have to wait days or weeks for the adjustment to go through. It's much faster and easier if you can simply make the tweaks yourself.
Questions to consider:
What level of branding and customization do you need?
How much control do you have over customization?
Are the provided designs professional? Do they look nice and clean?
Do the offered themes fit your company's image?
Do personalized designs cost extra?
Do you have to manually request each change, or can you do some changes on your own?
6. Can you set custom prices for the auto parts you sell?
Some items need to be marked up more or less than others—that's just common sense. When you sell auto parts online, there you have a few options for setting prices on your online store. You can base it on an added percentage over the cost, or price it a little bit under list.
Unfortunately, most eCommerce platforms force you to pick one pricing system over the other. A lack of pricing customization can cost you sales, since some pricing methods make more sense than others for certain categories of parts or accessories. If your eCommerce platform forces you to price every part using the same method, it can result in some serious losses.
Creating a pricing table (also called a pricing matrix) is an extremely powerful way to make sure your prices are balanced. Otherwise, expensive parts skyrocket out of control, and cheaper parts sell too low to be profitable.
Here's what a pricing matrix might look like: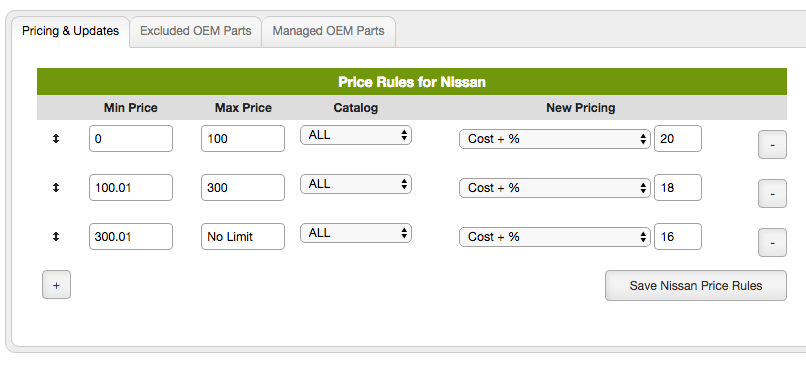 Questions to consider:
Do you know the best way to price each auto part?
Can you create custom pricing matrices?
Can you set your prices based on cost, list, or a combination of the two?
Can you create unique pricing tables for parts versus accessories?
7. What tools are built into the software to help you sell auto parts online?
If the eCommerce provider you're looking at only provides the basics and nothing else, you'll be hard pressed to sell car parts online.
Even though the market is still fairly new and not many parts departments are online yet, it can still be a competitive world. Having a few nifty tools and techniques in your back pocket can be incredibly helpful when it comes to beating out the competition.
This can mean built-in marketing tools, like XML sitemaps or drift marketing campaigns, or time-saving tools like email templates and label printers.
Sure, these are the "bells and whistles" of selling parts online, but they can give your parts website the edge it needs to stand out.
Questions to consider:
Are there any built-in marketing tools (abandoned cart emails, Google product feeds, landing pages, custom promo codes/discounts, customer testimonials)?
Are there any built-in tools for improving your SEO (custom pages, XML sitemaps)?
Are there any built-in tools to save you time (label printer, automated email notifications, email templates)?
Are the tools easy to learn, set up, and understand?
Do they offer any marketing services? If so, what is the cost?
8. Does the software integrate with tools you already use?
If you're currently using some online tools to reach your customers, picking an eCommerce solution that integrates well with what you already have is definitely a bonus. Some service providers may charge more if you want to integrate those tools, so watch out for added costs.
There are tools out there that can make selling auto parts online a million times faster, easier, and more successful. This can include shipping management software (like ShipStation or ShipWorks) which can automate most of the shipping process like order fulfillment and customer notifications.
You might also want to use a free emailing service like MailChimp in order to send out promotional emails to your customers and to help you drive sales and sell more auto parts online.
DMS integration can save your team a LOT of time. If you're interesting in selling on eBay, for example, DMS integration can automatically update your listings based on your inventory, instead of uploading fresh .cvs files each day.
Questions to consider:
Which integration tools do you currently use (email, DMS, Google product feeds)?
Which integration tools does the service provider offer?
Do you have to pay extra for other integration tools?
9. How secure and reliable is the platform and payment gateways?
Customers need to trust you with their credit card information before they make a purchase. Before signing on with an eCommerce service provider, look into how secure their system is and if they have a history of security breaches.
A key feature to look for in an eCommerce platform is a tokenized payment system, which removes the actual credit card number and replaces it with a token (a randomly generated number).
eCommerce platforms that use tokenized payment systems never actually store credit card numbers, so the fraudsters have no credit card numbers to steal.
You should also make sure the eCommerce solution integrates well with major payment gateways such as PayPal, Authorize.net, or CenPos.
Questions to consider:
Does the eCommerce platform have a history of secure systems?
Is customer credit card information stored in the system?
Is the stored information kept in a safe and secure way?
Does the eCommerce platform support popular payment gateways?
Is the eCommerce solution PCI compliant?
10. Does the platform offer any fraud protection services?
How does the platform protect you from fraud? Fraudulent orders can incur huge losses for your parts web store, so the best eCommerce solutions will do whatever they can to help you stay safe. Some of them, however, leave you to fend for yourself. If that's the case, make sure you know the basics about how to recognize fraud when it happens.
While you should still be aware of fraud prevention practices you can follow, ask if the eCommerce solution can do anything to help you spot fraud before it happens.
A tool like the built-in RevolutionParts fraud detector can help you identify fraud before you become a victim. It breaks down exactly what's suspicious about the order, so you can make an educated choice about whether to cancel or fulfill the order.
Plus, when a RevolutionParts dealer reports known fraud, then that buyer will be flagged on every single website on the RevolutionParts network.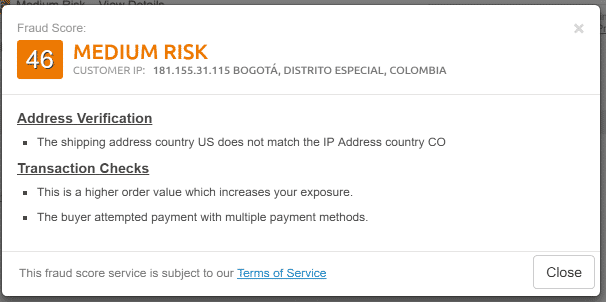 Questions to consider:
11. How does the platform calculate shipping cost for sold parts?
Shipping is a major factor for any online retailer—and auto parts has it the worst. With so many heavy, oversized, odd-shaped, and hazardous parts to ship around, calculating shipping prices can be an absolute nightmare without the help of a parts eCommerce solution that cares.
Many eCommerce systems use a simple formula based on the price of the part to estimate shipping costs, which can be problematic if you have a large, heavy auto part that sells for a low price.
If the calculation is too low, you'll overpay for shipping, end up eating the cost, and take a major hit to your profits. At the same time, an overpriced calculation will scare away customers and lose you sales for good.
An efficient shipping system will also help you ship more auto parts without hiring more staff. If possible, you should be able to fulfill an order, get a tracking number, print a label, and email the customer all from the same spot.
Questions to consider:
Will you be able to accurately estimate shipping costs based on the size and weight of each part for sale?
Are shipping costs calculated automatically? How?
Can you easily print shipping labels from the platform?

12. What is the cost of the solution?
Some eCommerce platforms are more or less expensive than others, depending on the quality, effectiveness, and features offered. Before rushing ahead with your plans, make sure you're getting a deal that matches what YOU need to profitably sell auto parts online.
You Get What You Pay For
Evaluate your budget and don't just jump for the cheapest option. Sometimes it's best to pay a little more for a reliable platform since a more effective website will sell more car parts and drive more revenue.
At the same time, do the math and make sure you're not overpaying. Some eCommerce solutions charge 10% of sales, which can get incredibly pricey for high-performing websites.
Be careful about parts eCommerce platforms that have unreasonably high claims and can't back them up with hard facts (hint: see if they can provide you with any case studies!).
Also, be wary of platforms that try to insist you need the most expensive package available. A good parts eCommerce solution will take time to listen to your needs and offer the best solution to help you succeed.
Questions to consider:
Do you know exactly what you're paying for?
What is the price per month?
Are there any hidden fees (set-up fees, processing fees, integration fees, and additional theme or app fees)?
Is it easy to start small and then scale your parts business as you grow more confident?
Case Study: Page Auto Switches from SimplePart to RevolutionParts
13. Do you understand your contract?
Once you've chosen an eCommerce platform, you'll likely be working with them for many years to come. If you've decided to work with an eCommerce platform with a contract, make sure you're comfortable with the length and terms of that contract.
You don't want to be stuck with a money-sucking eCommerce platform that isn't offering very much in return.
Don't rush into anything, and make sure you understand any and all terms of the contract. Some vendors offer risk-free month-to-month plans instead of fixed-term contracts so that you aren't locked in.
Questions to consider:
Is there a contract? If so, how long is it?
Can you choose between month-to-month or fixed-term plans?
Are the benefits to a fixed-term plan, like reduced cost?
What is the cost of ending a contract early?
Do they make you pay for the entire contracted year upfront?
Great! What else can help you sell auto parts online?
From there, you can research eCommerce platforms that have cool extra features (like built-in marketing tools, bulk product uploading, custom products, and more), but these 13 make up the framework of a solid, reliable eCommerce solution.
The next step is to ask for a product demo. This is the best way to analyze their product and decide how many of these 13 points that platform meets, succeeds, or fails at.
We covered a lot of information here, but don't worry.
Download this free eCommerce evaluation checklist so you can grade the eCommerce solution's platform during the demo. It covers all the same questions and topics so you don't have to worry about forgetting something important.
In the end, doing your research will pay off.
Conclusion
Setting up with an eCommerce solution takes a certain level of commitment and you don't want to have regrets right after you start. Once you've decided on your software, it doesn't take long to get your site up and running so you can start selling parts.
When you work with a reliable eCommerce solution that fits your needs, it's not difficult to maximize your revenue. At the same time, picking the wrong platform could leave you with a costly and unsuccessful failure.
Sell auto parts online the right way with a company that has your back every step of the way.