The best parts eCommerce platforms are more than just the bare minimum necessary to sell parts online. In order to aggressively grow your parts business and maximize online profit, you need to partner with a solution that can offer robust back end tools. Tools that make selling parts online easy, efficient, and profitable.
There are a TON of RevolutionParts features built directly into the platform—and a lot of our dealers don't even know about them. Are you taking full advantage of some of our most useful tools?
1. Phone orders / Create a Quote.
Not all parts orders need to come from online. If a customer calls in to buy auto parts, you can create the order for them through the back end of your parts website.
From there, you can email an invoice (or a quote, if they're not ready to buy yet), process their order, and ship like usual.
It makes ordering a lot more convenient for customers who want to phone in. If they need help with their order, it's reassuring to talk to a parts expert (like you!) over the phone to make sure they're buying the right part for their vehicle.
As an added bonus, a lot of parts managers have told us that phone calls allow them to build relationships with their customers. It improves customer experience, builds loyal customers, and increases the number repeat buyers.
2. Abandoned cart saver emails.
Just because a customer left your site without making a purchase doesn't mean the sale is lost. Sometimes sending a little reminder email will prompt them to return. It's called an abandoned cart recovery email.
(In the RevolutionParts platform, it's called "Drift Marketing"—but it's the same thing!)
According to SaleCycle, abandoned cart saver emails can save 2-5% of supposed "lost" sales. Some companies see an even higher percentage than that!
Did you know there's an abandoned cart saver feature built right into your RevolutionParts platform? Once you set it up, it will run on its own—it's an easy marketing tool to set and forget.
Of course, if you really want to improve the success rates of your cart recovery email, you can occasionally switch up how your email is written or formatted to see if some variations perform better than others.
Here are three great examples of cart recovery emails that will give you some ideas for getting started.
3. Dynamic SEO pages.
We want you to be as free as a bird when you use our platform, so that means you're able to make adjustments to the catalog and SEO settings whenever you want.
You can also set up "smart" category pages on your website, too. These are called Dynamic SEO pages, and they're a powerful way to improve site traffic and stand out from the competition.
Just write a short description of a part cateorgy, like "brakes" or "air filters," add a pictures, set which search terms will bring up the Dynamic SEO page, and you're ready to go.
Once set up, this is how the dynamic SEO page will appear to your customers:
For some guidelines on writing your own parts descriptions, read this article on How to Write a Killer Product Description for Brake Pads. Brake pads are one of the most popular parts purchased online, so you can start there, and then apply what you've learned to other types of parts.
Unique content on your site is a powerful way to improve Search Engine Optimization (SEO), which is Google's way of judging the quality of your parts website. By improving your SEO, you can appear higher in Google search results. And the higher you appear in search results, the more likely a customer will find your web store!
4. Dynamic catalog pages.
Similar to Dynamic SEO pages, you can also add custom content to the make, model, year, category, and sub-category pages of the catalog. It's the perfect spot to cross-link pages (that is, add links to your other pages inside the text of the dynamic catalog page), which can improve your SEO and focus traffic to specific pages.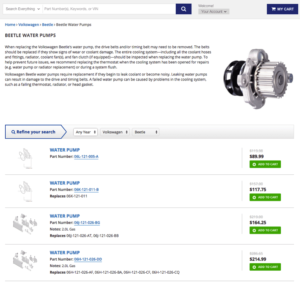 Google loves sites with unique and relevant content, so just like Dynamic SEO pages, these are a powerful way to improve your website's visibility. The higher you can appear in search results, the more your sales will grow.
This is what a Dynamic Catalog page looks like:
Of course, you don't have to create dynamic pages for ALL your parts categories, ALL your makes, ALL your models, and so on… that would take forever!
It's more efficient to focus on your most popular and best-selling parts, models, makes, etc.
Hire a Marketing Agency
The other option is to hire a marketing agency to write these descriptions for you. Agencies will also have a better idea of how to write an effective description with all the right keywords and links. Plus, it saves you a ton of time, allowing you to focus on what matters.
RevolutionParts customers are lucky—you can sign up for marketing services with us. We have a team of marketing experts that can run ad campaigns, set up email marketing, monitor your accounts, and more.
RevolutionParts Marketing Specialists have specific experience in marketing auto parts, so they can advise you and give you actionable feedback to improve your site overall.

5. Custom pricing rules.
Selling your entire inventory at the same percent margin is a MAJOR pricing mistake that a lot of parts sellers make. With RevolutionParts, it's easy to create a custom pricing rules to balance out your part pricing.
You can create custom pricing rules in a few different ways:
List minus percentage (list – %)
Cost plus percentage (cost + %)
List minus percentage with a floor of Cost plus percentage (list – % | cost + % minimum)
You can even set different pricing rules for your accessories versus the rest of your parts inventory. In the end, you have a nice pricing matrix like this: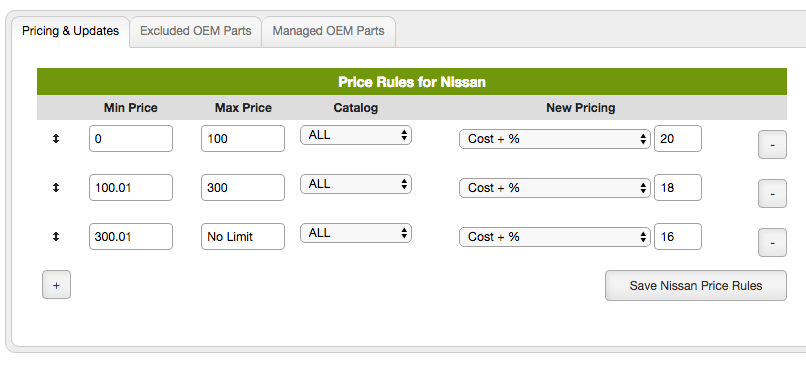 Click to read more about creating a pricing matrix.
6. Custom products.
If there's anything you want to sell online that's not included in the official OEM catalog, RevolutionParts lets you create custom products (and custom categories!) to appear in your store inventory.
Add special accessories or merchandise to your parts store! After creating the part with a custom description, price, weight, and so on, then it'll appear in your web store inventory just like the rest of the parts in the OEM catalog.
Creating custom products can get a little bit complicated (especially when you do so in bulk), but it's an incredibly powerful tool for adding high-demand accessories to your online inventory.
RevolutionParts customers can access the knowledge base or contact our support team for help setting this up.
7. Label printer.
Did you know that you can create and print shipping labels straight from the RevolutionParts back end?
There's no need to write addresses by hand or type or copy/paste customer information into another application—we can handle that for you. You even have the option to generate labels as PDFs or use an Eltron or Zebra thermal printer.
Once you set up shipping label printing, you can start generating the labels straight from the order screen. It's a great trick to streamline the shipping process and move things along quicker.
8. Testimonials.
Sometimes happy customers want to tell others about their great experience with you. With the RevolutionParts testimonials feature, you can use this as a chance to promote your parts store and encourage other shoppers to buy.
All you have to do is enable the testimonials feature, and then customers can start sharing their thoughts about your parts website. After that, testimonials will show up in your website footer. It's an easy trick to building customer trust, since shoppers can see that you provide good service.
Of course, you need to actually provide high-quality customer service in order to earn good testimonials. Make a commitment to pick up the phone and answer emails in a timely manner so your customers don't get frustrated by the lack of communication.
If negative reviews come in, don't let it get you too down. Bad reviews can be a learning experience for your dealership and help you improve your customer service overall.
Conclusion
We're always looking for ways to improve our platform, and we've quickly learned that the best way to do that is by listening to our customers.
Parts Managers and dealers are constantly telling us about the features they want to see next, and we listen. Many of the features we've implemented in recent months have been specifically requested by dealers.
If you currently have a Web Store or eBay Store with us, never hesitate to reach out and request a feature. Even if you're not currently partnered with us, you can still give us a call and let us know what we need to add to our platform to convince you that we're the best parts eCommerce platform on the market!