Black Friday Weekend is the biggest sales event of the season. Without proper planning, your parts department risks being overshadowed during the holiday sales frenzy. Ensure every detail is in place before unveiling your deals.
But what makes Black Friday stand out from other sales events? Let's delve deeper.
Anticipating the Challenges
Every sales event presents unique challenges. From the pressures of increased demand to marketing strategies to beat out the competition, it's crucial for your parts department to be ready for potential obstacles.
Armed with foresight and the right tactics, you can overcome the complexities of Black Friday, positioning your department on the path to success.
But before we dive deep into strategy, let's visually sum up the primary challenges you might face and their potential solutions.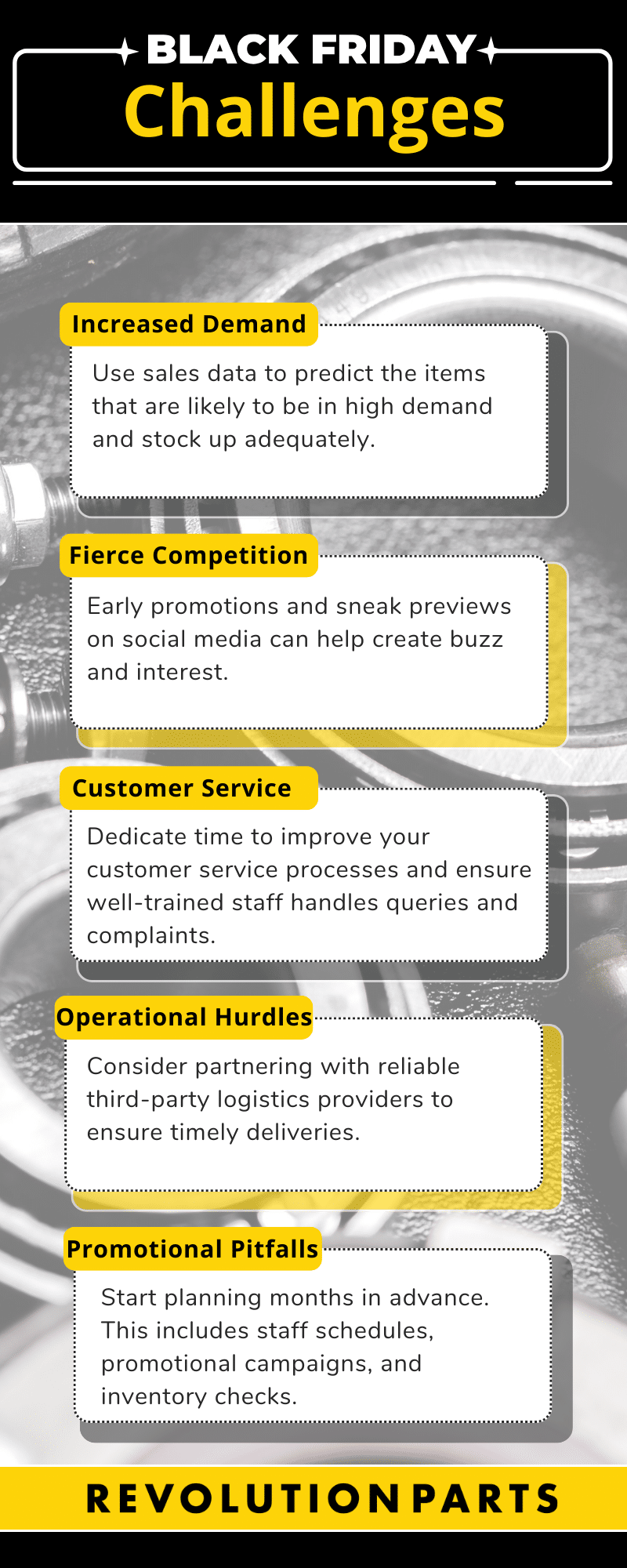 Now, to master this Black Friday season, we'll revolve our strategies around four key areas that are indispensable for your success.
The Four Pillars of a Triumphant Black Friday Weekend
To ensure your parts department shines this Black Friday Weekend, it's vital to anchor your strategy around four essential pillars: online sales, inventory management, customer service, and digital marketing. A lapse in any of these areas could jeopardize your department's success.
Understanding these challenges is just the beginning. Let's delve into the strategies that will ensure a triumphant Black Friday for your parts department. We'll begin with the core foundation of online sales.
#1. Embracing a Powerful eCommerce Platform
In today's digital age, eCommerce is transforming the retail landscape. For parts departments, leveraging this shift, especially during peak sales events, is imperative.
A strategic eCommerce approach, like the one offered by RevolutionParts, provides multiple advantages:
Wider Reach & Enhanced User Experience
Online stores open your doors to a global audience, transcending geographical limitations. Moreover, customers benefit from browsing, comparing, and purchasing items without leaving their homes, ensuring a seamless shopping experience.
Inventory Control & Dynamic Pricing
Advanced eCommerce platforms provide real-time inventory tracking, minimizing stockouts and excessive backorders. Additionally, they allow for real-time price adjustments based on variables like demand, competition, and inventory levels, ensuring you remain competitive.
Data-Driven Insights
Digital storefronts grant access to invaluable data about customer behaviors and preferences. This information not only informs inventory decisions but also allows for targeted promotions.
Comprehensive Digital Marketing
Integrating elements like email marketing, online advertising, and search engine optimization (SEO) is simpler with a robust eCommerce platform. Such integrations amplify your reach and sales potential during Black Friday and beyond.
While having a digital presence is crucial, what lies behind the scenes — your inventory — determines the real customer experience.
#2. Streamlining Inventory Management
Navigating Black Friday requires a keen grasp of inventory. Many parts departments wrestle with inventory challenges even before the sales event kicks off. Being ill-prepared can jeopardize the achievement of sales goals.
Key components for effective inventory management include:
Insightful Forecasting
Analyzing historical sales data helps predict high-demand parts and accessories, ensuring you're adequately stocked. A clear understanding of past trends acts as a compass for stocking decisions.
Swift Restocking & Real-Time Updates
Peak sales periods demand a consistent inventory flow. Prioritizing quick restocking of popular items ensures you stay ahead of demand and minimize customer wait times.
Bulk Tagging & Efficient Tracking
Speed and accuracy are paramount during Black Friday. Bulk tagging and efficient tracking tools ensure prompt fulfillment, accurate stock levels, and clean listings, which in turn enhances the customer shopping experience.
Remember, inventory management isn't just about quantity; it's about having the right parts at the right time. With the aid of a well-integrated eCommerce platform, managing sales trends, stock alerts, and inventory updates becomes a streamlined process.
#3. Elevating Customer Service
A positive buying experience during Black Friday can increase your customer retention rates. If you can attract new buyers during sales events and turn them into return buyers, you can stay ahead of the online competition. 
With automated processes and high-quality customer relationship management (CRM) software, you can make even the strongest customer service turnaround manageable. 
When it comes to nailing customer service during Black Friday, there are a few tools to help you succeed: 
Quick response capability
Invest in integrated customer service chatbots to help you communicate with customers quickly and 24/7. This will help you resolve issues quickly and at little cost to you.
Automated emails
Automated emails can help you move the process along faster. Confirm orders, shipments, and payments with automated email messaging and keep customers informed about the status of their purchases. 
Surveys
Get feedback from customers about their buying experience to enhance your online store. Turn more buyers into repeat customers with a quick survey after the end of the Black Friday sale.
The right eCommerce platform will help you utilize all of these tools to ensure a high-quality customer buying experience and turn those first-time buyers into repeat customers, securing future business for your parts department. 
And as we understand customer interactions, we must also recognize the power of effectively reaching and persuading them through the right channels.
#4. Sharpening Your Marketing Strategy
The onset of the holiday season isn't signaled by snowfall or festive tunes—it's the barrage of sales ads. Your online marketing strategy can make or break your Black Friday sales.
In the eCommerce age, digital marketing reigns supreme. It's how consumers find your online business, engage with your brand, and make buying decisions. Without a strong digital marketing strategy, your parts business might as well be non-existent. 
So, what tools do you need to have in place to have a successful Black Friday marketing strategy? 
SEO Website Updates
Optimize your website for search engines. Make it easier for your customers to find your business online with keyword implementation. They'll flock to your website.
Pay-Per-Click Ads (PPC Ads)
Online ads are also a great way to help consumers find your business faster. Invest in PPC ads, set a higher ad spend to reach more online users and increase your click-through and conversion rates.
Email Marketing Campaigns
Email marketing is your key to turning first-time buyers into repeat customers. Send compelling emails with sales offer information, reminders, and automatic order updates.
Social Media Campaigns
Most online consumers today are using social media to influence their purchase habits. Create social media campaigns that grab people's attention and get them to your dealership quickly.
Regularly assess and refine your marketing tools. Devote time to testing different strategies, ensuring the maximum resonance with your target audience.
As we wrap up our strategy deep-dive, it's time to put all the pieces together and sketch out your game plan.
Draw Up Your Black Friday Battle Plans Now
With the right tools and strategies, this Black Friday can become your most successful sales event of the year!
The strategies we've discussed are foundational, but the landscape of e-commerce is ever-evolving. Why navigate the digital realm alone? Speak to an e-commerce expert today and ensure your parts department is optimally set up for a profitable Black Friday. Your successful sales season could be just one conversation away.