We all know Google is a big name, so of course you're asking yourself "What can Google do for ME?"
The thing is, Google offers so many services that it's easy to get lost in the options. You have Google AdWords, Google Shopping, shopping campaigns, search campaigns… So where do you start?
A lot of people mix up Google Shopping campaigns and Google Search campaigns. Most sellers also don't know how to succeed at each one, since the same strategy won't work for both.
Each option offers a unique advantage to your dealership, so it pays to know the difference and how to apply each one.
Marketing with Google
You have two options when it comes to Pay Per Click (PPC) advertising through your Google AdWords account: Search campaigns and Shopping campaigns.
(By the way, PPC means you only pay for an advertisement when a customer actually clicks on it—in other words, you only pay if it works!)
Google isn't the only network to offer PPC advertising, but since Google embeds your advertisement into their search engine results, you usually get better returns.
There's no minimum budget for these campaigns, either. You can invest as much or as little as you want for each month. When someone clicks on your ad, the cost will automatically pull from the budget you've set.
And, of course, each tool comes with in-depth tracking tools so you can see just how well your campaigns are going. It makes it easy to test out multiple ads to see which ones perform better, so in the future you can really focus on what works.
Shopping Campaigns and Search Campaigns: What's the Difference?
A lot of people get these two campaign types mixed up, since they're both offered by Google.
At the most basic level: Google Search campaigns rely on keywords and text, while Google Shopping campaigns focus on products and images.
Google Search campaign
What it is:
This is a text-based ad. Your ad shows up depending on the keywords you bid on.
Keywords are basically just common search terms that someone searching on Google is likely to type into the search bar. (Google has a free Keyword Planner tool to help you find the best keywords!)
Each ad is set up individually, and you can turn them on or off at will. You can also make changes to these ads in order to reflect any promotions or sales you have going on.
Example:
If a shopper searches "Nissan brake pads" in Google's search engine, and that's a keyword you've bid on, then your text-based ad has a chance of appearing. Google marks the advertisement with colorful text reading "Ad" so that searchers know it's a sponsored result.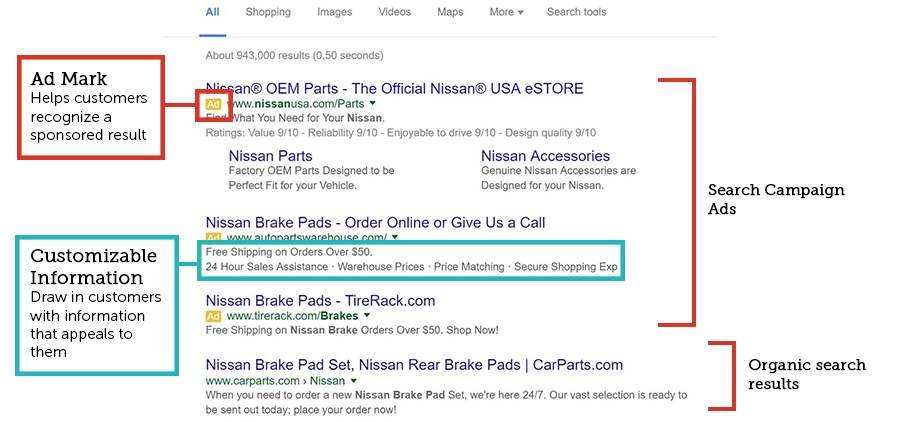 How to succeed:
In order to figure out the best conversion rate, AdWords campaigns rely on testing different strategies. Based on the results of your Search campaign, switching up search terms and phrases will help you grab more sales.
Think about what your customers might be interested in. Free shipping? A discount? Fast service? Try including phrases like this in your advertisement to draw in more clicks.
You can also choose a regional target for your ads. To promote a local parts store or dealership, you can select these ads to only appear for people within a certain distance.
Similarly, you can choose for your ads to appear to people across the country if you're selling nationally, or people around the world if you're selling internationally. Make sure to target the people who are most likely to make a purchase.
For more information, check out Google's short introduction video to Google AdWords campaigns and how to get started.
Google Shopping campaign
What it is:
This is an image-based ad, so it shows a picture of your product along with key information (such as product name, price, special offers, and reviews).
Instead of keywords, you bid on products in order to show up during a search. Clicking on the ad will take the customer to your parts store product page.
Unlike Google Search campaigns, you'll need to keep an updated data or shopping feed in the Merchant Center. The shopping feed includes information such as whether or not a product is in stock. Since it is an image-based type of advertisement, you must have images too.
Google Shopping campaign ads are incredibly effective since images go a long way in catching the eye of a potential customer. According to a Google Shopping study by CPC Strategy, merchant costs on Google Shopping campaigns spent about $11.30 for every $100.00 in sales.
These ads used to be called Google PLAs (Product Listing Ads). Although the name has changed, many people still refer to them as PLAs.
Example:
When a customer searches "Toyota floor mats," a grid of images will show in the results. Each image lists product name, price, and seller, along with other information you choose to include. If your store is a Google Trusted Store, your badge will appear, too.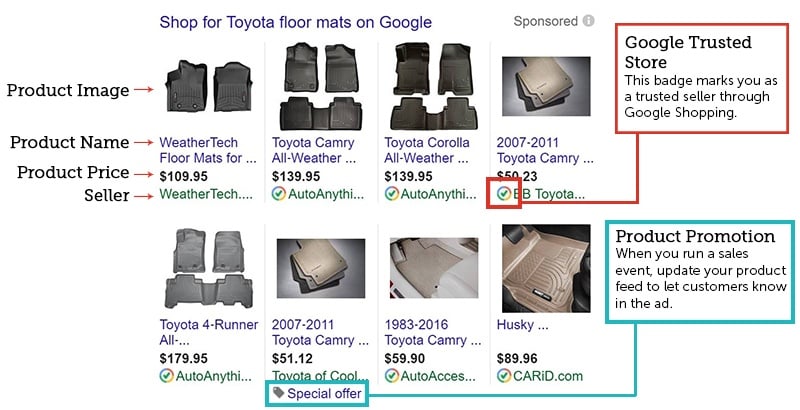 How to succeed:
Google Shopping campaigns can be a bit complicated, so there are a few common Google Shopping mistakes that new dealers tend to make.
Since Shopping campaigns revolve around your product feed, making this information accurate and up-to-date is absolutely vital.
Your product feed needs proper labels that match exactly what you've registered in Merchant Center. You must also enable "automatic item updates" so your product feed always has accurate information.
If there are too many mismatches between the prices and availability between your parts store and Google, your account can get suspended or disapproved.
You don't have to upload a product feed with your entire inventory. While it's usually a good thing to list as many products as possible, sometimes it's an even better idea to exclude certain items.
Conclusion
For both Search and Shopping campaigns, the level of complexity is entirely up to you. Each campaign type lets you set specific targeting. Setting up these details will make your ad campaign more successful, but it also takes more time and know-how.
If you're new to Google AdWords, don't feel like you need to take it that far. Start simple and experiment until you grow more comfortable with the AdWords software. It helps to keep an eye on your analytic tools and regularly update your strategies.
Hire a Marketing Agency?
Many dealers are too busy handling the selling part of eCommerce that they don't have time to deal with marketing . You can always hire a marketing agency to do the work for you.
As long as you're working with a reliable group, professional marketers know all the tricks to optimize your campaign. Just make sure you sign up with an agency that has specific experience in advertising auto parts!