Selling parts online shouldn't have to be a big ordeal, but if you've never had to deal with shipping, it might feel that way.
Shipping is one of those things dealers don't have to worry about at the parts counter. Suddenly having to learn about how to accurately estimate the shipping costs for a dozen differently-sized parts could take up a lot of time (and leave you with a headache!).
A great eCommerce solution will take as much work off your back as possible when it comes to shipping. Even though we can't physically box up the orders for you, here are 9 ways we CAN make your life easier…
1. Weights and dimensions in the catalog
If the catalog supplied by your eCommerce solution includes actual weight and dimensions, you can get a better shipping cost estimate. This is what shipper carriers use to figure out the charge for a part, so it makes sense that you should use it too.
Otherwise, you're forced to estimate shipping with less accurate methods.
Some dealers will guess shipping based on the cost of the part. Imagine a large but fairly inexpensive item like a bumper. That bumper will probably cost a lot to ship, because it's awkwardly-shaped and needs a huge box. If your shipping cost estimate is based on price instead of dimensions, you'll end up undercharging your shopper for shipping.
RELATED: 8 Tricks to Avoid Overpaying for Shipping
As a result, either you eat the cost difference, or you email your shopper and ask them to pay more on shipping. Neither option is ideal.
Other dealers will try to sort their parts into "small," "medium," and "large," then have a flat rate for each size tier, but that's not very accurate either. Since most carriers use both weights and dimensions to calculate a shipping price, sorting your parts like this just won't give you enough information.
2. Easily detect and handle oversized or hazmat parts
Your platform will cause you a lot of headache if it thinks an air filter is the same size as a hood!
Larger and heavier items will cost more for you to ship, and your platform needs to be able to recognize them in order to give an accurate shipping quote and give you the chance to exclude these items if you don't want to deal with shipping oversized parts.
RevolutionParts marks large items as "oversized" so you can simply exclude selling those parts. Our catalog will also recognize hazmat items, so you can exclude those as well.
Remember, you don't have to sell everything! If it's too much hassle to ship hazmat and oversized parts, exclude them and don't worry about it.
3. Ability to incorporate your discount rates
As you hit certain volume thresholds, you can get better rates from shipping carriers.
If you want to pass a portion of your discount onto your parts shoppers, it will make your pricing more competitive. So it should be easy to adjust your store's shipping rates based on your discounts!

4. Ability to require a signature
A great way to protect your investment on higher-value items is to require a signature. This ensures that expensive items aren't left on the doorstep where they can be stolen, resulting in an angry customer!
You'll have to send the expensive item again, or refund the customer entirely.
Ideally, your system will automatically require a signature on higher-value items to reduce the risk of theft or misunderstandings. Reducing miscommunication between you and your customer will not only save you some hassle, but will also improve your company image and protect your profit margins.
5. Set up shipping-based promotions
Who doesn't like a good deal? If your customer thinks they are getting a sweet discount, they'll be more likely to follow through on their purchase.
Ask your parts eCommerce solution what kind of promotions you can set up for shipping. Some examples could be:
Offering customers a flat rate over a certain price
Free shipping for higher value orders, excluding oversized items (Free shipping on orders over $200)
Your discounts don't only have to be shipping-related, though. Check out some other types of coupon you can offer to auto part shoppers.
6. Charge taxes on shipping
Shipping taxes are required in certain states. It'll be much easier for you if your platform automatically configures this into the calculations for shipping costs.
Otherwise you'd have to manually figure out if it's necessary and then pay those taxes out of pocket if you're wrong.
7. Integrate with Shipping Management software
Shipping managers like ShipWorks or ShipStation are perfect for high-volume shippers, especially if you're selling through multiple stores and channels (like WebStore and an eBay Motors account).
Shipping managers can:
Organize and consolidate orders
Print shipping labels in bulk
Automatically email your shopper with a confirmation and tracking number
Overall, it's much easier than manually copying and pasting order info from one screen into another shipping carrier screen. Eliminating this manual data entry will also reduce human error, save you time, and reduce delays due to address errors.
Many shipping managers offer a free trial period so you can test out the software and see if it's worth it. Just make sure your parts eCommerce solution integrates with the shipping manager before you sign up!
RevolutionParts integrates with ShipWorks and ShipStation, although most dealers find that our built-in shipping manager is powerful enough that they don't need something extra.

8. Easily compare shipping prices between different carriers
Without the right integrations, shipping can become a huge hassle.
You have to log into your shipping carrier website and manually type in your order information in order to get a tracking number and shipping label. If you want to compare pricing between UPS, USPS, and FedEx, then you have to open multiple browser tabs in order to find a quote for each.
But with the right integrations, your parts eCommerce solution can handle all of this from the order page. With RevolutionParts, you can compare prices across carriers with only a click of a button.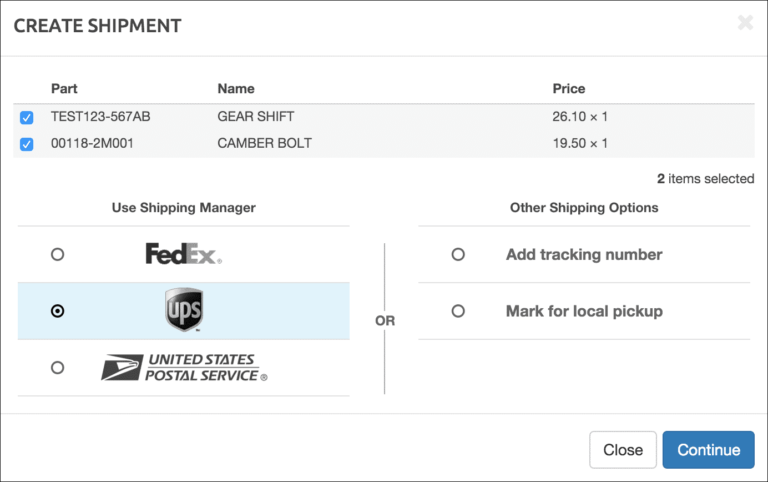 9. Print shipping labels directly from the order page
As an add-on to the previous point… it helps if you can print a shipping label directly from the order page, too!
Simply clicking "print" from the order page makes the entire process very simple. You don't have to re-enter shipping addresses anywhere or juggle information between multiple pages.
As a bonus, you can save even more time selling online if your eCommerce solution integrates with a thermal printer. Thermal printers let you print directly to sticker labels, so you don't have to mess with taping on a sheet of paper instead.
Some dealers who are new to selling parts online worry about shipping, since it's not something they have to deal with at their parts counter.
But truth be told, with the right tools, there's nothing to worry about. A good parts eCommerce solution will handle all the details for you and streamline the process so all you have to do is print a label and ship the box.
Other articles on shipping you might enjoy: