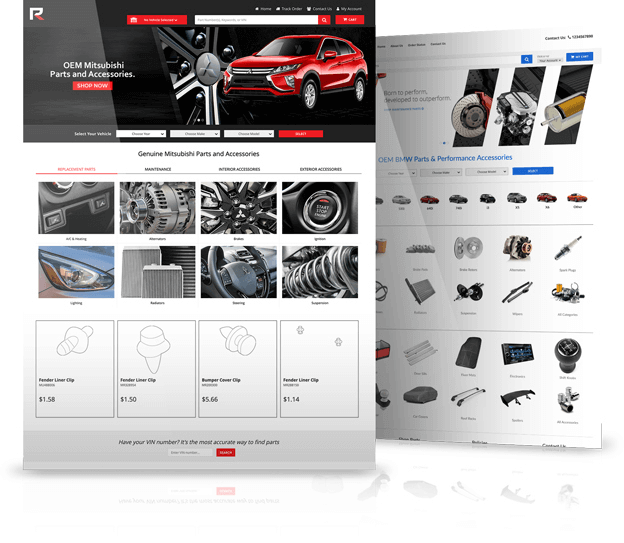 We offer one simple plan that includes everything you need to grow your parts business:
Custom Parts Website
Streamlined Access to eBay
Dealer Site Plug-In
Catalog Integration
Simplified Shipping
Expert Support
Much, much more
Features You're Going to Love

WEB STORE
Get a branded, mobile-responsive, and SEO-optimized web store that allows consumers to quickly and easily find the parts they are looking for.

EXCEPTIONAL SUPPORT
Our US-based support team is dedicated to quickly setting up your account and guiding you toward success.

eBAY
Enjoy the benefits of a free premium store, waived listing fees, fitment charts, and more on one of the most popular marketplaces worldwide.

DEALER SITE PLUG-IN
Replace your dealership site's outdated parts order form with an engaging digital commerce experience that enables customers to browse and purchase parts 24/7.

WHOLESALE TOOLS
Vastly improve your wholesale business by offering discounted customer pricing, online sourcing, and same-day delivery on parts.

LOCAL DELIVERY
Pick up and drop off all local orders in as little as an hour with our on-demand, hotshot delivery service.

CATALOG INTEGRATION
Direct integration with Mercedes-Benz makes it simple to import, list and manage products from the entire MBUSA catalog.

SIMPLIFIED SHIPPING
Easily integrate with multiple shipping providers to determine the best rate, gain access to corporate shipping discounts, and instantly print shipping labels.
Want to Grow Your Parts Business Faster?
Add marketing services to your RevolutionParts contract to get access to the highest performing marketing team in automotive parts.
Pay-Per-Click Advertising
Search Engine Optimization (SEO)
Email Marketing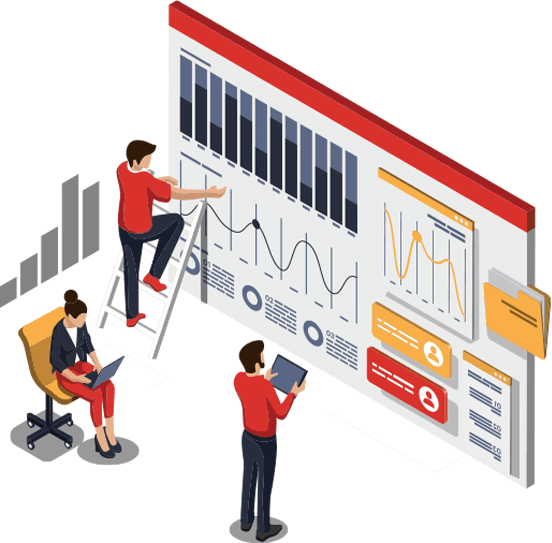 Frequently Asked Questions
How many brands does RevolutionParts support?
RevolutionParts supports ALL major brands in the United States.
What is considered 1 manufacturer catalog?
A manufacturer catalog includes all related brands. For example, if you're a General Motors dealer, that includes all 8 GM brands. If you're a Mopar dealer, that includes all 4 Mopar brands.
What is the turnaround time for set up and implementation?
Our average turnaround time for any plan is about 2 weeks. If you are already selling online this could be much shorter.
Does RevolutionParts include marketing services to promote my Web Store?
Currently, we offer marketing services to customers for an additional cost. On average, our marketing specialists can generate a 6.9x return on ad spend for dealerships, meaning for every $1 spent on ads, you'll get about $6.90 back in sales. Visit www.revolutionparts.com/marketing-services to learn more.
What is a "channel"?
A channel is a digital location where you can sell parts online, such as a Web Store, Amazon, eBay Motors, and so on. With RevolutionParts, all your orders will consolidate in the same RevolutionParts dashboard regardless of where they were sold.
A Web Store is a stand-alone parts website where you have the most control over how you sell. Marketplaces such as Amazon and eBay have a pre-existing customer base, but also come with certain restrictions. All selling channels have their unique pros and cons, but RevolutionParts makes it easy to test the waters on any of them to see what works best for you!
Can I sell on eBay with any of the plans? What about Amazon?
Yes! Our flexible plans allow you to sell on any channel.
Which channels are included?
Your plan will include all three selling channels offered by RevolutionParts. You can sell as many items as you'd like on eBay, Amazon, and a Web Store.
Are there any setup fees?
There is a one-time setup that is charged for the implementation services to help you start off successfully on the RevolutionParts platform. You will receive personalized training sessions to learn about our platform and best practices, and we will work with you on getting your accounts set up so you can hit the ground running. Setup fees vary by plan. Call our team of eCommerce specialists to get a custom quote for your needs.
Can I cancel anytime?
You can cancel any time if you choose our month-to-month plan. Most people choose an annual contract with monthly billing so they can lock in the lowest price for our solution. Setting up an eCommerce business should be viewed as a long-term play, so getting in a contract makes sense for most dealers who are serious about building up their online revenue channel.
I have more questions. Who do I ask?
Get in touch
and let us know how we can help