Deliver the Best Program in Parts
RevolutionParts powers the most successful OE Parts Programs.
How Your Brand is Performing
RevolutionParts drives more than $500 million a year in parts and accessory sales. Click below to see specific brand performance in 2021.
ACURA
Total Revenue
$12.9 Million
Total Items Sold
246,333
AUDI
Total Revenue
$9.2 Million
Total Items Sold
118,579
BMW
12 Month Revenue
$25.5 Million
12 Month Items Sold
286,760
FORD
Total Revenue
$66 Million
Total Items Sold
1,004,909
GM
Total Revenue
$87.9 Million
Total Items Sold
978,311
HONDA
Total Revenue
$42.6 Million
Total Items Sold
954,820
HYUNDAI
Total Revenue
$8.4 Million
Total Items Sold
108,866
INFINITI
Total Revenue
$3.8 Million
Total Items Sold
31,257
JAGUAR
Total Revenue
$2.8 Million
Total Items Sold
25,115
KIA
Total Revenue
$11.2 Million
Total Items Sold
167,008
LAND ROVER
Total Revenue
$4.8 Million
Total Items Sold
41,820
LEXUS
Total Revenue
$8.4 Million
Total Items Sold
103,293
MAZDA
Total Revenue
$12.9 Million
Total Items Sold
200,513
MERCEDES-BENZ
Total Revenue
$23.9 Million
Total Items Sold
291,426
MITSUBISHI
Total Revenue
$7.2 Million
Total Items Sold
108,509
MOPAR
Total Revenue
$90.8 Million
Total Items Sold
941,306
NISSAN
Total Revenue
$16.7 Million
Total Items Sold
265,556
PORSCHE
Total Revenue
$11.8 Million
Total Items Sold
152,373
SUBARU
Total Revenue
$14.1 Million
Total Items Sold
312,288
TOYOTA
Total Revenue
$65.7 Million
Total Items Sold
101,8783
VOLKSWAGEN
Total Revenue
$9.3 Million
Total Items Sold
161,096
VOLVO
Total Revenue
$4.6 Million
Total Items Sold
53,547
A High Performance Sales Engine
Provide your dealership partners with the most powerful engine for generating maximum parts and accessory profits.

Incremental Volume
eCommerce is the fastest-growing parts channel and expected to top $25 billion by 2023. Capture this revenue by featuring your dealers' parts on Amazon, eBay, Walmart, and their very own web stores.

Boost Conversions
Provide your dealers with a platform that drives more purchases with an easy-to-navigate user interface, dynamic product recommendations, automated emails for incomplete purchases, and discounting capabilities.

Drive Brand Loyalty
With simple communication, order tracking, and promotional emails, your dealers are able to build brand loyalty and drive future purchases.

Expand Wholesale
Use a series of powerful tools to offer custom pricing, a self-service portal, and same-day hotshot Local Delivery to drive satisfaction and increase market share.
A Platform Designed to Drive Success
An innovative, feature-rich platform with everything needed to power a successful parts program.
Optimized Web Stores
RevolutionParts web stores are designed to capture web traffic and convert visitors into customers. Features of these web stores include:
On-page promotions
Product recommendations
YMM or VIN lookup
Enhanced product imagery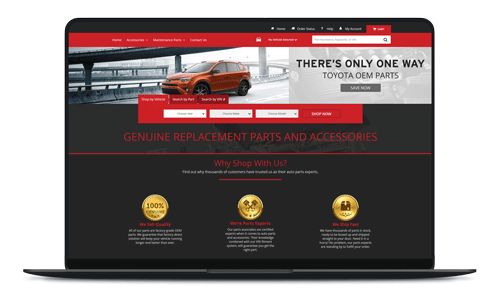 Digitized Local Parts
The RevolutionParts Dealer Site Plugin replaces the dead-end Parts Inquiry Form that exists on most dealership websites. Ditch the pen and paper – send email quotes and create special pricing for wholesale buyers all from one simple dashboard.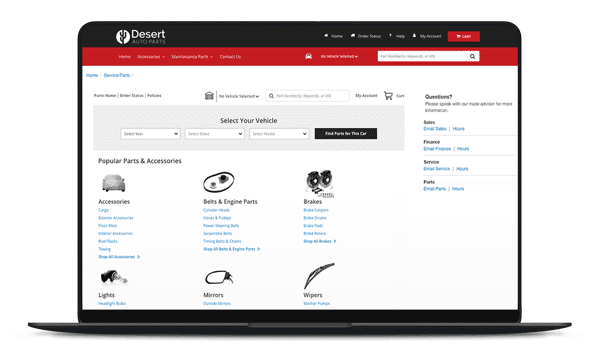 Compliance Tools
Growing a parts program shouldn't involve legal or security and legal concerns. That is why our solution includes:
Built-in fraud prevention
Security tools
Sales tax compliance
ADA, CCPA, and Prop 65 compliance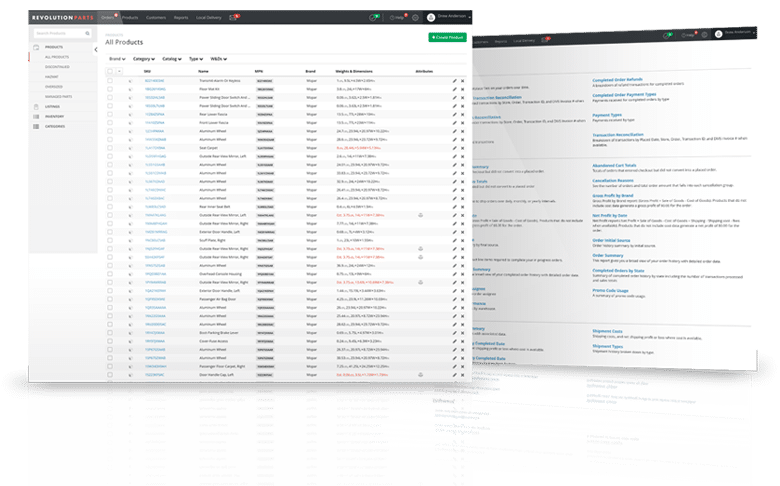 Marketplace Integrations
Amazon, eBay, and Walmart are driving billions of dollars in parts sales each year. Take advantage of these markets with a solution that allows you to:
Instantly list inventory
Process orders
Manage pricing
Streamline customer interations
Provide a superior customer experience
Sell to hundreds of millions of shoppers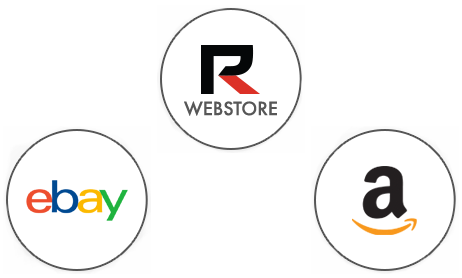 Simplified Logistics
RevolutionParts integrates with all major shipping carriers so your dealers can:
Instantly get the best rates available
Print packing slips and manage delivery directly from the dashboard
Provide same-day hotshot delivery to local retail and wholesale customers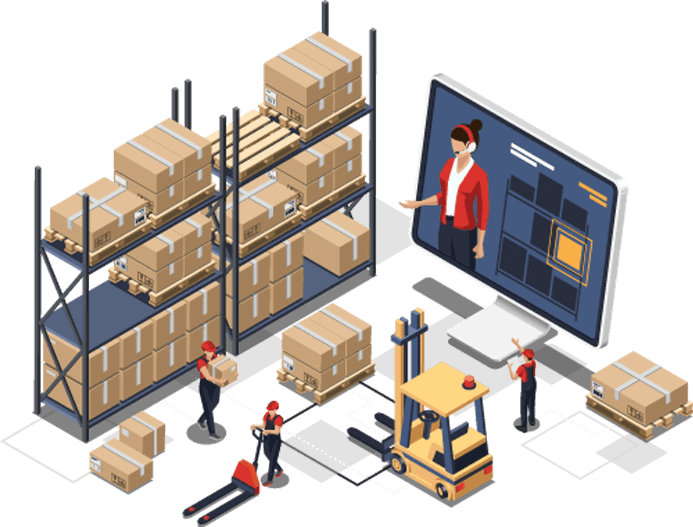 Payment Integrations
We offer multiple payment gateway integrations so your customers can use the payment methods they're most comfortable with. Providers we integrate with include:
PayPal
BrainTree
Authorize.net
Stripe
WorldPay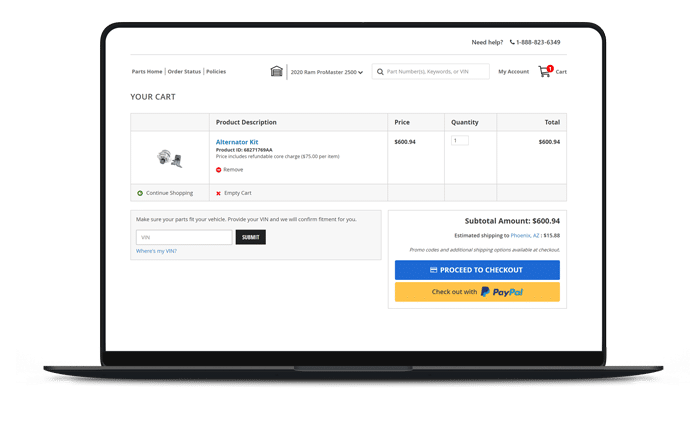 Data to Fuel The Experience
Power parts sales with a seamlessly integrated program that leverages data to drive performance.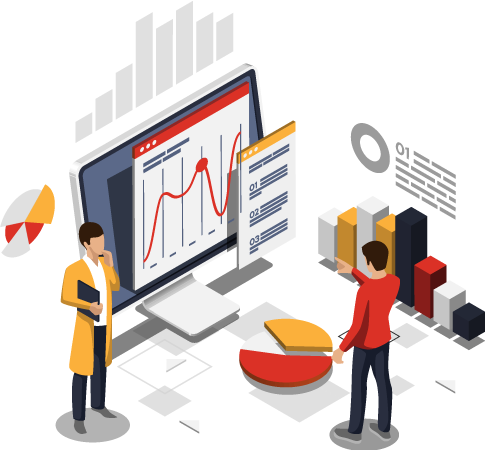 Catalog Data Processing
Proven experience processing EPC and accessories catalogs to create an optimized shopping experience across all selling channels. This includes:
The intake and enhancement of data sources with images, rich content, and fitment functionality
Continual data sync to ensure dealers' offerings are up to date
Consumer experience monitoring to inform improvements
Sophisticated Integrations
Our secure technology platform integrates into other business systems to make your program a flexible, well-oiled machine. Our APIs and other integration solutions connect with Dealer Management Systems, manufacturer ERPs, warehouse management systems, and more.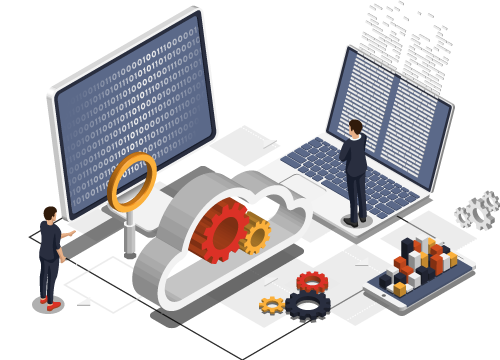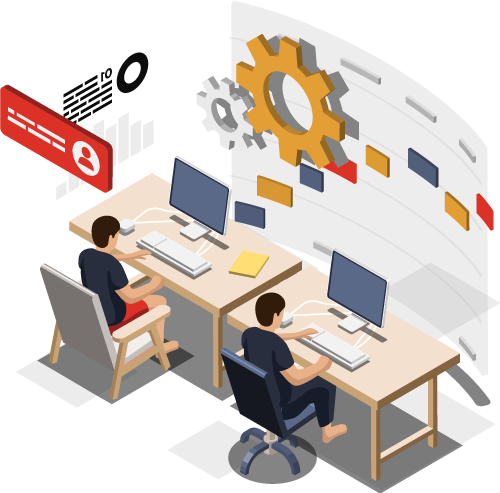 Business Intelligence
With a curated database of millions of parts purchases, we help you decipher the data and take action on it. Some of the data you can use:
Performance insights across channels, product categories, and customer demographics
AI & machine learning to identify notable sales and marketing trends
Real-time reporting to create actionable guides on specific behaviors that impact outcomes
A Partnership for Success
Keep your program performance on track with a dedicated success team.

Build Better
Work with our OEM strategist to develop a go-to-market model that fits with your business structure and goals. Deploy through a central program (Tier 1), individual dealer-managed solutions (Tier 3), or a combination of both.

Quick Launch
After deciding on a program, get deployed in as little as 60 days. Plus, be assured that your dealers are well trained and supported in their launch with our experienced onboarding team.

Program Acceleration
In addition to top-tier training and support, your dealers will have access to our expert marketing team that averages an 8.75x return on ad spend. With this powerful mix, your franchised dealerships can accelerate parts revenue and continuously beat sales goals.
Empowering Innovation for Your Brand
With RevolutionParts, you get a continuously improving platform without extra development costs. Recently added features include:

Tax Compliance
We've eliminated the need for your dealers to handle the compliance associated with selling parts out of state.

FedEx Local Delivery
By adding FedEx to our Local Delivery program, we've expanded the size and maximum quantity of packages a dealer can send in one delivery.

Improved Parts Categories
Our upgraded interface makes it easier for parts buyers to find what they're looking for with an improved parts category.

PayPal Commerce Platform
With our new PayPal Commerce Platform integration, dealers now have the opportunity to provide payment terms to parts purchasers.
Ready to Partner with Us?