With other 1.79 billion monthly active users on Facebook, businesses have caught on to the opportunity for building a fan base and improving sales–entirely through shared photos and status updates.
It's easy and free to set up a Facebook page for your parts website. Once you're up and running, Facebook can become a constant pool of customers to tap into whenever you run sales and promotions.
Of course, it's not a magic trick for instant sales. You need to actually building a following and promote your sales in an effective way. Follow these tricks to make it happen…
Best Practices to Gain a Facebook Following:
The first step to running a successful Facebook is page is actually getting a following! Otherwise you're just promoting to an empty room, so to speak.
1. Promote your Facebook Page
If you're serious about leveraging Facebook to boost your parts sales, make sure your customers know about your Facebook page. Link to your Facebook page in a few different locations:
On your Parts Website
In a follow-up email after a purchase
In the bottom of your promotional emails
When you first launch your Facebook page, why not drive traffic there with a Facebook-only promotion? Send out an email to your current subscribers to let them know about your page and the discount they can get by visiting. At your Facebook page, they can get their discount using the custom promo code you generated with RevolutionParts and posted to Facebook.
You can also pay to promote your Facebook page, but we'll get to more on that later.
2. Post Worthwhile Content (And mostly non-promotional things!)
Once you have people visiting your page, you need to actually have worthwhile content on your Facebook in order to get that "like" so they keep coming back. This means posting things that your customers care about and are interested in seeing.
This does NOT mean a constant stream of promotional things.
Think about it. Do you like when a company constantly pesters you to buy something? It gets annoying when the company makes everything about THEM.
Most marketers suggest that you post non-promotional things the majority of the time. Instead, share automotive-related articles, car pictures, and so on. You know your customers care enough about cars to buy their own parts, so how can you use that to your advantage? You can also engage your customers by asking questions or running giveaways.
Here are some ideas:
DIY guides (either ones you've written, or shared from another source)
Articles about cars and the automotive industry
Pictures of cars, your parts team, etc.
Engaging status updates (ask a question, have them fill in the blank, etc)
Contests and giveaways. Even though this borders on promotional, giving something away for free makes it more about the customer and less about you.
READ MORE: How to Run an Amazing (and Effective) Contest or Sweepstakes on your Parts Website
Worried about the time commitment it would take to find and post this stuff on a regular basis? You can use a software like Buffer to schedule posts ahead of time. That way, you only need to set up posts every now and then rather than manually post every day.
Best Practices to Run a Facebook Promotion:
Once you have enough page "likes" to make a promotion worthwhile, then you can start using Facebook to drive repeat customers! But running a successful promotion is more than just a simple status update.
1. Use an image!
A plain text status update is really easy to miss. In contrast, images do a terrific job of attracting a customer's attention. You can even add info about your promo directly to the image so customers immediately know what you're offering.
Use a free program like Canva to create high-quality images for your promotions. Read a full step-by-step guide to using Canva in this article, starting with step #4. (Or you can hire someone to do the design work for you! A website like Fiverr.com has plenty of people willing to do simple design work for as low as $5 a project)
The images don't need to be overly complicated. If you're doing the work yourself, keep it simple. Just add some details about your offer. Here's an example: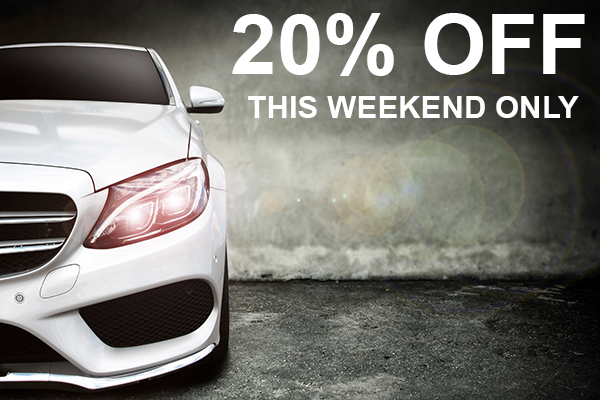 2. Optimize your page for the promo.
Facebook has a few built-in tools to make your promotion more obvious to visitors. Depending on the size of your promotion and how much effort you want to put into it, you can:
"Pin" a promo post to the top of your page. Simply click on the dropdown arrow on the corner of a post in order to "pin" it. This will keep the post in the #1 spot on your page for as long as you want.
Update your page banner. Again, using a program like Canva, you can create a custom banner image that promotes your sales. The banner takes up a lot of space on a page, so it's impossible for customers to miss.
Update your profile picture. It's a good idea to keep your logo in the profile picture, but you can still make tweaks in order to help your promotion gain attention. The best way to do this is seasonal updates. Add some leaves around your logo for an autumn themed sale, or snowflakes for winter parts and accessories. If you want to promote a specific holiday sale, then try adding Easter eggs for Easter, a Santa hat for Christmas, or a US flag for 4th of July. Once you create these profile pictures once, you can use them again year after year!
3. Keep track of what works best.
For both your promotional and non-promotional posts, it's worth your time to keep an eye on what gets the most attention! Facebook keeps track of this, so it's just a matter of looking at the numbers.
If not many people are engaging with your DIY posts, for example, then decrease how often you post about that. Still do it occasionally, but focus on content that your audience wants to see.
Test different pictures: a car vs a part vs a person, etc
Test different sales: $10 off vs 10% off vs other types of coupon/discount
Test posting during morning, afternoon, and evening.
If you find that a picture of a car gets more people to click on your parts website link, then you know for future promotions to use car images. Plus, if you decide to pay to advertise on Facebook, you already have some free information about what is the most effective.
4. Pay to boost your promotion.
If you're running a big event, it might be worth your time to advertise with Facebook! Although it means forking out some money, you can definitely make it worth the investment.
It's unlikely that interested buyers will find your Facebook page by chance. Most likely, the people on your Facebook page are past buyers who found you after a purchase or connected to you after clicking a link in an email you sent.
Advertising brings in fresh customers who have never heard of you before. That means new opportunity for profit! You can read Facebook's guide about boosting posts to learn more.
Remember, it's a good idea to boost posts that have already shown some success with your current followers. After posting your promotion, wait a day to see how your current following interacts with it. If you notice that the post is getting more likes, shares, and comments than normal, that's a good indicator that it will succeed on a larger scale!
Word to the wise: be as specific as possible when choosing a target audience!
It may sound like a good idea to get your promotion in front of as many people as possible, but it won't work out well. Many people have absolutely no interest in buying car parts, so advertising to them is a waste of money.
Instead, only target people who might be interested. Luckily, Facebook lets you target specific interests, so you can just show your ad to people who like "automotive DIY," for example.
Other tips:
Don't spam! Don't post nonstop about your promotion. A general rule of thumb is to post at the start of the promotion, partway through, and on the last day, which is good for a week-long sale. For one-day flash sales, post only once, maybe twice.
Spread out your posts. Don't post multiple times in the same hour. Again, Buffer is good for avoiding this.
Reply to comments and questions! Be kind and respectful, and call people by their first name. It's more personal that way and can help you build a loyal community on Facebook.
Don't be afraid to get inspiration from other Facebook pages. Aftermarket sellers like O'Reilly Auto Parts and Pep Boys Auto spend more time and money on their marketing, and have a solid Facebook presence as a result!
Some dealerships have already built up a few hundred followers on their Facebook pages, and you can too! At the end of the day, it's another powerful way to reach more customers and promote your parts website.