We recently looked at NADA's annual reports expanding over the past few years to understand COVID-19's impact on parts sales. We then looked at how dealers using RevolutionParts' eCommerce solution fared in comparison, and the results were stunning!
When the pandemic hit the US, most parts departments at new car dealerships saw a major decrease in parts sales. In fact, total parts sales dropped from $71 billion in 2019 to only $65 billion in 2020. That's a total of $6 billion! 
However, dealers on the RP platform saw a 27% increase in parts sales online, showing how crucial selling parts online became during the economic downturn caused by the pandemic.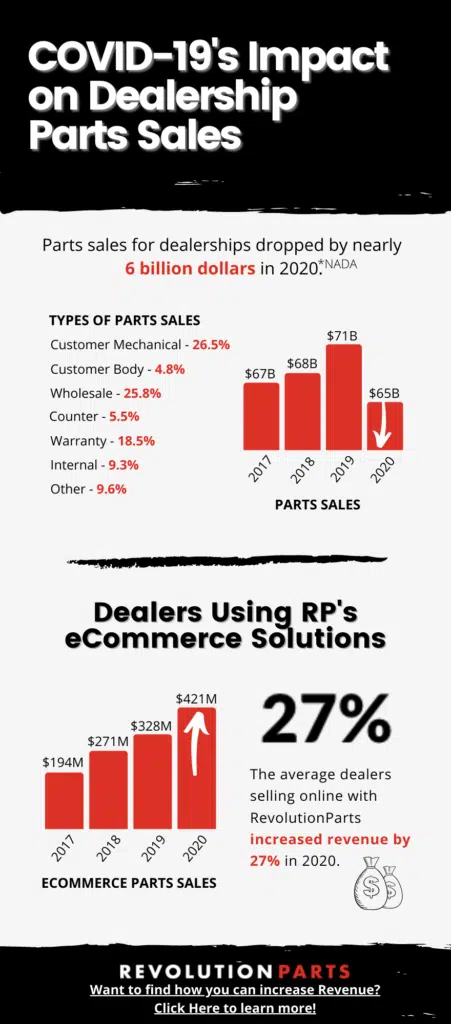 If the past year has taught us anything, it is that we need to be prepared for
anything
. This isn't the first economic downturn that we've experienced, and unfortunately, it won't be the last. Whether it is the national economy or your local economy, your business needs to be prepared for the worst. 
The best way to bulletproof your business is to diversify your market and give yourself the ability to sell on multiple channels; that way, when hard times hit, you're prepared and have multiple revenue streams to keep your business going strong. 
⭐️ >> RELATED: See how the three past COVID-19 stimulus payments gave parts departments across the US a boost.
If you want to bulletproof your parts department against the next economic challenge or just want to make it as profitable as possible, schedule a personal demo and talk with one of our parts eCommerce experts.