Guest post from our partner OEM interactive.
By now I'm sure that most of you have seen a Google logo/badge at the bottom right hand corner on some of your competitor's websites or maybe on a website where you have recently made a purchase. If you have not, I am referring to the Google Trusted Store Badge.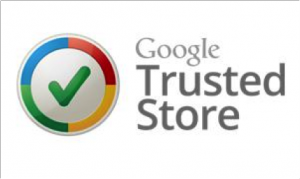 A Google Trusted Store is an endorsement by Google indicating that this website is a known for their reliability, quick shipping and superb customer service. Why is becoming a Google Trusted Store Beneficial to my website?
Customer Confidence.
Earning the Google Trusted Store badge shows consumers that Google believes in this website so much that they will put their name on it. Google also takes it another step further and offers free protection on the orders that are placed on that site. Hey, I mean, if it's good enough for Google it must be good enough for me, right!
The more you can illustrate to new and existing consumers that you are a credible and reliable brand to purchase from the likelihood of obtaining and retaining consumers increases.
Customer Reviews.
After you have earned your Google Trusted Store badge, Google will periodically ask consumers who have opted-in to take a survey about their shopping experience with the Merchant. This information is then translated into review scores and published as seen below.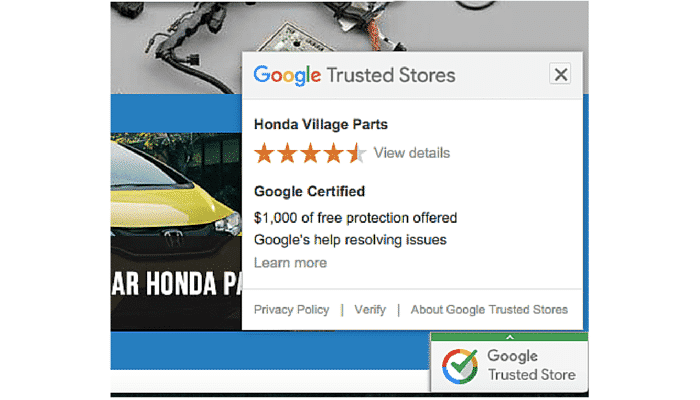 Once again this offers you the ability to showcase your expertise to both new and existing consumers that they are in good hands when making a purchase through your website.
Marketing Point of Difference.
If you are utilizing Google Shopping or Product Listing Ads (PLA) and have not made an attempt to earn your Google Trusted Store Badge you are really missing out. Being that most the PLAs that are served to potential consumers all look the same how can we make our ads stand out from our competitors? By earning your Trusted Store badge, Google will add the Trusted Store badge to your PLA ads as well as pulling in consumer reviews (review extensions) giving you a clear point of differentiation from your competitors. This will increase your click-through rates as well as your ecommerce conversion rate on your website.
Acquiring your Google Trusted Store badge is more turn-key now than it has been in the past but Google does have some requirements that your online store does need to adhere to in order to maintain the badge, so there is a little up-keep and maintenance they may need to be done from time to time but don't let that frighten you. The pros heavily outweigh any cons.