PHOENIX, AZ, May 24, 2022
— RevolutionParts announces the winners of the 2nd Annual Parts Excellence Awards. 
"Every year, we see amazing results from dealers selling OEM parts online, and we are really excited to have the opportunity to celebrate the hard work they put into making their parts business a success," says Ibrahim Mesbah, CEO, and Co-Founder of RevolutionParts. "We love seeing these businesses grow and thrive, especially in a time when the automotive industry is facing so many challenges."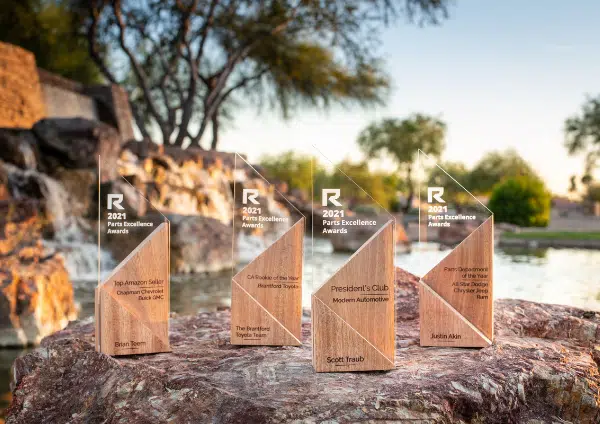 RevolutionParts held its first Parts Excellence Awards in 2021 as a way to recognize the top performers in OEM part and accessory sales. Each year RevolutionParts looks at parts departments across North America to celebrate those who were at the top of their class. The 2022 winners include:

Parts Department of the Year
Justin Akin, All Star DCJR
Justin Akin is the owner of All Star DCJR and has been in the business for the past 20 years. As a creative problem solver, Justin turned to selling parts online to grow his parts business. Justin and his team have never been afraid to test new strategies and put the work in, which has earned them the title of Parts Department of the Year!

Parts Department of the Year (Canada)
Kelly Marsden, River City Ford
Kelly Marsden is the Parts Manager at River City Ford and has been in the automotive industry for a long time. From the beginning, he knew that eCommerce was going to be a winning strategy for his parts department—and he was right. Today, River City Ford is the number one online seller of Ford accessories in Western Canada and the winner of the 2022 Canada Parts Department of the Year!

eCommerce Excellence
Luke Bishop, Flow Automotive
Luke Bishop and his team at Flow Automotive pride themselves on being customer-centric, a winning strategy that helped them sell over 50,000 parts and generate more than $10 million in revenue in 2021. Their performance and customer-first philosophy have earned them the 2022 eCommerce Excellence Award.

eCommerce Excellence (Canada)
Brantford Toyota
Brantford Toyota in Canada may have just started selling parts online in the Fall of 2021, but they are a great example of how quickly success can happen with the combination of skill and hard work. When traditional methods weren't producing the results they wanted, they sought an alternative solution and took their business online. In just a few short months, Brantford Toyota quickly closed out the year with over $161K in revenue. Brantford Toyota hit the ground running, earning them the 2022 Canada eCommerce Excellence Award.

Amazon Seller of the Year
Brian Teem, Chapman Chevrolet Buick GMC
Brian Teem, the Parts Manager of Chapman Chevrolet Buick GMC, and his team work hard to grow their parts business, which is why they expanded their selling channels to include online marketplaces. Today, he dominates Amazon. He brought in over $1.5 million in 2021, making Brian and his team the winner of the 2022 Amazon Seller of the Year Award.

eBay Seller of the Year
Chris & Brandon Ruffin, Jupiter Chevrolet
Chris and his twin brother Brandon Ruffin, along with the Jupiter Chevrolet team turned to eBay, one of the largest online sellers of auto parts, to expand their parts business. Jupiter Chevrolet is famous for putting its customers first and will go the extra mile to source hard-to-find parts to get customers what they need. This approach has led to major success and the winning the 2022 eBay Seller of the Year Award.

Rookie of the Year
Scott Traub, Modern Infiniti of Winston 
Corporate Parts Director Scott Traub and his team at Modern Infiniti of Winston are proud of their accomplishments. Not only was Modern Infiniti new at selling parts online, but they were doing it with a new staff. With dedication and hard work, this team has seen tremendous growth in a short amount of time, earning them the title of Rookie of the Year.

President's Club
Tasca Parts & Modern Automotive
The RevolutionParts President's Club recognizes our online parts sellers at the top of the parts eCommerce game, driving more than $10 million in annual revenue for 2021 and providing their customers with outstanding service. RevolutionParts is honored to celebrate the success of the achievements of Tasca Parts and Modern Automotive.
Dealer of the Year Winners by Brand:
Acura – Acura of Peoria, Dennis Cavanaugh
Audi – Audi Rocklin, Eugene Volkov
BMW – Otto's BMW, Anthony Blubello
Ford – Lasco Ford
GM – Quality Buick GMC, Garry Ricci
Honda – Balise Honda of North Attleboro, Jim Houle
Hyundai – Larry H. Miller Southwest Hyundai Albuquerque, Delbert Chavez
Infiniti – INFINITI of Peoria, Matt Zadwarny
Jaguar/Land Rover – Jaguar Land Rover Paramus, Chip Klein
Kia – Horne Kia, Rich Choquette
Lexus – Lexus of Roseville, Jeff Alden
Mazda – Scherer Mazda, Jimmy Scherer
Mercedes-Benz – Mercedes-Benz of Scottsdale, David Johnson
Mini – Flow MINI Winston, Kelly Allison
Mitsubishi – RC Hill Mitsubishi
Mopar – Dallas Dodge, Joe McBeth
Nissan – Coulter Nissan, Gary Ewy
Porsche – Gaudin Porsche, Mark Jimenez
Subaru – Modern Subaru of Boone, William Kyle Bounds
Toyota – Olathe Toyota, Tom Blackman
VW – Burlington Volkswagen, Jim Gallagher
Volvo – Volvo of Dallas, Nick Mendoza
Click here to learn more about our winners.
About RevolutionParts
RevolutionParts accelerates OEM parts and accessories sales for every major automotive brand. The company's core focus is on delivering an enterprise-ready platform for parts retail and wholesale commerce channels. The RevolutionParts platform powers more than $550M in annual sales and reaches millions of unique buyers globally. For more information, visit www.revolutionparts.com.
Media Contact:
Mike Rich
RevolutionParts, Inc.
480-809-7415
mrich@revolutionparts.com