For auto parts manufacturers, the pressure to maintain brand identity, streamline distribution, and maximize profitability is ever-present. While eCommerce offers a promising platform to achieve these goals, it's important to note that not all solutions are created equal.
There are many solutions on the market that seem ideal on the surface. While many solutions on the market promise a one-size-fits-all approach, their effectiveness is often hindered by the diversity of the industries they are built to serve.
This generalized approach can fall short for manufacturers looking to address the complex and unique needs of selling direct-to-consumer (D2C). 
In contrast, manufacturers can experience significant advantages when they opt for a specialized platform like RevolutionParts, which is designed solely for auto parts. 
The RevolutionParts platform is not just about providing an online space to sell auto parts and accessories, but a comprehensive tool that offers an in-house marketing agency specializing in auto parts. It's built to help you leverage your distribution network, empower you to take back control of your brand, and drive profitability.
The Limitations of General eCommerce Platforms
While many eCommerce platforms exist in the online market, most platforms are made to serve a wide variety of products and services and are not focused solely on auto parts. Every industry has unique needs, and the automotive parts industry is no exception. As a result of this one-size-fits-all approach to eCommerce, many manufacturers are left with holes in their eCommerce strategies that can't be filled by more generic platforms. 
Why are these general platforms ill-suited to automotive parts manufacturers' needs? 
Inadequate Product Categorization and Search Functionality
Shopping for auto parts is a bit more complicated than most products, and specificity is key as components often vary by year, make, and model of vehicle. This means that search functionality needs to be spot on to ensure shoppers are able to find the right product for their vehicle easily. General eCommerce platforms often lack the sophisticated search functionality needed to make this easy for the consumer, which could greatly impact customer satisfaction and retention.
Incompatible Inventory Management
Managing a parts inventory is a complex process. It requires handling thousands of SKUs, tracking the availability of each part, and often involves working with multiple suppliers. Many general e-commerce platforms fail to provide the granular control and detailed visibility necessary to efficiently manage such a complex inventory.
Lack of Fitment Data Integration
One of the most significant challenges for automotive parts sellers is incorporating fitment data. Traditional e-commerce platforms often lack the functionality to easily integrate this data, which is crucial for ensuring customers buy the right part for their vehicle or equipment.
Inefficient Support
While most eCommerce platforms provide support to their users when it comes to selling parts online, their knowledge is limited. They are trained to deal with a range of industries and general questions about their product. They most likely will not have the answers a parts manufacturer is looking for or have the tools to help them maximize their success. This can severely limit a business's ability to reach its full potential.
Lack of Specialized Features
Automotive parts manufacturers often require specialized features that aren't common in general e-commerce platforms. These may include advanced cataloging systems, VIN lookup functionality, interactive part diagrams, or integrated warranty management. The absence of these features can make it difficult for sellers to provide a seamless and user-friendly shopping experience.
Complex Scalability
As parts manufacturers grow, their e-commerce needs become more complex. They may need to handle increased order volumes, manage more complex shipping logistics, or expand into new markets. General platforms may not offer the scalability or customizability needed to meet these growing needs.
Connect Distribution Network
A seamless distribution network is crucial for parts sellers. Yet, many general eCommerce platforms fall short, lacking the essential order routing functionality. This means they can't effectively read distributor inventory in real-time or route orders to the nearest available stock. As a result, even if a part is available close by, the system might direct the order to a distant distributor, causing unnecessary delays. Without this capability to ensure the quickest shipping options, manufacturers risk compromising customer satisfaction and diminishing trust in their service.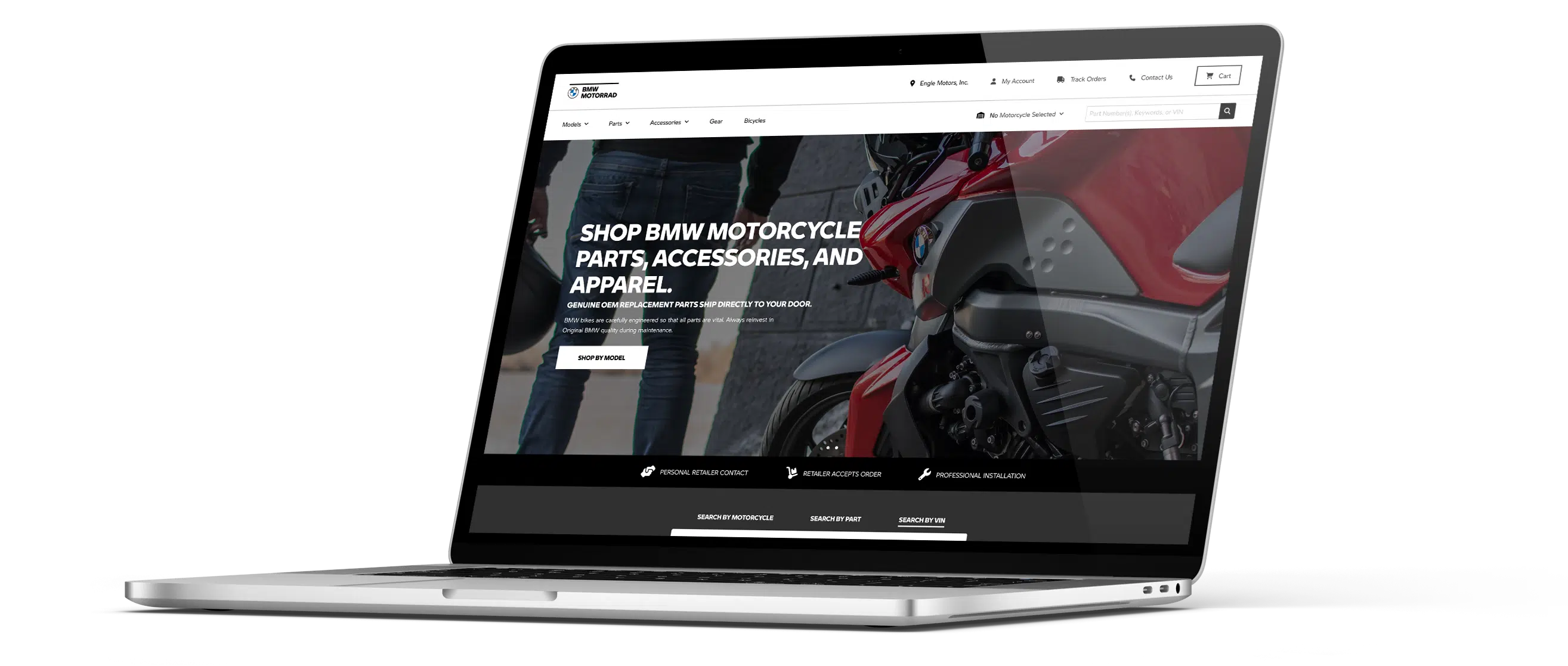 The Value of a Specialized eCommerce Platform Like RP
We're not called RevolutionParts for nothing! We are obsessed with automotive parts and only help businesses in this space. Unlike most eCommerce platforms, we don't want to sell just anything, making us the best option for anyone wanting to drive more parts sales. We deeply understand parts buyers, where they are shopping, and how to sell to them.
User-Friendly Search Options by YMM/VIN
Websites built by RevolutionParts have an easy built-in search function that makes it easy for shoppers to find the part they are looking for by their vehicle's YMM or VIN. This makes it easy for customers to find the part they are looking for and helps ensure correct fitment.
Seamless Inventory Management
RP provides a robust inventory management system designed to handle the complexities of automotive parts inventories. It supports tracking thousands of SKUs and provides detailed visibility into stock levels, improving operational efficiency.
Distribution Network Visibility
RevolutionParts provides the ability to read your distribution network's inventory, market on that inventory on your online selling channels and once purchase, subtly route the order and payment to your distributing partners. This allows for maximum availability of your parts made available to your customers in real time.
Easy catalog ingestion that allows BYOC (ACES/PIES)
With RevolutionParts, you can bring your catalog and ingest it into the platform. This allows you to easily upload your products to your website, Amazon, and eBay. This saves you a ton of time and hassle. Plus, by using your catalog, you can ensure correct fitment data for your inventory. 
Support for Auto Parts Experts
RP understands that excellent customer service goes a long way. Their technical support team is knowledgeable about the automotive parts industry, offering a level of assistance general platforms cannot match.
Makes Scalability Easy
As your business grows, so do your needs. RP offers a platform that scales with your business and can be customized to meet your specific needs, whether it involves handling increased order volumes, managing complex shipping logistics, adding additional branded websites, or expanding into new markets.
Unique Features for Parts Commerce
RP is packed with specialized features tailored to the needs of automotive parts sellers. These include advanced cataloging systems, VIN lookup functionality, interactive part diagrams, integrated warranty management, rich set of eCommerce shipping and fulfillment tools, and many more.
Bottom Lime
For automotive parts manufacturers venturing into direct-to-consumer sales, the selection of the right eCommerce platform isn't merely a choice; it's a vital business decision. At first glance, general platforms might seem like an easy option, but their inherent constraints can influence the trajectory of business growth, customer experience, and overall operational efficiency.
These platforms often struggle to grasp the intricacies of the automotive parts industry truly. This is where RevolutionParts steps in, bridging the gap with its bespoke design and feature set crafted explicitly for the industry. With everything from sophisticated search capabilities to an integrated back-end management interface, the RP platform is intuitively designed and scalable and provides a comprehensive solution suited for automotive parts operations.
As competition within the eCommerce landscape intensifies, it becomes imperative for automotive parts manufacturers to invest in a platform that comprehends and enhances their business. A platform that isn't just a tool but a catalyst for operational efficiency and fostering positive relationships with customers. This is the inherent strength of a platform tailored to the industry's needs, and it's precisely what RevolutionParts offers. Click the button below to speak to an expert and learn more about the RevolutionParts eCommerce platform.