Auto groups understand the significance of scaling their parts and accessories eCommerce business. However, they often lack the control they need. As some stores work hard at selling online, others choose not to participate. Often, a group may have a few stores selling online, but they may have their own branding, different customer experiences, and independent marketing efforts.
As a result, the overall brand cohesion and customer journey can become disjointed, leading to inconsistent experiences that can dilute the group's brand identity. While these groups may see some dealer or regional success, many are not offering a solution that provides a unified customer experience that is also on-brand. Scaling these efforts as a group also leads to several operational and money-saving opportunities.
The Challenge of Unified eCommerce in Auto Groups
The RevolutionParts Auto Group National Program (aka Superstore) offers several advantages for auto groups. To start, it allows the group to maintain a consistent brand image and customer experience across the superstore and all participating dealerships.
This can lead to increased customer loyalty and satisfaction. Secondly, it can lead to greater operational efficiency by centralizing certain functions, such as inventory management and order fulfillment, which can lower costs and improve profitability. 
In addition, group-wide platforms can help expand the reach of marketing initiatives and promotions, increasing sales across the group, even for stores that may typically avoid participation. By pooling resources and leveraging economies of scale, businesses can achieve better marketing results than individual stores could achieve on their own. 
Furthermore, businesses can improve their online visibility and attract more traffic to their websites by creating better SEO opportunities for group pages and dealer pages. A national, group-wide effort can also provide a more professional and consistent buying experience, which can increase customer trust and engagement.
Moreover, a National Superstore Program can balance the needs of the group as a whole with the unique needs and goals of individual stores, allowing businesses to create a consistent experience while enabling individual stores to pursue local goals.
A group-wide platform can also ensure a seamless transition from the superstore to individual store fulfillment, reducing errors and delays in the fulfillment process and improving the overall customer experience. 
Finally, a National Superstore Program can provide retail, wholesale, and dealer-to-dealer sales solutions from one platform. This can streamline the sales process and make it easier for customers to purchase products from the group.
Operating with a national presence also allows the group to launch group-level efforts, including clearing out obsolete parts or promoting holiday specials, which can lead to better results and increased sales during key periods. Imagine a Black Friday promotion that starts with the National Superstore promotions and sends interested customers to dealerships across the group.
This is how you scale your parts and accessories eCommerce business across the group.
Customizing for Group Success with RevolutionParts
The RevolutionParts Superstore Program is fully customizable, allowing each group to hyper-focus their efforts on the business opportunities that are important to them.   
Interested? Let's set up a short consultation so we can understand your short-term and long-term goals and then lay out a plan together to make 2024 your best year ever selling parts and accessories online.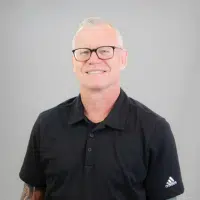 Clayton Stanfield
Director of Business Development
Clayton Stanfield is the Director of Business Development for RevolutionParts and is a well-regarded speaker in the industry, having spoken at SEMA, NADA, Digital Dealer, and hundreds of OEM, eBay, and Dealer Group events. He has worked as a consultant for top brands, including Mercedes Benz, BMW, and SubZero, where he helped build out sales and service processes, worked on the Mercedes Benz BDC initiative, and built BDCs in 75 Mercedes Benz dealerships nationwide. Clayton has also worked with BMW University and the BMWUSA Aftersales program to help build services and parts initiatives. Prior to joining RP, Clayton spent ten years at eBay Motors, starting as the Senior Manager of Dealer Outreach before becoming the National Sales Manager and the final two years as the Car and Truck category manager.