As the online retail market continues to expand, market diversification becomes integral to the success of businesses everywhere. Research indicates aftermarket manufacturers are shifting to expand their segmentation to include B2B and direct-to-consumer. This shift allows manufacturers to incorporate their distribution network and capture the online DIY consumer while focusing on driving wholesale growth.
A strong wholesale customer base can help you build an essential B2B network. Layering on direct-to-consumer (D2C) and leveraging your distributors to fulfill that D2C demand maximizes your strength as a brand and expands your reach.
Wholesale (B2B) vs. Direct-to-Consumer (D2C)
It's an age-old debate. Which is better, B2B or B2C? The truth is the online retail market allows companies to expand both markets with ease. Each has its pros and cons. The shift in manufacturers adding direct-to-consumer in addition to wholesale provides opportunities to expand market share. The online market is set to be $35 Billion by 2030, so preparing now will likely pay future dividends.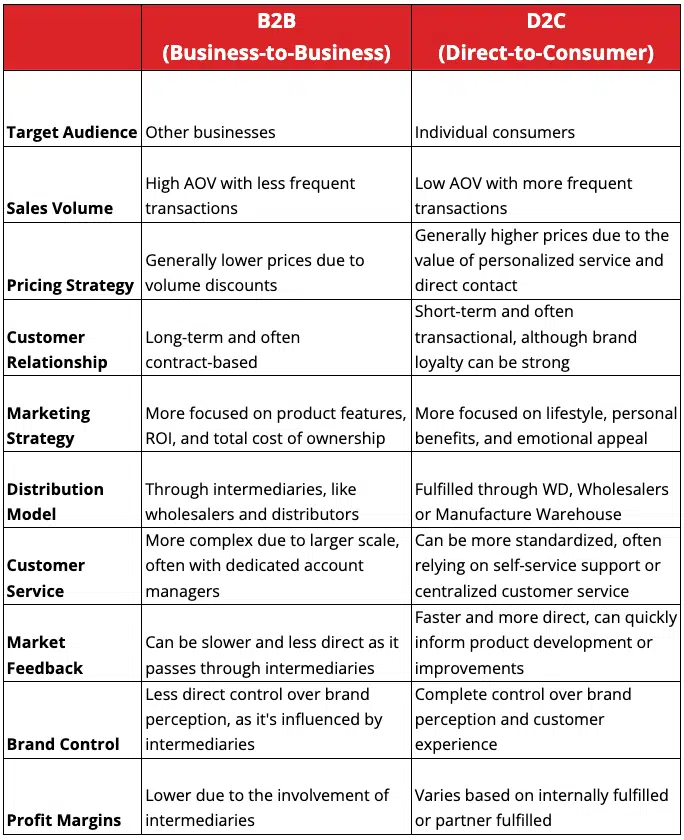 Challenges of a Solely B2B Approach
While the eCommerce market has allowed aftermarket manufacturers to expand their business and reach customers nationwide, strictly adhering to a wholesale market segment isn't always enough to ensure profitability. 
Channel conflict has been a major driver of manufacturers failing to capture the D2C demand. This model suggests that if manufactures incorporate a D2C channel they would be in direct conflict with the distributors. Over time, eTailers were created as a technology to remove channel conflict. In turn, this brought an additional layer to the end consumer, dirivng up costs and leveraging distributors as fulfillmnet nodes.
Today, manufacturers are navigating this by including distributors as fulfillment nodes and adding a D2C channel, ultimately removing any channel conflict and maximizing the growth of their brand.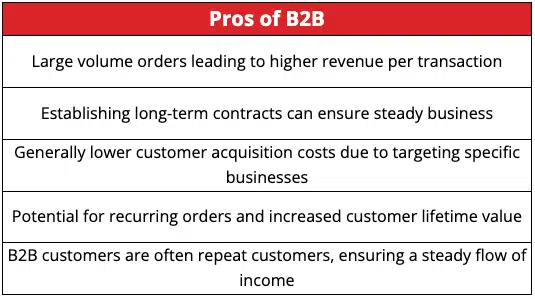 With high market saturation in the online market, scalability becomes harder every day. Manufacturers have to compete with direct and indirect competitors to stay relevant among their wholesale customers. Additionally, companies can lose many valuable B2B customers when a new competitor arrives. 
The loss of wholesale customers isn't the only factor that impacts profitability for the manufacturer. 
There's also the issue of brand reputation. It's much easier for B2B clientele to pass off issues to their suppliers when dealing with end buyers. When a large portion of your brand image is outside of your control, it can lead to lost customers and a drastic decrease in your B2B network. 
So, what's the solution?
Adopting a D2C Business Model
Adding a new market segment to your existing sales model might seem like a challenge, and many aftermarket manufacturers question if it's worth the effort. Going direct-to-consumer provides you with various benefits, and with the right tech stack, your business can seamlessly layer on D2C with your wholesale model. Historically, technology and operations have been tailored to wholesale without taking D2C into consideration. However, RevolutionParts helps businesses do both without channel conflict.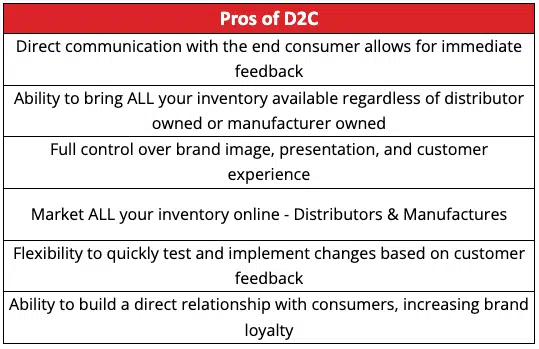 How do you know that a D2C market segment is right for you? 
For manufacturers looking to expand their market reach, adding a D2C channel allows you to widen your customer base while eliminating the need for middleman marketing and sales tactics. It also allows you to tap into changing consumer behaviors with less friction while working with your distribution network and removing channel conflict. 
Access to end-buyer data allows you to make more informed decisions about product development, sales trends, and target demographics. 
If you're looking for more in-depth information to help you scale your sales and improve product development, a D2C market segment can give you those insights.
Why does this hybrid business model approach work? Market diversification gives you a few key advantages:
Ability to scale business beyond market constraints

Ability to leverage consumer data more effectively across different areas of the buyer journey

Direct interactions with end buyers and B2B customers fill in the gaps of the buying process
By collecting a wide range of buyer data, you can make better-informed decisions about product development, sales strategies, marketing tactics, customer demographics, and much more. 
While D2C may have its challenges, RevolutionParts makes overcoming these easy. With a robust eCommerce platform and access to an in-house parts marketing agency, our turn-key D2C solution can help you reach more retail customers and remove channel conflict by including your distributors as fulfillment nodes.
Integrating D2C and B2B in Your eCommerce Business Model
A combined market segment approach can give you a leg up in the eCommerce space. Both give you valuable insight into the online buying experience. However, both require slightly different tools and tactics to have successful sales growth. 
What do you need to grow both B2B and D2C customer bases online effectively? 
The most essential element you need is a seamless eCommerce buying experience for both B2B and D2C customer bases. 
Designing an inclusive environment that engages both B2B and D2C customers is key. For your B2B segment, we focus on functionality and user-friendly interfaces to facilitate swift order placement by procurement teams. As for the direct-to-consumer aspect, it's crucial to incorporate your existing distribution network to ensure you meet the end consumer's demands and deliver on high-service level agreements to guarantee rapid and efficient product delivery.
The more you can tailor and personalize the buying experience to your respective customer segments, the more likely you'll be able to grow your business for both effectively. Determine how the user interface will differ for B2B and D2C customers. From there, you can identify the next steps in the customer journey. 
Another essential component you need is direct access to robust customer data. You need to be able to analyze sales trends, customer satisfaction rates, order/supplier tracking, and marketing tactics across both customer bases. 
With enough data to compare both, you can better understand where you need to make improvements to your buying experience. You can also better understand how you and your B2B customers can effectively market your products to end buyers together.
Do You Know Which One Is Right For You? 
Whether wholesale, direct-to-consumer or a combination of both, scaling your business depends on your ability to build consumer trust. Providing a seamless eCommerce experience, utilizing target marketing, and gaining insight from essential customer data can help you do that. 
Ready to scale your parts business?
To get started, click the button below to schedule a one-on-one chat with one of our parts eCommerce experts to learn more about the RevolutionParts solution and how we can help you grow your automotive parts business.