Parts departments struggling to manage their older inventory should look to the number one cause of high parts obsolescence, and for most departments, that offender is special order parts (SOPs). 
Special order parts are parts that a dealership does not currently have in stock when they're requested by a customer. When an SOP has been received, it often doesn't make it through to the customer. The customer either doesn't pick it up or finds the same part from a competing parts seller at a lower price or with a quicker shipping time.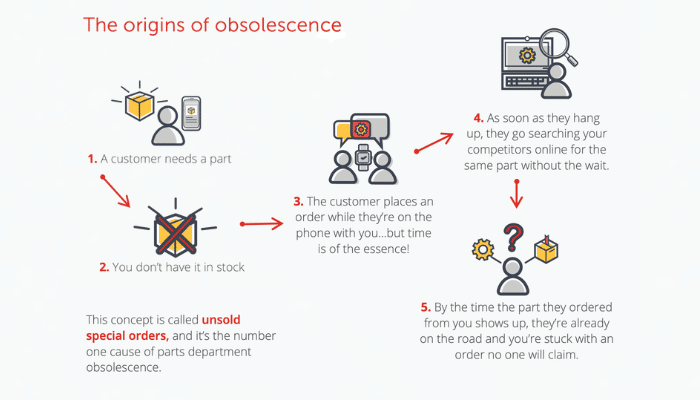 This leaves your parts department with a pile of specialized parts that are harder to sell and tie up inaccessible cash.
Selling these parts isn't the only solution to the problem. Putting the right processes in place to prevent an overflow of special order parts is an essential component of combating parts obsolescence.
Here are the top strategies to both prevent obsolescence and sell obsolete parts effectively.
Preventing SOP Obsolescence
Stopping the problem before it occurs is always preferable. Here are a few things you can do to help prevent obsolescence before it happens.
Set Requirements for SOPs
One of the biggest problems parts departments face with special order parts is the cost of purchasing the part. Ordering a special part that doesn't get picked up or gets returned, eats into the profit and revenue to be made from that part. That investment is then tied up in a part that is stuck on the shelf.
To prevent this from happening, there are some things you can do.
Require a deposit for non-warranty services parts.
Get confirmation from the service manager that the customer has prescheduled an appointment to get the part picked up.
Bundle special order parts with larger orders to increase the likelihood that the customer will return for their order.
Bundle special order parts with larger orders to increase the likelihood that the customer will return for their order.
Set strict return policies on special order parts.
rain staff to perform follow-ups with customers to confirm orders and order status.
Standardizing these processes can go a long way to preventing a buildup of obsolete SOPs. Remember to identify when relationships with that customer may be strained and analyze how much that will impact your business.
Evaluate the Life Cycle of SOPs
Once you've identified the source of high SOP obsolescence, the next step is to determine the life cycle of those parts. In short, how long do those parts sit on the shelves at the parts department? The percentage of obsolete parts that are acceptable to have sitting on the shelves is different for every dealership. 
For the average dealership, the ideal obsolescence rate is below 5%. 
The average obsolete part sits on the shelf for anywhere between 7 and 12 months, depending on your dealership's specific definition. If your parts department has an accumulation of special order parts that are 12 months old or older, that percentage could easily rise. 
In fact, the average parts department reports that up to 30% of their total parts inventory is made up of obsolete parts. 
What can you do to lower that percentage? Identify how much of your obsolete inventory comes from special order parts. Determine how long those parts have been sitting on the shelves and develop processes to keep special order parts on the shelves for a limited time period (i.e., six months). If you can return a special order part, be sure you note the amount of time you have and return the part to the OEM.  
Creating a Special Order Parts Process
As special orders are placed, you should have a system of tracking who is ordering them, when they are ordered, and when it is time to send them back. If you miss the window to return your unused SOP to the manufacturer, you risk it becoming obsolete. Below is a simple three-step process you can implement to easily track your special order parts process.
Click through the tabs to view each step.
Create a bin and shelf system that allows you to track what service advisors are ordering what parts and when. Each shelf represents a different week, and each bin an advisor. Each week should contain a bin for each advisor.
When an order is placed for an SOP, place that order in a bin of the advisor that ordered it on that week's corresponding shelf. This makes it easy to see how long SOPs have been sitting on the shelf and which advisor has yet to have their SOP picked up.
Draw a line for when the part needs to be returned. Any SOPs remaining in their bin past the allotted number of days are immediately returned to the manufacturer.
Selling Obsolete SOPs
Preventing future obsolescence from accumulating is an important part of the solution, but what do you do about the obsolete inventory you already have? Here are some effective channels you can use to help sell obsolete SOPs and turn them into a strong revenue stream.
Designated Parts Web Store
With a web store specifically designed for the parts department, you can easily promote and sell obsolete inventory online. A designated parts web store makes it easier for customers to buy SOPs directly from your dealership, as well as receive notifications and follow-ups on order status
Online Marketplaces
Special order parts that go unsold at the parts counter can be great for online marketplaces. Marketplaces such as eBay and Amazon instantly give you access to millions of potential customers, many of whom are more interested in unique and highly specialized parts. eBay Motors, in particular, is the go-to place for online buyers searching for older, harder-to-find parts.
Sell to Sister Dealerships
A big source of parts business actually comes from other dealerships. When dealerships are running low or out of stock on particular items and don't have time to order directly from the manufacturer, they turn to buy from other dealerships.
Sourcing parts from other dealerships is beneficial to both parties, and with RevolutionParts, you are connected to one of the largest networks of dealers. It helps you close more sales of obsolete inventory and helps other dealerships get the parts they need quickly. Work closely with other dealerships in your area to help sell and deliver parts in a timely manner.
Resellers & Brokers
Although some dealerships may not find this solution the most lucrative, it is often seen as the last resort option for parts that just won't sell.
Improve SOP Processes & Reduce Obsolete Inventory
Managing special order parts processes effectively can help you prevent and reduce obsolete inventory. These strategies are just the tip of the iceberg in decreasing obsolescence. Generating sales from obsolete parts is just as important.
Interested in learning about the revenue potential from selling obsolete parts? Download our free guide, "Turn Obsolescence Into Revenue With Parts eCommerce," to learn how to get rid of your obsolete parts and turn them into profit.