Knowing how to market your parts department online can be a struggle, especially if you are relying on your dealership's own internal marketing. The way people buy online changes constantly and if your marketing isn't at the top of its game, your sales could suffer. If you're looking to handle all of your marketing internally, there are some major issues you should be aware of. Here are 5 common mistakes internal marketing services make that you need to be on the lookout for.
Lack of Parts Marketing Knowledge
Perhaps the BIGGEST mistake internal marketing departments make is not being focused enough on parts, and that's not entirely their fault. Internal marketing departments are hired to market the dealership. This means they have multiple departments they need to promote. Unfortunately, the parts department is often not the biggest priority and internal marketing often lacks the knowledge and specialization to properly market OEM auto parts.
Marketing OEM parts takes skill, so be sure your marketers:
Know how customers are searching for parts online

Are specially trained to market parts specifically
Having a niche focus on your parts department can help your customers find what they're looking for with ease. 
A Weak Online Presence
Let's be honest, your online customers aren't seeing your ads in the local newspaper anymore. If you want to sell online, you need to be sure your parts department can easily be found. Online marketing relies on many different strategies to capture your customers' attention, and if your internal marketing is not embracing those strategies, it will be difficult to sell parts. 
Here are some ways to digitally market to your customers:
Search Engine Optimization (SEO)

Pay-Per-Click Advertising (PPC)

Email Marketing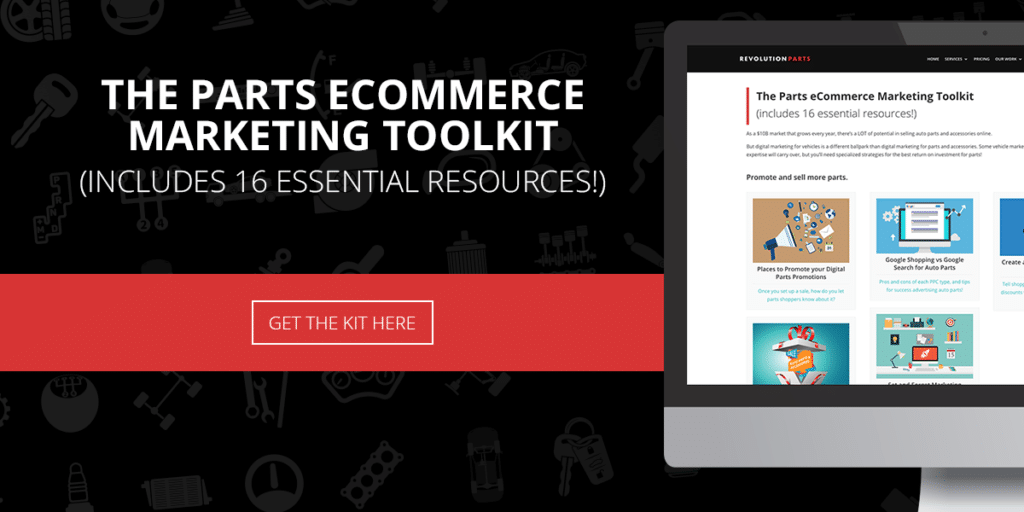 Most dealers think that they can simply put their parts online, and customers will flood to their site. Unfortunately, for your parts department, this isn't how it works. You need to be savvy to get your website in front of your customers, otherwise, you may just be wasting time and money.
Not Using Email Marketing
Email marketing can be your greatest strength or your greatest weakness. When you gain new customers, how do you keep them coming back? Nurturing your return buyers is essential to maintaining your customer satisfaction. Email marketing can help you keep your return customers and build trust. 
Email marketing is also a great way to recapture lost customers. Be sure you have a strategic abandoned cart campaign in place, and an automated nurture campaign set up for your customers requesting parts quotes. This way, you don't lose potential customers who didn't initially purchase on their first interaction.
With the right email marketing strategy you can:
Build a strong relationship with your customers

Turn first-time buyers into repeat customers

Educated your customers on OEM parts

Capture customers at different stages

Improve your referral rates
Email marketing can also help you gain insight into your customers' needs and values, making it even easier to market to other potential customers online.
Ignoring Crucial Data
Not knowing how well your strategies are working can have a major negative impact on your revenue. The last thing you want to do is pour money into ads and campaigns that are not bringing in new business or drawing past customers back. You need to know the numbers to know that what you're doing is working. Don't ignore the data. 
You should be getting updated reports on your performance regularly, and in a way that is easy to understand. This way you can make educated adjustments that will drive more revenue for your parts department. 
With the right data you can determine:
Who your customers are

Where they're seeing you

How they're finding you

When they go from lead to customer

What they're responding to
Knowing more about your customers will help you better market your OEM auto parts. Want to know more about online parts shoppers? Download the RevolutionParts eCommerce Shopper Behavior Report to gain an insight into your online customers. 
That last point leads us to the final common marketing mistake.
Weak Messaging
You need to connect with your customers. Having a strong voice in your marketing strategy can do that. When you have inconsistent or weak messaging across different marketing platforms, your customers lose interest. 
You need to decide what your message is. What are your tone and voice? Are you trustworthy and respectful? Are you loud, bold, and energetic? Knowing how you want to sound to your customers is just as important as the data. 
Get Help With RevolutionParts Integrated Marketing
RevolutionParts is a fully integrated eCommerce platform, here to help you achieve all of your online goals. 
With RevolutionParts marketing services you'll get:
Insight and reporting metrics

Email marketing assistance

Pay-Per-Click (PPC) ad campaigns

Google Search and SEO assistance
With all of these tools, we'll help you:
Create the right marketing strategy

Engage with your customers

Generate more leads

Help your customers find you more easily online
Are you ready to take your dealership's marketing strategy to the next level? Ready to start streamlining your marketing? Speak with your account manager today and see how RevolutionParts Marketing Services can help you take your dealership to the next level.