Tasca Parts' Michael King Sets the Gold Standard for Automotive Part & Accessory eCommerce Excellence
Michael King is one of the instinctive few that capitalized on the parts eCommerce opportunity in its infancy. Back during the 2009 economic recession when car sales were struggling, Michael had the bright idea to leverage a new, profitable revenue stream in the automotive retail space. 
After separating from the dealership he was working for at the time, Michael bet all his chips on an online part and accessory business—long story short, his gamble paid off. After working multiple decades in dealerships, beginning as a parts counterperson and eventually working his way up to a Parts Manager position, Michael finally fulfilled his dream of becoming his own boss.
Michael Seeks New Profit Centers in the Automotive Industry Amidst Economic Strife
In Michael's first year of selling parts and accessories online through his new company NewAutoParts.com, he generated $900,000 in revenue with just two part-time employees. "By year five we were doing more than $5 million," Michael says. This incredible success didn't go unnoticed by automotive industry giants. Shortly after Michael garnered these unprecedented revenue gains, he joined forces with Tasca Parts and the rest is history. "Go big or stay home" is one of Michael King's mottos and the $14 million he generated in 2020 is proof that he means it.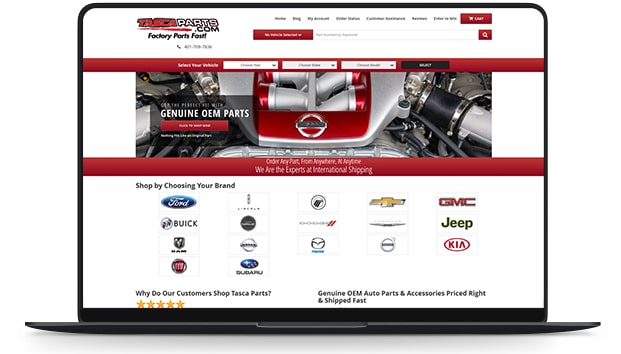 Michael's Leadership Style Centers Around Empowering His Teammates With Resources for Success
Michael points to his employees and coworkers for the accomplishments of Tasca Parts and insists that great teams are empowered with all the resources necessary for success. "We don't use words like manager or supervisor," says Michael, "We're a team and we're molding our people to take over the business." With a long history of being a problem solver, Michael's main talent seems to be building powerful teams: "I love making things work," he says. Whether it be a mechanical fix or a process that needs revamping, Michael is a pro at getting it done.
A philosophy of excellence drives everything Michael does in business, which amounts to relentless teamwork and an unwavering commitment to customer service. This is the exact business model that has led Michael and Tasca Parts to unstoppable parts eCommerce success. Michael's advice to dealers that are just getting started with parts eCommerce is, "There is plenty of online business out there for everyone; just be patient and make the customer as happy as humanly possible."
Do you want to sell like Michael King of Tasca Parts?

Bring your parts department online with RevolutionParts.