Jeremy Deming of Sewell Ford Generates $100k a Month in Online Part Sales in Less Than a Year of Selling Online
While most dealers can expect a revenue haul of $30k per month in their first year of selling parts online, Jeremy Deming had higher hopes. Having started his parts eCommerce journey in April 2020, he quickly built his parts business to generate six figures month-over-month. 
Sewell Ford's Jeremy Deming Takes Customer Service to the Next Level, Record Sales Follow
Jeremy has always run a tight ship in the parts department, but it wasn't until he started selling online that he uncovered the true revenue potential. "Our parts business caters to the fleet and oil field side of the automotive industry," says Jeremy. "Earlier this year when oil prices plummeted, our fleet business took a pretty big hit," he continues. Before things got bad, Jeremy had the wisdom to add an additional revenue stream to the parts department. "Selling online was the logical next step to help make up for that revenue gap," he says.  
Jeremy Builds Customer Loyalty With a Modern Approach to Service
For Jeremy, making and keeping customers happy is the name of the game (and the quickest path to success). "We do a lot to take care of our customers, even to the extent to which it costs us money sometimes," he says. While many are driven to profit on every sale, Jeremy sees the true value in satisfied customers. "We may lose a few dollars now but we get reimbursed later through returning customers and word-of-mouth business," he says, "we trust our customers—if there's a problem we can solve, we'll take care of them."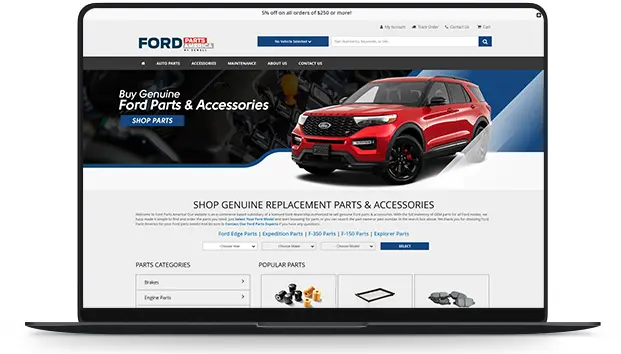 Sewell Ford is Setting Sales Records and Closing The Gap With Online Part Sales During Economic Hardship
This approach to customer service has earned Jeremy the trust of his superiors to make decisions he knows will lead his department to a profitable future. "[The owner] sees our online parts and accessory business as a huge help when the oil field business went down—not to mention declining new vehicle sales," says Jeremy, "we're always looking for ways to grow the business and selling parts online contributes to that." 
With a brand new profitable revenue stream and a natural talent for selling, Jeremy looks forward to a promising future of growing parts and accessory sales: "When we started [selling parts online], our goal was $50k a month within the first six months" says Jeremy, "by month eight we're doing about $100k a month… our next goal is to get to $250k a month in 2021."
Do you want to sell like Jeremy Deming of Sewell Ford?

Bring your parts department online with RevolutionParts.