Quality Buick GMC's Garry Ricci Leads By Empowering Parts Department Team Members
Garry Ricci, the Parts and Service Director of Quality Buick GMC, says his elite leadership skills were not something acquired overnight. Years of managing people and working in the parts and service industry have lent him the wisdom to build effective teams: "I lead by empowering my team with the knowledge and resources to make their own decisions," says Garry.
As a vetern in the online part and accessory sales space, Garry is comfortably selling millions upon millions of dollars of product each and every year. The secret to his success? He says it's all about "[finding] the right people to do the job, [building] clear processes, and [empowering] your team with the ability to make decisions and move forward." We're inclined to take his word for it.
Garry Leverages Online Parts and Accessory Sales to Generate Profitable Revenue During the COVID-19 Pandemic
With parts eCommerce, Garry has laid a strong foundation for the dealership to handle a constantly fluctuating economic climate and automotive industry. "Car dealers were forced to change the way they do business and a lot of people were forced to change how they buy auto parts, too," Garry explains, "internet parts revenue really helped maintain our business… it picked up a lot of slack for the rest of the store, in sales and profit." Garry explains that parts eCommerce not only helped their bottom line, but also saved jobs: "A lot of the departments were looking to lay off people, we were looking to hire."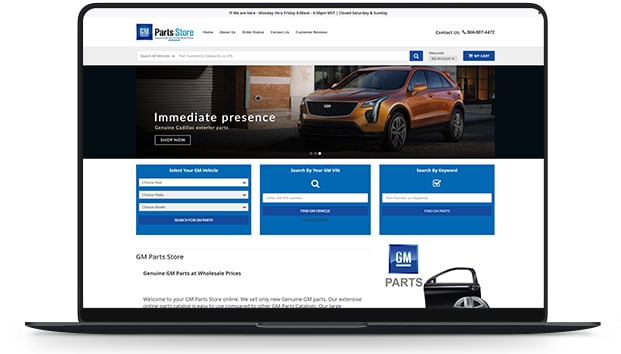 Garry Knows How to Run a Parts eCommerce Business, And He Has the Revenue to Show For It
When Garry first started selling with RevolutionParts, he didn't realize how much he stood to make: "I have certain monthly and annual sales goals for each department, which continue to grow," he says, "the online parts and accessories business has gone from generating $300,000 a month to $1 million on good months." But Garry knows that the machine doesn't run on it's own and the growth pace is dependent on effort: "you get what you put into it." 
Garry Looks Toward the Future of the Automotive Industry with Optimism
The year 2020 was financially challenging for even the savviest US dealerships and it's no secret that in cutting costs, the parts department tends to be first on the chopping block. As the Parts and Service Director, Garry was faced with the challenge of trimming the fat while remaining profitable. "Going into Covid, I considered shutting our internet parts business down and I'm glad I didn't," says Garry, "In fact, in 2020 we expanded our internet department." 
Garry's believes that the automotive industry is not far from returning to equilibrium. He says he expects "business as usual by April." He also points to online parts and accessory sales as a huge and growing opportunity for OEM parts retailers: "As OEM dealers, I believe we all should have an online presence… The majority of our competitors are not other dealers online; it is the aftermarket."
Do you want to sell like Garry Ricci of Quality Buick GMC?

Bring your parts department online with RevolutionParts.