Elmhurst Toyota's Bob Fazzi Drives High-Volume Part Sales on Amazon
Bob Fazzi is a skilled online parts and accessories retailer in all aspects. But what he's particularly masterful at is selling on Amazon. He knows just how to leverage this booming platform to drive part sales at volume, sell more accessories than ever before, and direct returning customers back to his stand alone, branded web store.
With 12 years of experience as a Service Advisor at Elmhurst Toyota under his belt, Bob stands as a fine example of loyalty and work ethic. Now as the Parts Manager, he leads an extremely high performing team that has endured the ups and downs of an evolving automotive industry and hacked a way to generate more profitable revenue.
Bob Fazzi Uses Amazon to Generate Volume Sells and Connect With More Local Customers
"The sheer volume and exposure we get on Amazon drives people to our main website," Bob says, stating that many Amazon sales turn into customers of his branded web store. It doesn't stop there—Bob has actually captured customers in his local area by promoting his online store: "it has also helped us create more local customers with the local pick-up option – it's really helped get our name out there."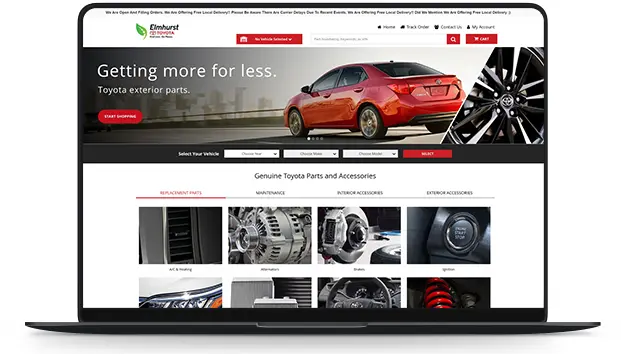 Bob Fazzi Saves Jobs and Earns His Voice at the Dealership
Bob's initial goal was to sell $1,000 of parts and accessories a day but he quickly surpassed that. "[Now] my goal is to double our gross dollars every year… and we've had success with that so far." Not only is Bob breezing past his sales goals; he's also getting the attention of the other departments of the dealership. "Our sales success is helping me negotiate marketing dollars," Bob says, "when the bosses see that advertising helps sell parts on our website, they're on board with letting me invest in that." 
The part sales from Amazon have also helped the bottom line in the 2020 economic downturn. Bob says, "if we didn't have Amazon helping boost our gross dollars in the parts department, we would've had to lay more people off due to Covid."
Not all of Bob's goals are defined by numbers: "We're working to get to the point where Sales and Service can't tell us what to do anymore because we're the big boys," he says. If Bob's sales strategy keeps yielding his current results, the sky's the limit! Bob proclaims, "selling parts online is the only way to sell parts these days!"
Do you want to sell like Bob Fazzi of Elmhurst Toyota?

Bring your parts department online with RevolutionParts.