There are a lot of great reasons to sell on eBay, and "Top Seller" status is one of them. But what exactly is it, and how much can it help you sell auto parts on eBay? The answer: a lot.
Becoming a "Top Seller" on eBay will give you access to a variety of powerful benefits which make selling on eBay even easier. Some of these perks include:
Cheaper shipping prices through USPS Commercial Plus pricing.
20% discount on your eBay fees.
Your business will be recognized as a trustworthy source by an exclusive badge of honor.
Interested? Of course you are. It's a really easy way to make selling auto parts on eBay more profitable. Here is a full list of eBay's requirements for achieving Top Seller status, and we're about to break down what exactly each step entails.
Luckily, dealers can partner with RevolutionParts and automatically receive Top Seller Status from eBay when signing up for our eBay solution. Read on to learn how to maintain Top Seller Status and continue reaping the perks.
1. High eBay Sales
You must complete 100 transactions and $1,000 in sales with U.S. customers in a single 12-month period. By listing thousands of parts, you can easily achieve this annual transaction goal.
The first thing you can do is make sure your profile is treated as an extension of yourself and your company. For example, include a brief history of your company, along with a mission statement. This gives your customer a familiar face to associate with your company when doing business with you online.
It is also essential to maintain consistency with your shipping and handling. After the first successful purchase with your business, a customer is more likely to return in the future because they trust you. It's important to keep your available stock and prices as up to date as possible!
(By the way, the RevolutionParts eBay solution can automatically sync with your inventory!)
Remember that sales are a great way to draw in customers. Use eBay's promotional tools to set up some enticing deals! Sales are always a great tactic to selling more auto parts on eBay—or anywhere, for that matter
Finally, be sure to answer customer questions about your items. By showing promptness and working with your customers, you can instill the trust and confidence most customers need when shopping online.
2. Include Tracking Numbers
According to the tracking requirement, you must guarantee that 90% of the items you sell are trackable within a day of the item's purchase. Uploading tracking numbers is easy. You can also use a third party shipping manager to automate the process of uploading tracking numbers so you don't have to do it manually.
Uploading tracking information is vital to achieving ultimate satisfaction with your customers. Simply by giving your customer the ability to keep an eye on their package throughout the shipping process, you are assuring them that they've bought from a trustworthy and reliable source.
3. Low Transaction Defect Rate
eBay takes several factors into account when determining your defect rate. As of February 20th, 2016, you can read the details about how seller defect rate is calculated here. However, the most important detail to consider is how much your customer's satisfaction is affected by their expectations.
Because of this, it is important to accurately showcase your items through photos and descriptions so that shoppers know exactly what they are buying, what it does, where it goes, what color it is, etc.
As part of your calculated defect rate, you must also meet certain Money Back Guarantee and PayPal Purchase Protection case requirements. If a customer reports an issue with their purchase, always do your best to resolve the issue with them.
Too many cases closed without seller resolution will keep you from meeting this requirement.
What about Top Seller Plus?
Why stop at Top Seller when you can shoot for "Top Seller Plus"? In addition to all the Top Seller requirements, the Plus status can be attained when you provide a 14-day (or longer) money-back return policy AND provide same and 1-business day handling time.
To advertise your accomplishment, eBay will award you with a slightly different profile badge. Even more customers will flock to your store with the prestige of Plus.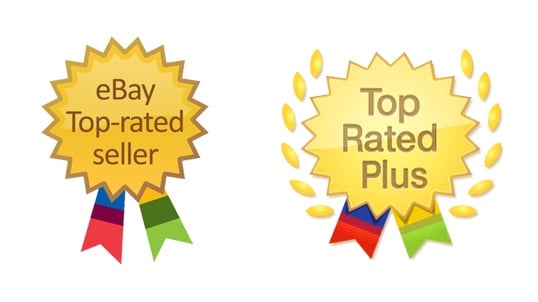 The rewards of being a Top Seller on eBay give you a significant advantage over your competitors, and that's not something you should take lightly.
Signing up with RevolutionParts will start your store off with Top Seller Status, in addition to waiving certain fees. However, it's up to you to maintain the status!
With that said, maintaining this status does take time and effort, or else it wouldn't be a status so trusted by shoppers. But don't let it discourage you, because the benefits are definitely worth it. With the right know-how and execution, you can use eBay to lead your parts business to entirely new levels of success.