Drive Parts Department
Revenue Growth
Join the official Mopar.com National eStore to deliver maximum revenue, a superior customer experience and unparalleled brand loyalty.
Powering Parts Sales for:







Mopar.com National eStore
Improve your local parts business and capture orders from the Mopar.com National eStore.
+1 time $350 implementation
Benefits:
Mopar.com National eStore orders
Dealer Site Plugin
Cloud Accessorizer
Local Delivery options
Full Mopar® catalog

Mopar.com National eStore Plus
Build your own parts brand with the maximum earning potential.
+1 time $800 implementation
Benefits:
All Mopar.com National eStore features
Dealer-branded eStore
Amazon store
eBay store
Marketing services eligible

Mopar® Accessory Sales Tool
powered by Insignia Group
Maximize you in-store accessory sales and wow your customers.
Benefits:
3D Vehicle & Accessory Visualizer
Automatic OE pricing & catalog updates
Customize features like labor rates
Robust e-training modules
Creates revenue for Parts, Sales, and Service

Capture Online Sales
Sell across multiple channels to capture the growing online parts market.

Maximize Your Resources
Save time and money by consolidating processes into a single platform.

Build Relationships
Create memorable purchase experiences that drive repeat business.

Grow Local Business
Improve the experience for local DIY and wholesale customers.
THE REVOLUTIONPARTS DIFFERENCE
In the Last 12 Months, MOPAR® Dealers Sold




$39K
Avg. Monthly Revenue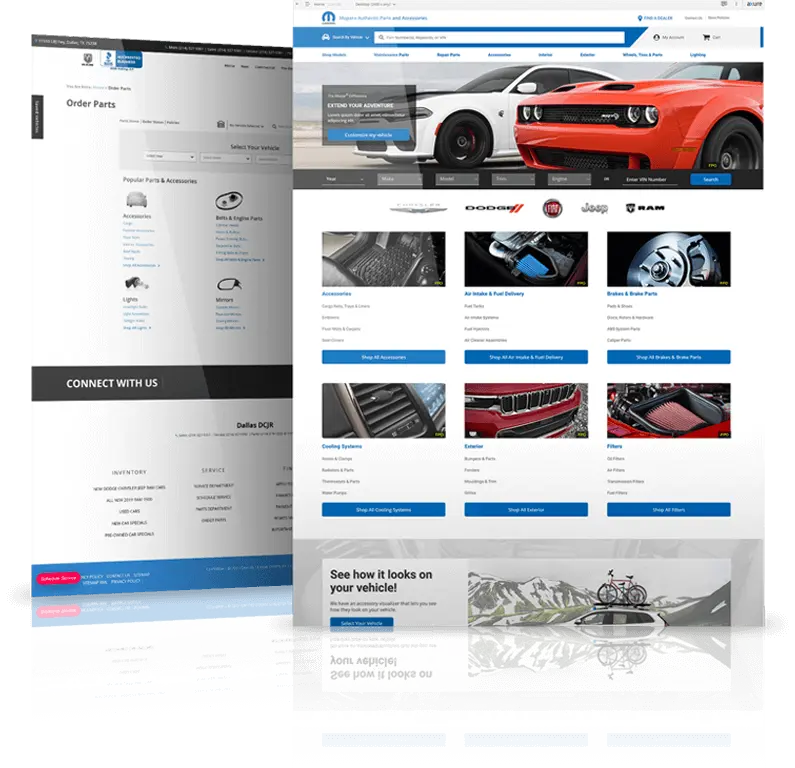 Mopar.com National eStore

Seamlessly receive ordes from the Mopar.com National eStore.

Dealer Site Plugin

Allow customers to buy parts and accessories directly from your site, day or night.

Dealer-Branded eStore (Plus Package)

Set your own prices, run promotions, sell your merchandise, and build a thriving online business.

Amazon/eBay Store (Plus Package)

Instantly start selling on the world's largest online marketplaces: Amazon and eBay.
Easy Order Management

Simple and intuitive tools make it easy to manage orders, communicate with customers, and collect payment.

Robust Reporting

Instantly view performance across your sales channels to track progress and identify areas of opportunity.

Fully Managed Catalog

Automatic catalog, fitment, and pricing updates ensure customers can confidently find the right parts and accessories.

Integrated Shipping

Quickly determine the best rate, gain access to corporate shipping discounts, and instantly print shipping labels.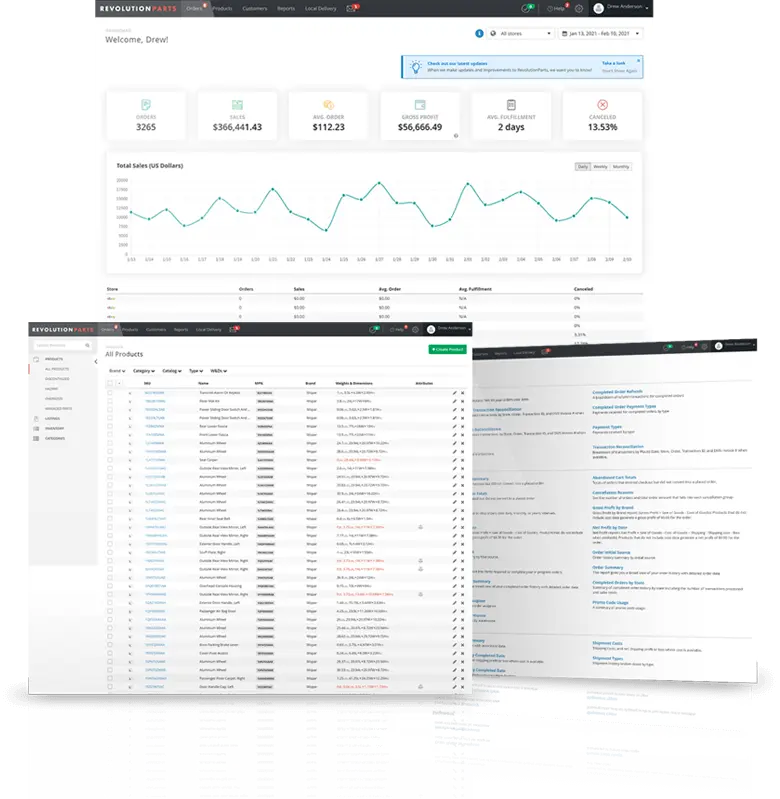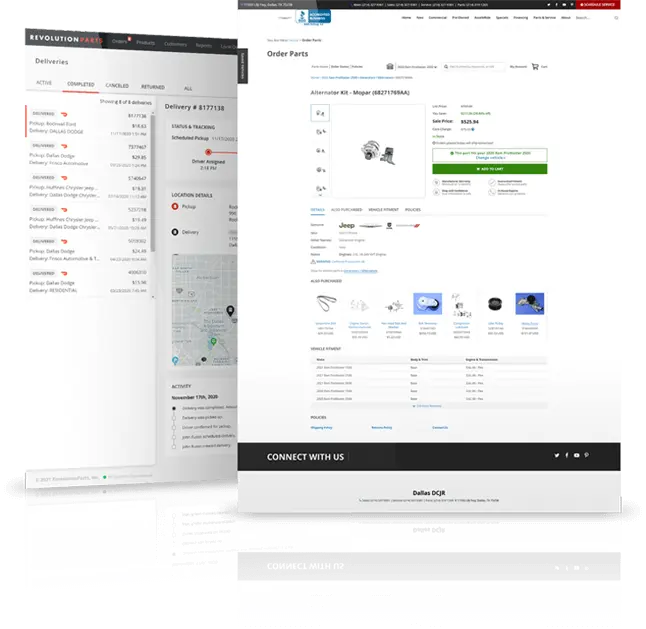 Optimized Shopping

Provide a modern shopping experience featuring detailed fitment data, upsell recommendations, and a simple checkout process.

Cloud Accessorizer

Allow customers to select, visualize, and purchase accessories for their vehicle.

Rapid Delivery

With just a few clicks schedule a hotshot same-day delivery to any business or residential address in your local market.