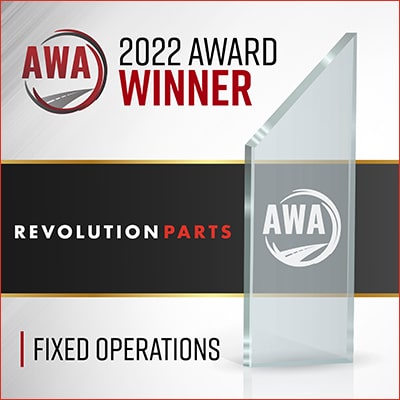 PHOENIX, AZ (March 16, 2022) – Brian Pasch, author and industry leader in automotive marketing strategies, online dealer education, marketing analytics, and digital retailing is pleased to announce RevolutionParts as a winner of the 2022 AWA Award in the category of Fixed Ops. 
"We are honored to have RevolutionParts recognized in the 2022 AWA Awards. Our team strives to bring the best in parts eCommerce to dealers and OEMs and we are excited to have that work recognized," says Ibrahim Mesbah, CEO of RevolutionParts.
The AWAs were created in 2008 to recognize the best vendors in automotive digital marketing. Since then, the AWAs have become a benchmark in the automotive industry for recognizing innovative products in digital retailing, marketing automation, sales process, dealer websites, digital marketing, fixed operations, F&I, training, website merchandising, conversational commerce, business intelligence tools, video technology, OTT, and reputation management.
RevolutionParts joins the ranks of other innovative companies in the 2022 AWA lineup, which aims to improve operational efficiencies for dealers, strengthen their brand, and grow their bottom line. RevolutionParts is changing the way new car dealers buy, sell, and source their OEM parts. 
Brian is honored to recognize the efforts of many deserving companies who stand out in their areas of expertise and have proven to be thought leaders and innovators this past year.
"Each year, certain companies put a smile on my face because I see the innovation and constant passion for improvement, and RevolutionParts is one of those companies," says Brian Pasch.
About RevolutionParts
RevolutionParts accelerates OEM parts and accessories sales for every major automotive brand. The company's core focus is on delivering an enterprise-ready platform for parts retail and wholesale commerce channels. The RevolutionParts platform powers more than $550M in annual sales and reaches millions of unique buyers globally. For more information, visit www.revolutionparts.com.
About Brian Pasch:
Brian Pasch, Founder of PCG Companies and Brian Pasch Enterprises (BPE), has been actively involved with automotive franchise dealers since 2005. Brian has authored nine bestselling books for the automotive industry: "Remote Retailing Blueprint," "Just Faster," "Automotive Marketing Playbook," "Who Sold It?," "Swimming with Digital Sharks," "Mastering Automotive Digital Marketing," "Selling Cars in a Digital Age," Unfair Advantage," and "Hyper-Local Marketing for Automotive Retail." Brian is an active conference speaker, 20 Group presenter, and coach to both dealers and members of the vendor community. He has presented workshops at NADA, Digital Dealer, DCDW, Driving Sales Executive Summit, Kain Automotive Workshops, Innovative Dealer Summit, Automotive Engagement Conferences, Automotive Boot Camp, AutoCon, VinWorx, TrueCar Dealer Summits, and the Digital Marketing Strategies Conference. Brian is Google Analytics certified and PCG is a Google Premium Partner company.
Media Contact:
Mike Rich
RevolutionParts, Inc.
480-809-7415
mrich@revolutionparts.com