Auto dealers across North America struggle with maintaining low obsolescence in their parts department. In fact, it is estimated that the average parts department's inventory consists of up to 30% obsolete parts. The thing is, it's not that there is a shortage of buyers for these parts, but they are not shopping for them in person. Instead, they are going online to try and find the parts they need. 
How can dealers lower their obsolete parts and improve their sales numbers? They can start selling obsolete parts across multiple platforms, and a great place to start is eBay Motors. At RevolutionParts, we find that eBay is one of the best places online to offload these aging parts and turn them into profit.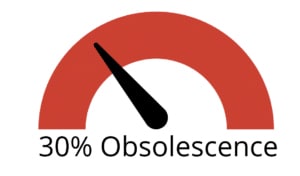 Why Is Parts Obsolescence So High? 
Chances are, your parts department has a growing section in the warehouse dedicated to obsolete parts. Obsolescence is a fact of life for any auto parts business and is often unavoidable. There are many reasons obsolescence happens, including:
Special orders that customers never picked up

Parts originally sold to wholesale customers and were returned

An error was made during ordering (wrong part, wrong quantity, etc.)
Obsolete parts happen. However, they don't need to sit in your warehouse and take up space once you have them. By selling these aging parts online, you can clear up space in your warehouse, lower your obsolescence rate, and turn a nice profit. When you sign up to sell on eBay Motors, you are connected with millions of shoppers, many of which are looking for the parts you have collecting dust in your warehouse.
RevolutionParts + eBay Motors = Dream Team
When you are signed up with RevolutionParts, you have special access to eBay. Not only do we make it easy for you to upload your inventory to eBay through full parts catalog integration, but you also don't pay any listing fees. This will allow you to list more parts without having to pay. 
When you partner with RevolutionParts and sell on eBay, you also get free access to eBay's top store subscription, where you'll get free promoted listings that will connect you with more parts buyers. 
RevolutionParts help dealers sell more obsolete parts on eBay by:
Connecting dealers with obsolete parts buyers 

Giving free access to promoted listings

Creating the right pricing strategy 

Allowing the sale of large and heavy items
Dealers who sign up for eBay Motors through RevolutionParts will get the assistance they need to be successful online obsolete parts retailers.
Bottom Line
A robust eCommerce strategy is key in decreasing obsolete parts and accessories, and that strategy should include eBay. With the right tools and assistance, your parts department can become the greatest revenue stream in the dealership. Talk to your account manager today to learn more about how we can help you win parts sales with eBay Motors. 
And, if you are not already selling parts online with RevolutionParts and would like to learn more, schedule a demo to speak with one of our parts eCommerce experts.