Having a fast, reliable delivery service for your customers is essential for your local parts business. When it comes to parts delivery, delivery time matters. While many dealers may already have a designated driver to deliver parts, they may need more help with meeting consumer demand and fulfilling expectations. It's not just wholesale customers who rely on parts delivery, but also individual DIY-ers and even your own dealerships who may need to source parts from other dealers in their area. 
To meet the needs of customers, whether local retail, wholesale, or customers coming through your service late, RevolutionParts' Local Delivery is the perfect solution.
Quickly Source Parts to Your Service Lane
Imagine this: Your service lane has a car on the lift and puts in a request for a part, but your department is out of stock. The dealership across town has the part you need, but your driver is out making deliveries and won't be back until the end of the day. What do you do? 
You could have that part delivered to your dealership within an hour so that your service can get that vehicle off the lift and back to the customer, or you can wait until tomorrow for your driver to pick it up, causing the customer to have to wait for their car. 
With RevolutionParts' Local Delivery, you can have that part picked up and delivered to your dealership in as little as an hour.
Everyone wins! 
Click Here to See How This Dealer Uses Local Delivery to Save Almost $4K a Month!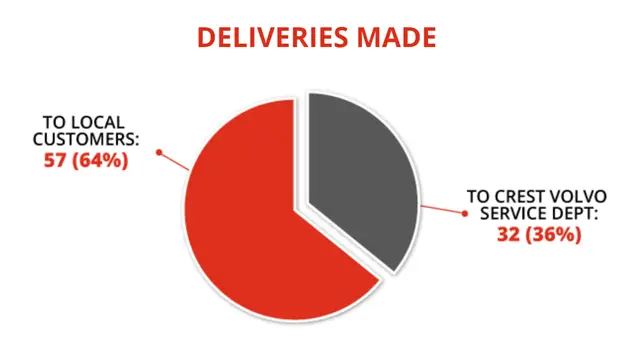 Deliver Parts to Your Local Wholesale Customers
How many times have you lost a wholesale customer to a competing dealership with more than one parts delivery driver? Speed is of the essence when it comes to keeping your wholesale customers happy. In fact, most wholesale customers are willing to pay more money to get the parts they need in as little time as possible. 
For your wholesale customers, time is money, and when your driver is busy (or when you lack a driver), your wholesale customer may be left waiting for their part. This means that their customers are also waiting, limiting the number of repairs they can do. 
Imagine if you could provide a part to your local repair shops when they needed it. By providing fast delivery, you could easily become a preferred parts supplier for that shop. 
Here's how it works.
Your wholesale customer purchases a part. 

You book a driver through the Local Delivery dashboard.

The driver closest to your dealership picks it up, drops it off at your wholesale customer's shop, and you get instantly notified when the delivery has been made.
You and your customer get notifications on an estimated arrival time and when the delivery has been completed. It's that easy!
Let Your DIY Customers Schedule Convenient Delivery
Even if most of your local business is with your wholesale customers, every dealership deals with DIY-ers. If you can offer them a quick and convenient way to get the parts they need, they will come back to your dealership again and again. After all, 65% of people are willing to pay more for a product if they can get it delivered quicker, and 88% of people are willing to pay more for same-day delivery. 
Your wholesale customers are only a fraction of the parts business you can generate in your local market. To make a strong impact in your local market, you need to grow your DIY customer base. 
Did you know that in 2020, 32% of maintenance and repairs on vehicles were completed by the vehicle's owner? More vehicle owners opt to keep older vehicles for longer and maintain them independently, and many of them are turning to digital retailers to find what they need. 
The best part about this customer base is that when they get a good product and great service, they'll recommend your dealership to other DIY-ers! The DIY automotive care community is a tight-knit network of buyers, and they can be your greatest marketing source. More satisfied customers mean more potential parts business. 
See How Easy Local Delivery Is to Use
Curious to learn how local delivery works in real-time? Take a look at this short video to learn how it works and how easy it is to use.
Grow Local Business With Confidence
Finding ways to grow your local market can be a challenge, but you can gain and keep their business more easily with the right tools. With a strong, fast, reliable delivery service, you can grow your local parts business more effectively. To learn more about how to win local business, download "The Roadmap to Winning More Local Parts Sales."