Obsolete and aging parts don't have to be a sales nightmare. Sure, some level of obsolescence is inevitable for any parts department. But the important thing to realize is that it doesn't have to tie up your inventory. Why? Because your market is much bigger than just the customers who walk through your door. The secret to building your obsolete parts revenue is eBay Motors. 
Selling your aging and obsolete parts online through eBay opens you to a whole host of customers on the internet you might not have reached through brick-and-mortar parts sales. Niche parts seekers, auto enthusiasts, people trying to fix up slightly older cars — these are just a few examples of the people who will help you drive big business. And that's just the tip of the iceberg. 
With over 180 million active buyers on eBay Motors (according to eBay Investor Fast Facts Q1 2019), you have a massive opportunity to send gross profits into overdrive. Here's something else to consider: 
a car or truck part is sold on eBay Motors every two seconds.
A couple more specifics: an exterior part sells every three seconds, and an engine or engine component sells every 10 seconds. With such a broad audience and a rapid-fire transaction rate, eBay Motors will help you boost overall sales volume while keeping your obsolescence rate an ideal low. 
The automotive eCommerce industry is estimated to reach $15 billion in 2020. You don't want to leave your piece of that money on the table. With an online shop through eBay Motors, you can deliver a great customer experience on the web and on mobile, backed by eBay's trusted reputation and audience. On top of that, you'll also receive a special discount on seller fees.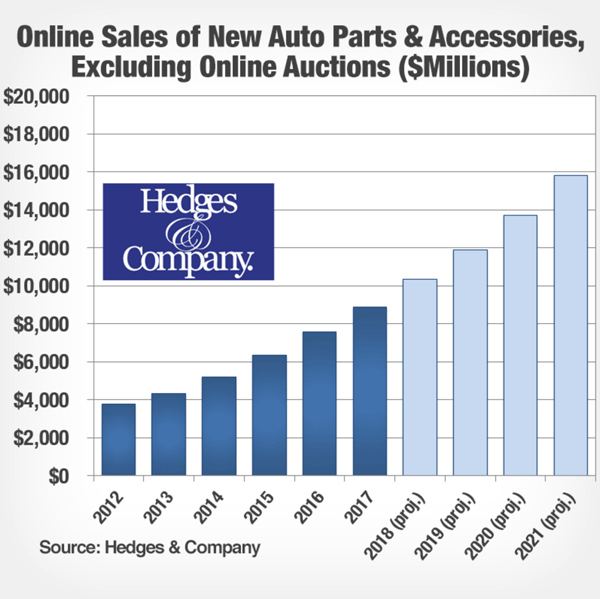 Get in touch with RevolutionParts to learn more about how you can start driving more revenue with eBay Motors — and make worrying about obsolete parts sales a thing of the past.
Stay Up-To-Date on Industry Topics
Fixed Ops trends, tips for growing online profits, and more