Resource Center The Ultimate Destination for Auto Parts Ecommerce Tips and Trends
The 4 Must-Have Ingredients for a Killer eCommerce Marketing Plan
If you haven't already set up a marketing plan for your auto parts eCommerce store, it's never too late to start. You'll be amazed how much traffic you can drive to your website when you set some goals and stick to your schedule!
But with so much marketing potential out there, where do you start? Have no fear: we've broken down eCommerce marketing into 4 key areas where you will want to focus in order to push your online parts store to new heights.
1. Content marketing & SEO
In order to make your parts site as enticing as possible to search engines, you need to create the right content at the right frequency. As far as frequency, make a goal to update at least twice a month, but once a week is ideal.
For content, remember that original, customized product descriptions work best. Any of your high-traffic and top selling parts should have unique content in order to boost your standings in customer search results.
Once you have these parts descriptions, snowball this into even more sales by adding related parts for sale beneath your description. Here's an example: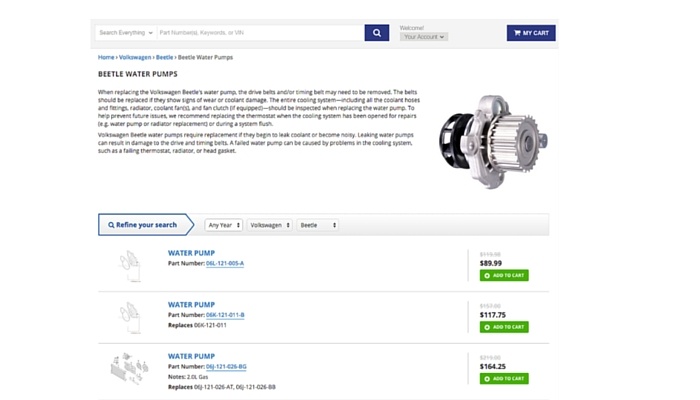 Tip: You can use tools like Google Keyword Planner to see an estimate for how many people search for certain terms. Want to learn more?
As another form of original content, consider starting a blog. Blogging is an extremely effective way to grow and cultivate your customer base while driving site traffic. Just remember: consistency is important. Create a content calendar (such as this) and stick to it. If you're not sure where to start, check out some examples (like this) to get your brainstorming juices going.
2. Social Media 
You might already have a Facebook, Twitter, and LinkedIn set up for your parts store, but are you using social media as effectively as possible? Believe it or not, you shouldn't only be on social media to promote yourself. Engage your audience with non-promotional content from time to time, such as posting or linking to helpful or interesting information and photos.
Again, aim for consistency. Posting or tweeting on a regular basis can help build your audience. To help you with this, use a tool such as buffer to automate the scheduling of your social media posts.
3. Email Marketing
What better customer base to start with than those you've already served? Building a mailing list has countless benefits, since reengaging past customers is a great way to drive repeat purchases. Whenever you have holiday sales, promotions, or coupons, send out the word via email to let your customers know.
You can also use email to recapture sales that might otherwise be lost when a customer abandons their shopping cart. Read up more about saving abandoned carts with our article!
4. Advertising 
In order to be found online, it's absolutely necessary to invest in some sort of advertising. Search marketing through Google AdWords is great place to start.
Once you're set up, there are many ways to optimize the success of your campaign. For example, you want to focus your ad groups into small, specific topic with precise keywords to reach your target audience. Testing multiple ads against each other is another powerful way to see which designs work best. See a full AdWord auditing checklist here to find areas of improvement in your ad campaigns.
After that, you can use tools like Google Remarketing to reach your target audience even after they've left your site. Just make sure to update your retargeting ads with new messages and designs every few months, and test out different calls to action to improve your CTR.
Always keep track of key performance metrics such as cost per conversion, CTR, quality score, and so on. Following these trends in your business will help gauge how well you're performing and where you need to focus your attention next.
Marketing won't bring you overnight success—you need to keep up your efforts throughout the year to see amazing results. At the same time, don't set impossible goals! Break up your long-term goals into smaller, manageable pieces, depending on your current staff and budget. Use calendars and checklists to keep yourself on track. You might also find it helpful to write the latest stats or goals on a whiteboard at work, and update it regularly. Find a strategy that works for you!
With a goal in mind and high hopes for the future, you should start to feel energized about starting 2016 off on the right foot. You'll quickly find that a schedule is easy to keep if you get yourself into a habit of it—just don't use that feeling an excuse to slack. Nothing can beat the feeling of watching the numbers start to rise as you see your efforts finally pay off!