Have you heard about Google's new "mobile-first" indexing? Announced in early November, it's a big change that could affect your dealership's online reach if you're not careful.
Long story short, Google is going to start putting a priority on the mobile version of your website. If the primary content and markup between the mobile and desktop versions of your website is different, then you'll probably want to consider making a change or your ranking in search engine results could be negatively affected. If your site is on the RevolutionParts platform then your site is good to go and you have nothing to worry about.
Here are a few places you can learn more about the change:
(link)
In Google's official announcement, they go over the basics of the changes and how it could affect online rankings.
The reason for the change? Most people are using their phones to search and browse the web, and Google predicts that the internet will grow even more mobile-oriented over the coming years.
For many websites, the mobile version of their site is a simplified, watered-down version of the desktop site that isn't easy to navigate and doesn't have as much content. When a mobile user comes across this website, it's not incredibly useful to them.
Do you know what your parts website looks like on a smartphone? If it's nothing but a bare-bones website that isn't easy to navigate, then you might be in trouble.
(link)
If your parts website or dealership website doesn't have a great mobile experience, then your dealership might take a hit in the coming months. The higher you appear in search results = the more traffic your website sees. When Google rolls out this change to their algorithm, a poorly-optimized parts website could drop in rank.
Fortunately, responsive websites and dynamic serving websites don't need to worry about Google's upcoming change. Switching to a mobile-first indexing shouldn't have a negative effect on rankings, since the website is already optimal for mobile users.
Here are a few examples of how responsive websites work:
If you're partnered with a reliable parts eCommerce solution that builds responsive websites, then you don't have to worry. Responsive websites will automatically rearrange your website content to fit a smaller screen.
This means for those of you partnered with RevolutionParts, you can breathe easy! All the websites on our platform have responsive website designs that are guaranteed to give your mobile visitors a fantastic customer experience.
We've seen for ourselves the growth of mobile traffic in the last few years, making it a major priority in building website designs.
(link)
Want to learn more? Search Engine Land put together a solid list of everything they know about Google's new mobile-first index, and explains everything in an easy-to-understand way.
If you don't have a mobile website, Google says not to worry—it will continue to index the desktop version of your site. At the same time, the change will likely give mobile-friendly websites a bigger ranking boost. When your competition gets a mobile ranking boost and you don't, you'll see the results in your sales numbers.
But Google also promises that the changes shouldn't affect the rankings too drastically. The team at Google said they want there to be minimal changes at this time, but it's too early to tell what will happen.
When the change is fully rolled out in a few months, we'll have a better idea of just how much mobile-first indexing will affect your dealership. Of course, we think it's smart to take a "better safe than sorry" approach to the matter and make sure your parts website won't be penalized for a lousy mobile experience.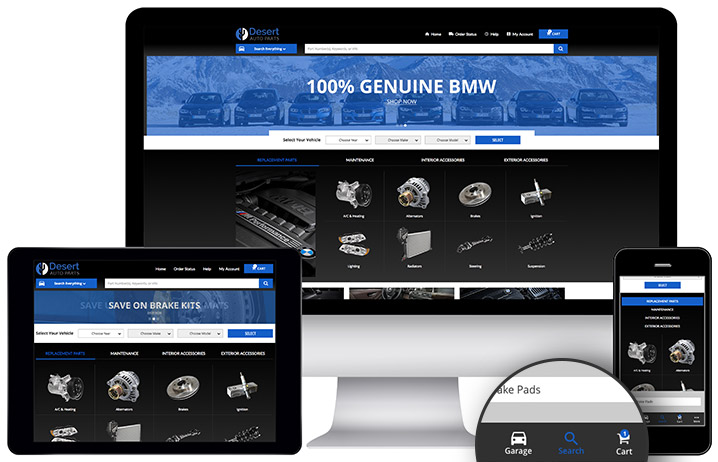 Check out what a mobile parts website should look like by browsing through some of our current RevolutionParts website themes. If you're on your desktop, you can drag the window bigger or smaller to see what the website does to adapt to a smaller space—just like it would do on a mobile website.
If your parts website isn't showing up well on mobile devices, then we can help. Discover how you can grow your online parts business with RevolutionParts by clicking below!