Eastgate Ford Parts Manager Rhonda Greenwood leverages RevolutionParts online parts and accessories web store to "sell across Canada."
Rhonda Greenwood is the type of Parts Manager who just has it all figured out. With less than 5% of Canadian dealerships selling auto parts online, she knows there is a lot of potential to dramatically increase revenue. For Rhonda, this has become a winning parts strategy. 
EASTGATE FORD ONLINE 1-MONTH SELLING POWER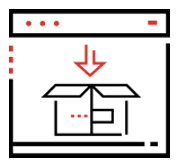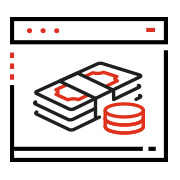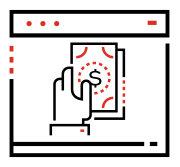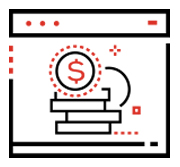 Supercharging Parts & Accessory Sales Online
About five years ago, Rhonda was given the opportunity to create a digital presence for her dealership to start selling Ford parts and accessories on her very own web store. "Our Dealer Principal Lance Richter saw the opportunity (to sell online) and took it. We had no idea what to expect, but it's been awesome," says Rhonda. 
Now her annual revenue and gross profit grow significantly each year. This year, she is slated to generate $178,480 in gross profit from her online business. That doesn't include what she sells to her service department, local retail customers, and wholesale customers.
Building Trust and Loyalty Through Customer Service
It's no surprise that Eastgate Ford's customers always come back – thanks to their top-notch customer service, which isn't always easy to deliver in this day-and-age of 2-day shipping. 
"We've built really great relationships with many of our customers online. We love to see our customers come back to buy more parts from us," says Rhonda, "Trust and loyalty are two big things to us."
Rhonda knows customers' expectations are high in today's world, especially when it comes to customer service and speedy delivery times.
"Amazon set a huge precedent for retailers across the world," says Rhonda, and that's what she models her approach to service after. She says joining forces with RevolutionParts has helped her maintain a gold standard level of customer service and "made [them] more aware of what consumers are looking for."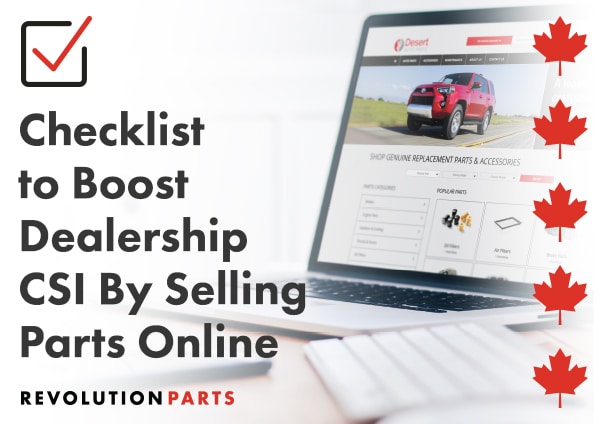 Want to increase your CSI and sell more parts across Canada like Rhonda? Download this free checklist so you don't miss a step!
Creating a Sales-Minded Parts Staff
One reason the team at Eastgate Ford is so successful is because Rhonda takes a forward-thinking approach to running her parts business. She supports the professional growth of her parts team members and dedicates time and budget to leadership training.
"Revolution offered us exactly what we needed to move into this new venture. Including training and marketing and the ability to sell across Canada."
By teaching her staff to be more sales-minded in their approach to selling parts, they have been able to maximize the value of each sale with add-on products. 
"When a customer comes to our parts counter and tries to buy an oil filter, we say, 'well don't you want to buy Motorcraft oil with that oil filter?' We're upselling and educating customers," she says.
Selling More with RevolutionParts Customer Service and Ease-of-Use 
While Rhonda's favorite part about working with RevolutionParts is the revenue gains, she points to customer service and ease-of-use as close runners-up: "With RevolutionParts, everything is available at the turn of a key. If there's a question that needs to be answered, you can access RP University or Knowledge Base. If you cannot find the answer there, then they will assist you in getting you what you need to be successful." 
Rhonda loves how easy it is to process returns, and whenever there is an issue, RevolutionParts is always there to support her so she can focus on what's most important: selling more parts.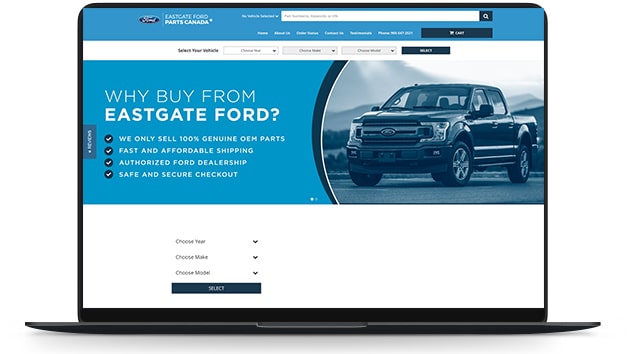 Keeping Up with a Changing Industry by Selling Online
"The industry changes so quickly, and keeping up with it can be challenging," Rhonda says, stating that the future of automotive parts and accessory retail is "not as simple as it was back in the day." The horizon is unclear, but she's confident in how her parts department measures up against the competition.
"The aftermarket has always been a challenge, but selling online has gotten us one step closer to being competitive with them."
Rhonda knows that aftermarket parts are big business, but she recognizes that her OEM parts have a competitive advantage that makes her parts department successful.
"Sure, the OEM part might be more expensive, but you're getting a far better warranty which speaks volumes about how Ford stands behind their parts."
When asked what her goals were for her online program in 2021, Rhonda has her sights set on one thing: "Selling more parts!"