Joe McBeth, Parts Director of Dallas Dodge Leverages Online Parts Business to Beat Economic Downturn
Dallas Dodge Parts eCommerce Quick Facts
3 Years
Selling Online with RevolutionParts
Joe McBeth is the Parts Director at Dallas Dodge and his specialties are diligent inventory management and tactful business development. He also happens to be a master at selling parts online. With a decade of online sales experience under his belt, he is no spring chicken to the eCommerce world, but his business growth really took a turn for the better after partnering with RevolutionParts.
"The quality of the online catalog was a big reason we switched to RevolutionParts," Joe says. The online platform Joe was using previously just wasn't cutting it. "It was clunky and it was hard for customers to find the parts they needed," he says. Long story short, a low-quality site was costing Joe sales. In pursuit of something with a better customer experience, he found RevolutionParts. Nowadays what really keeps Joe happy is the daily support he can rely on from RevolutionParts – "They have been a great partner."
After more than three years of selling with RevolutionParts, Joe has built a profitable online parts business that generates hundreds of thousands of dollars a month. It's grown so big that Joe treats it as its very own department, and the RevolutionParts platform makes it that much easier to manage. "The reporting is awesome and the all-in-one backend allows our customer support reps to view everything at once without having to jump between sites. It's a very smooth process." Now his online parts business generates enough volume to shatter manufacturer objectives, making him an influencer in the Mopar Masters Guild.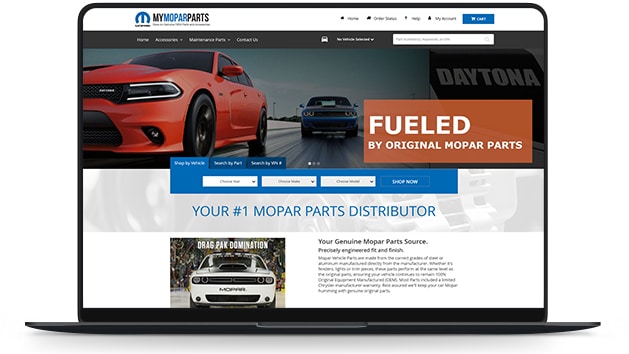 One of Joe's most impressive recent achievements is how his online parts business helped generate revenue during the nationwide shutdown.
Like many dealerships across the country, Dallas Dodge was majorly affected by the nationwide shutdown due to Covid-19. "We struggled for the last 8 months trying to maintain business and we took a pretty big hit in March and April when the country shut down," says Joe. "Our shop business went down tremendously, car sales went down, even our wholesale business went down. The good thing is we were doing our online parts business, which actually grew while other departments were struggling," Joe explains. "People weren't shopping in stores; they were shopping online, so it was great having that in our back pocket while the whole economy came to a screeching halt."
Joe McBeth's business continues to thrive today. At the current rate, he's expected to sell more than $3.6 million in online parts revenue by the end of the year.
Do you want to sell like Joe McBeth of Dallas Dodge? Start selling online with RevolutionParts.