Classic Muscle Joined the RevolutionParts Family to Expand Their Classic Car Restoration Parts Business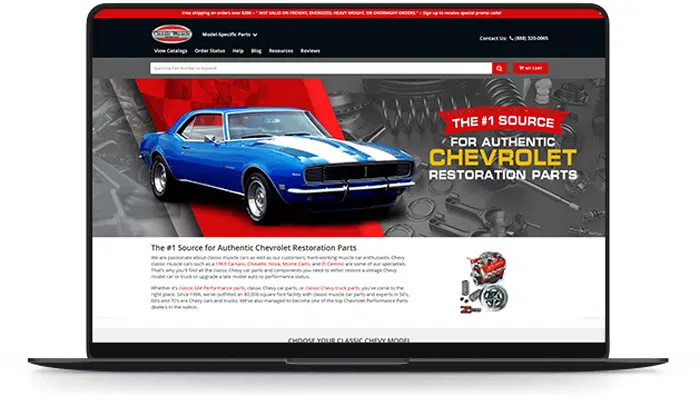 Classic Muscle, a division of Modern Chevrolet and part of Modern Automotive Network, has been serving car enthusiasts and DIY-ers for the past 23 years and specializes in the restoration parts for classic Chevy cars from the '50s, '60s, and '70s. Scott Traub, the Corporate Parts Director for Modern Automotive, along with Classic Muscle Parts Manager Bill Neely, and Modern Wholesale Parts Manager Jermaine Stephens, have worked to build a thriving restoration parts eCommerce business.
Over the past 23 years, Classic Muscle has adapted to the changing way retailers sell auto parts. "We've always sold classic parts over the counter and have a number of restoration shops and body shops that buy parts conventionally, either over the phone or in-person," says Scott. Over the years, he knew that if he wanted to evolve with customer demands, he needed to move his business online, but selling parts online has been a journey in itself. "Prior to RevolutionParts, we did have a website, but it wasn't keeping pace with what we were seeing RevolutionParts do with our OEM businesses. We talked to RevolutionParts about developing a platform for classic muscle that was outside of the OEM parts business." 
RevolutionParts began as a platform specializing in helping OEM dealers sell parts, but once they began to expand their capabilities, they developed an aftermarket platform that allowed Classic Muscle to grow their eCommerce business. 
"Our eCommerce business is growing rapidly and is up 40% over last year. RevolutionParts has been a great partner in helping up navigate and handle that growth pretty efficiently," says Scott. "The tools and the backend keep evolving to better process orders and export orders from Revolution into our DMS. Modern Automotive Network has six sites running with RP, and we handle all the business with only two people. We are pacing to do over $4 million in eCommerce business due to the efficiencies that are being added to the tool."
Selling Online with RevolutionParts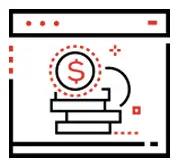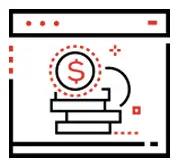 The benefits of eCommerce have never been more apparent for parts sellers than in 2020. Once the pandemic hit, many parts sellers saw sales decrease with the economic downturn. However, for Classic Muscle, that wasn't the case. 
"COVID has actually played into our hands," says Bill.
"The pandemic gave us a lift. People were stuck at home and had time to work on their projects, so we saw a similar lift that you saw with Home Depot and Lowes with people wanting to work on projects in their home. People had time to work on their cars, so as other parts of our business slowed down, our parts business picked up."
Of course, more people staying at home tinkering on their classic cars wasn't the only thing that helped Classic Muscle expand its reach. It was the tools they gained through eCommerce solutions that solidified their growth. 
Scott points out that the biggest surprise and greatest boost has been their expanding audience, "You have a much broader audience that is buying a different segment of parts online than we would traditionally sell over the counter into our service department or to body shops. It helps round out our inventory. We end up with a more balanced inventory and better fill rates, which ultimately drives better service to our customers."
This expansion into new customer segments has helped drive some of the success behind Classic Muscle, a business Scott was once concerned would begin to fall behind as the cars got older and harder to find. He also notes that much of their traditional, over-the-counter clientele was getting older. However, eCommerce has been able to open them up to a new audience base that wouldn't otherwise have access to them.
"Working with RevolutionParts, the performance of the website and the marketing team has certainly breathed another level of life into this business. We are really optimistic about the future," says Scott.
Having an online presence is so important, but no matter where their customers are buying parts from, you can expect a personalized experience from the team at Classic Muscle.
Bill Neely confidently states that customer service and the availability of parts are the two most important factors behind operating a successful online business, "We have over a million dollars in inventory, so our investment is substantial for that piece of business."
Scott agrees that the way Bill leads his team and the focus on customer service has a significant impact on Classic Muscle's success, "Bill and his team are passionate about the business, and that makes it easy to take good care of your customers. He has someone on his team that reached out personally to just about every one of the orders that we receive. There are very few orders that are filled without a personal contact. Even though we are getting an order electronically, we make sure that we don't lose that personal piece."
Scott and his team encourage those who want to start selling parts online and are committed to growing their parts business to sign up with RevolutionParts, saying: 
"The best way to get started is to reach out to RevolutionParts. If you're serious about it, they'll hold your hand and show you how to get started."