Resource Center The Ultimate Destination for Auto Parts Ecommerce Tips and Trends
How Remarketing can Save Sales and Boost Your Parts Store
It happens every day: visitors come to your site, look around for a bit, and then leave without making a purchase. But the fact that they visited you in the first place lets you know something very important about this individual: they're interested in auto parts.
That's where remarketing comes in handy. You can remind these visitors what they were looking for in the first place. Hopefully you can even prompt them to come back.
So what is ad remarketing, then?
In short, it's online advertising to a very specific group: visitors who have recently browsed your parts store. Even when they navigate to another part of the internet, a reminder of your website will follow them.
How it works is simple:
You set up the details through Google AdWords, AdBrite, or another third-party advertising network.
You create a few banners of varying sizes to be used as ads.
You install a tracking code to your website.
When someone visits your site, their browser will download a cookie—something that just lets the service provider know they've been to your site.
When the visitor leaves your site, the cookie stays on their browser and lets your ads "follow" them around the web.
Before we get into government conspiracies about being tracked, let's be clear: computer cookies are harmless. Visitors can easily delete these cookies whenever they wish, or even tell their browser to disable them completely. They expire after a set period of time—often as soon as you close the browser. There is little to no security risk in allowing a website to use cookies.
Thanks to these special "tracking cookies" you can make sure your advertisements reach people who actually care. For the most part, these ads will be shown to individuals already interested in buying car parts and not random internet passersby, so to speak.
The best part? The majority of remarketing ads are Pay Per Click. With PPC, you only pay for the ad when someone clicks on it. You only have to pay if the ad is actually working!
The Plus Side of Remarketing
When you put all this together, what do you get? Effective, cost-efficient advertising.
Companies see a broad range with ad remarketing success, but the result is almost always positive. It depends on how often you show the same ad, what exactly you advertise, and more.
WordStream's research on the subject showed remarketing ads to be almost twice as effective as generic, non-remarketing ads from a company that the user doesn't recognize. Visitors are much more likely to click on an ad when they recognize your brand.
Granted, you still need to be careful about showing the same ad too often, or else your customers will grow annoyed or even angry through ad fatigue. Still, WordStream saw results about that, too: remarketing ads had a slower fatigue rate than typical display ads. So all around, you win.
Other companies reported similar successes. Using ad remarketing strategies, Hotel Urbano reported at 38% higher return for their ad spending and a 415% increase in total revenue.
You can boost your success rate even more by using image ads instead of text. Customers are especially excited by some kind of offer. Rather than a generic "Shop parts with us," advertise a promotion.
Play it right and you can gain a critical edge when it comes to marketing. So what are you waiting for?
The Not-So-Plus Side of Remarketing
But not all ad remarketing is good. It can actually become hurtful to your business if you're not careful. Some consumers are naturally leery of remarketing ads and consider them creepy or intrusive. After all, they're usually based on customer browsing history and search data.
So yes, ad remarketing can be a complete game changer for your parts store—as long as you remember what it's like to be on the receiving end of those advertisements.
Ad Fatigue
If you hit visitors over the head with nonstop advertising, you risk seriously hurting your business. Even though WordStream research suggested that retargeted ads don't wear out as fast, they're not immune to ad fatigue.
According to a study by Inkskin Media, people are initially 4x more likely to buy something from a relevant, retargeted ad. Great news, right? But if they see that same ad 5 times, instead of helpful, it becomes annoying and intrusive. At 10 times, shoppers are overwhelmingly angry.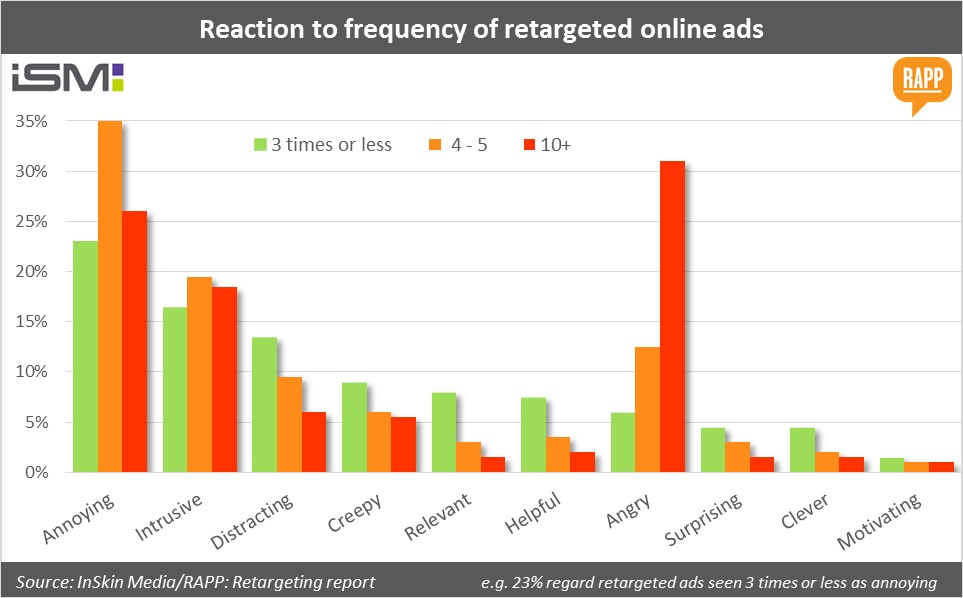 The counter to this? Pay attention to your ad frequency settings, for one. Make sure customers only see an ad once or twice, with enough time between appearances to avoid annoying them.
You also should create a variety of different banner sizes. Google AdWords has over a dozen different ad formats available, and while you don't need to create a banner for each one, diversifying will mix things up for your customers. It will be easier for your advertising network to rotate your ads, thus reducing ad fatigue.
Different formats also have varying levels of impact. If you only create one ad format, you're really hurting your chance of reaching potential customers. Remember, other companies are competing for those same ad spaces on a website. Not everyone can have the "leaderboard" spot, but at least appearing in the "square" spot is better than nothing.
Every 2-3 months, you should consider switching up the advertisements completely. Try different formats, colors, and offers to keep your advertisements fresh. You don't have to delete the old ads, either. To save yourself some time and effort, just rotate back to them in 8-9 months when they've been, for the most part, forgotten.
See WordStream's article on Do's and Don'ts of Retargeting Ads for more tips. There are a lot of details you can get into to really optimize your remarketing campaign, but the main point to keep in mind is ad fatigue.
Remarketing isn't the end-all solution to all your marketing needs, but it certainly helps. Usually it works best when combined with other types of marketing—such as various email campaigns (try: promotional emails and abandoned cart recovery emails). It's still a great way to boost your sales and gain new customers, all while improving your overall brand awareness.
Whenever you're ready, Google AdWords makes it easy to get started. Even if you don't want to mess with it yourself, a marketing agency can create banners and really optimize your campaigns for you. And remember: with Pay Per Click, remarketing in general is fairly low risk—you only pay when someone clicks your ad. Talk about a good deal!