The holiday season is sneaking up on us fast, which means that it's time for the major sales event of the year, Black Friday.
Black Friday is the most anticipated sales event by both retailers and consumers. It's become so popular that it's begun to extend beyond a single day. Cyber Weekend can last anywhere from Thanksgiving Day to the following Monday, also known as Cyber Monday, depending on the retailer.
Consumers often plan ahead to take full advantage of the sales opportunities.
Black Friday may already be a big deal for the average retailer, but what about the parts department?
Reasons Black Friday is a BIG Deal!
Black Friday presents a major sales opportunity for the average retailer, but your parts department should also be taking advantage of the sales frenzy. 
#1 Big Opportunity to Increase Sales
Let's talk about the obvious reason. Black Friday is a major opportunity to increase sales in the parts department. Even when a surge of sales is concentrated in one day, that spike can help improve cash flow and generate enough profit to boost the bottom line. In fact, in 2021, retail sales increased by around 14% over 2020 on Black Friday, and OEM parts sold that weekend through RevolutionParts increased by 16.5% over 2020.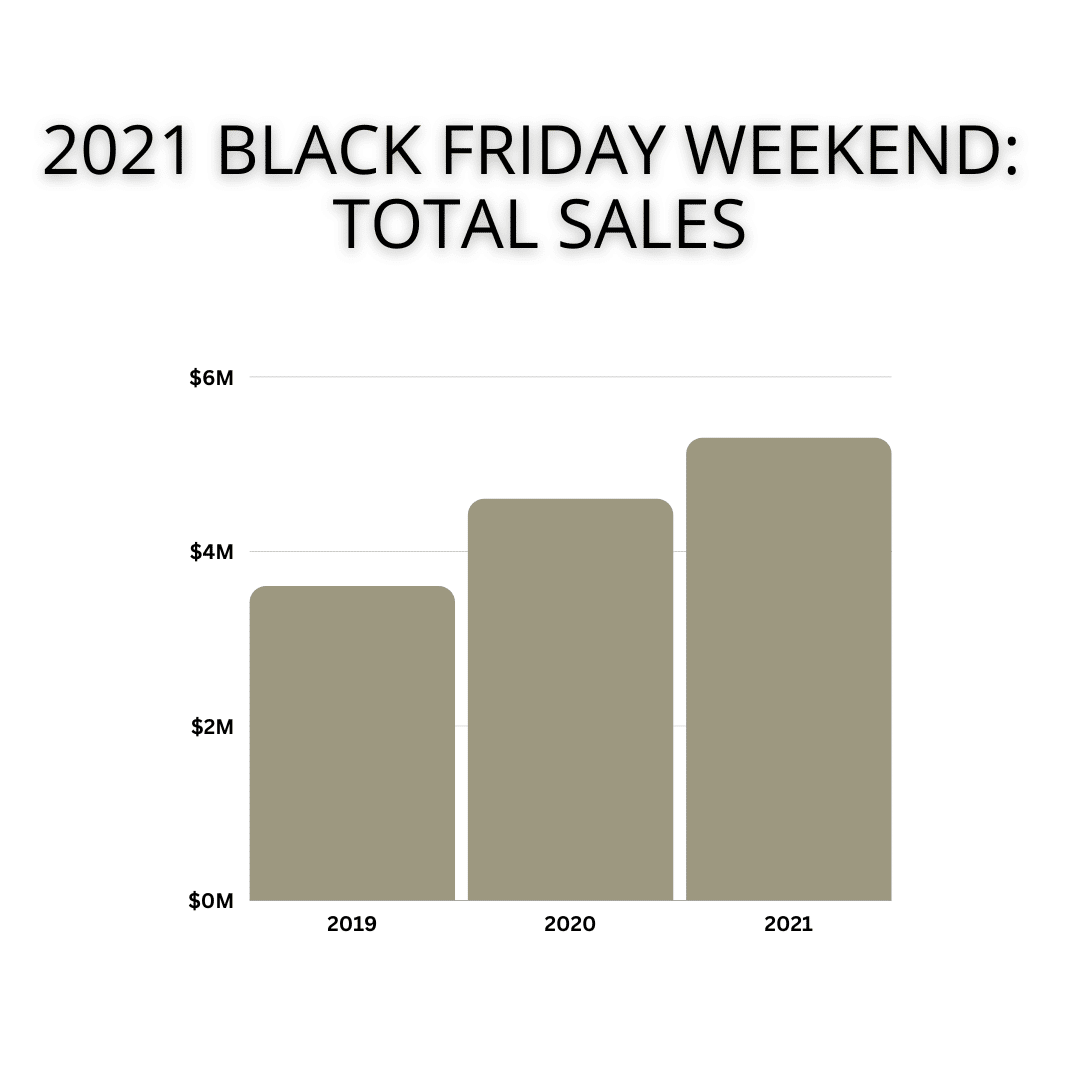 #2 Unload Old Stock
Parts departments with a surplus of old inventory on the shelves can use Black Friday as a way to get rid of them. For aging or idle parts, Black Friday is a perfect way to encourage consumers to buy them. Discounted prices on older parts can help you sell them quickly and make room for new inventory to line the shelves.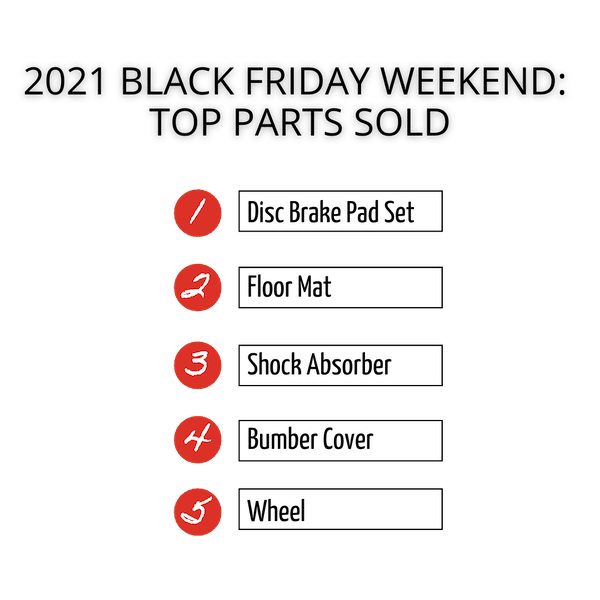 #3 Gain New Customers
One way consumers become familiar with a new brand or business is through sales events. Black Friday is an excellent way to get on the radar of potential customers. Consumers are doing more research to find the best brands with the best deals. Parts departments can use this to their advantage on Black Friday. Create awareness ads and other marketing campaigns to attract new customers to your site. Just take a look below at how buyers found their online parts last year.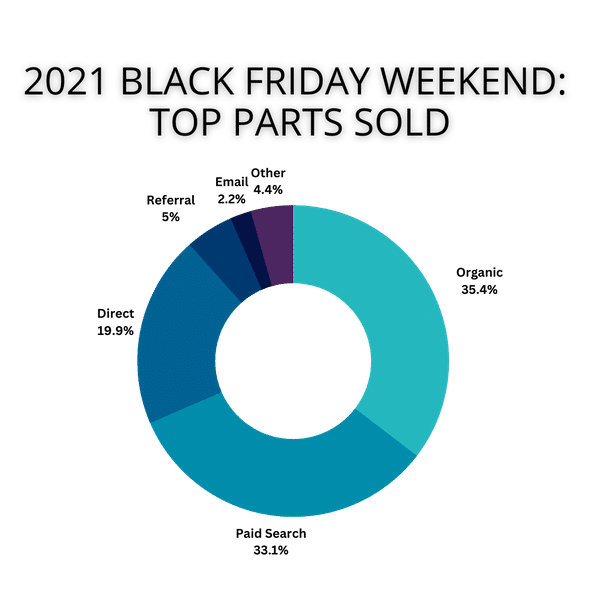 #4 Build Customer Loyalty
Building a strong pool of loyal customers is essential to the success of any business, but it's especially important for parts departments. As much as 50% of online parts revenue comes from repeat buyers. Black Friday can be a great tool to help build customer loyalty among existing parts customers. Many retailers are using rewards programs and referral programs during Black Friday to encourage a strong, loyal customer base. It's a great way to incentivize them to stick around instead of going straight to your competitors.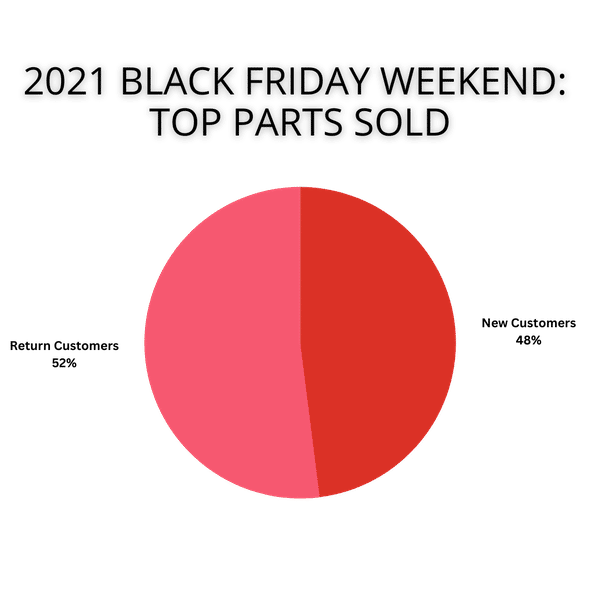 #5 Drive More Traffic to Your Web Store
Increasing sales isn't the only goal of a sales event like Black Friday. Increasing awareness of your business is an equally important goal. Use a large sales event to increase visitors to your website. Higher web traffic can help you close in on more sales. Both are necessary to maintain parts sales.
Start Planning for Black Friday!
Making Black Friday a success depends on careful planning. With the right strategies in place, dealers can increase their sales, build customer loyalty, and cycle through their inventory quickly.
Don't forget about Cyber Monday! Dealers who pull in the most revenue for Black Friday continue their sales into the weekend and finish off with a Cyber Monday sales event. To learn more about how to prepare for Cyber Monday, download our Guide to Selling More OEM Parts on Cyber Monday.