Parts departments dealing with high obsolescence need tools and tactics to help them reduce obsolescence fast while preventing it from building up in the future. Recently, we sat down and talked to Kaylie Felio from Parts Edge about the best strategies for managing and preventing obsolescence at the dealership. 
 Watch the Webinar Below!
What Is Obsolescence?
Obsolescence is an accumulation of aging and older auto parts that are typically harder to sell. Parts that have remained in stock between 7-12 months (or longer) are typically categorized as obsolete parts.
What Causes Obsolescence? 
High parts obsolescence can be caused by:
High return rates due to order errors

Inventory errors

Special order parts that are never picked up

Over ordering and reaction management

Lack of knowledge of existing inventory
Strategies to Prevent Obsolescence
Preventing an accumulation of obsolete parts starts with developing and improving processes. There are four main strategies that parts departments can use to their advantage.
Developing Better Processes for Special Order Parts: Put processes in place to secure payments and limit returns on special order parts. Build out reports and follow-up with customers.
Improving Consumer Communication: Define your return policies clearly and communicate them with customers. Follow-up with customers to ensure the right parts are ordered.
Improving Inventory Management: Know the age of your inventory. Determine what you need, what you don't need, what you can send back to the manufacturer, and reduce reactive ordering.
Forecasting Obsolescence and Knowing When to Discount: Determine the lifecycle of parts and identify larger obsolete parts volumes to be set at lower, discounted prices when necessary.
What Dealers Are Doing About Obsolescence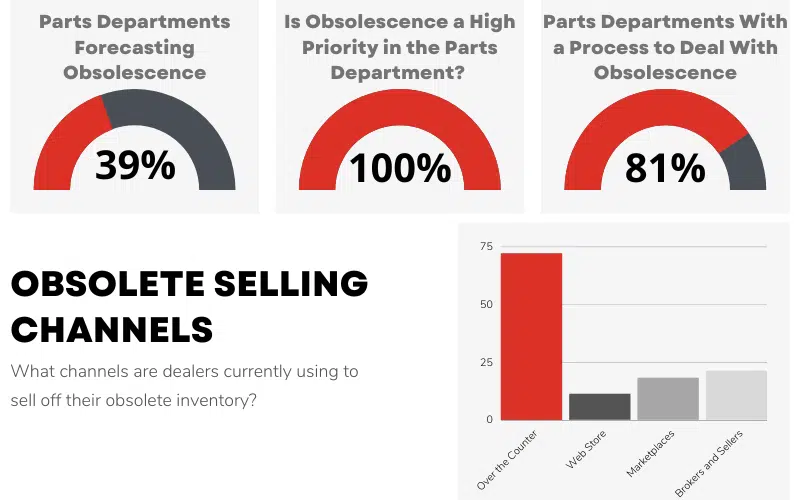 Forecasting Obsolescence as a Key Inventory Management Component
Forecasting obsolescence starts with identifying what you currently have. If you have a large number of parts that qualify within that 7-12 month no-sale period, these parts are ideal for selling in larger volumes online. In fact, these parts have around a 95% chance of selling online compared to selling in-store. 
Identify what parts can be sold at a lower price online. Identify what parts sell best among your online customers and if they qualify for discounted rates from your manufacturer. You can then use that information to help increase sales of obsolete parts and reduce overhead costs. 
How to Sell Obsolete Parts
Selling obsolete parts has traditionally been a hassle. 
Old tactics like…
Partnering with resellers/brokers

Write offs

Simply ignoring it
…may not be the most profitable options.
However, new tactics like…
Selling through a parts web store

Selling on multiple marketplaces (i.e., Amazon & eBay)

Using digital parts marketing
…can help you effectively sell obsolete parts.