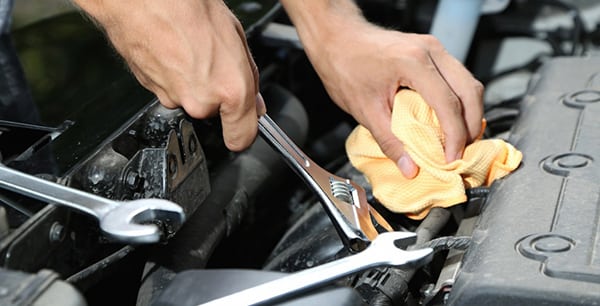 The UPS study: What's Driving the Automotive Parts Online Shopper is jam packed with insights on parts buyers, many of which might surprise you. If you want to succeed at selling parts online, it pays to know what automotive shoppers are looking for. Here are our top 3 insights we took away from the full study.
1. Only 27% of online automotive shoppers claimed to have returned an item bought online, compared to 62% of general online shoppers.
This means that your online customers do their research thoroughly to ensure the part will fit their car and is priced competitively. They don't usually buy a part unless they're sure it's what they want.
Buyer confidence is essential. Customers need to be reassured that they're purchasing the correct part with easy to access information that's organized in a logical and understandable way. If your product pages are accurate and easy to understand, they'll be more likely to make their purchase with you.
An ecommerce provider with quality product page layouts and VIN verification will be critical to increasing buyer confidence. Writing up a few product descriptions not only reassures customers that they're in the right place, but also helps them find you to begin with.
It'll also make a huge difference to show off your return policy. A lot of customers will hesistate or outright refuse to buy from you without seeing your return policy first. No one wants to be stuck with an order they don't like, so making a clear policy will improve buyer confidence.
2. The online automotive market is diverse.
There are many different types of online auto part shoppers, and it pays to recognize them. Improve the success of your eCommerce parts store by understanding these demographics and marketing to them in a way that fits their needs.
Upgrade buyers are looking to improve their car, whether it's the car's performance, aesthetics, or both. These buyers tend to be younger and more impulsive with their purchase choices, but are also more likely to make returns. You need a mobile friendly parts store and high quality part images to appeal to this market.
Replacement buyers purchase parts online to repair their vehicle. Typically, these customers are older (45+). They usually know exactly what part they need and will comparison shop to find the best deal. Once they get the part they need, granted that it works, they're less likely to return it. Selling parts on eBay is a great way to reach these shoppers while increasing the volume of your sales.
There are plenty of other groups, too. Millennials, who make up 28% of the online automotive market, want speed and convenience. As another example, 40% of the online automotive market is comprised of women.
3. Free shipping matters—and customers are prepared to do extra to get it.
According to the study, 39% of customers will choose the slowest transit time if it means they get free shipping. Sometimes customers are even willing to pay extra for free shipping. If you have free shipping after a certain amount spent (such as free shipping on orders over $50), 32% of customers will add items to their cart in order to qualify.
Other things customers will do:
Choose local pickup
Research online then go in store to purchase
Join a loyalty program for discounted shipping
Postpone their purchase to see if free shipping is offered later
Only 16% of customers will not take any extra action in an attempt to qualify for free shipping. With so much emphasis on free shipping, customers won't hesitate to shop someone else if you can't compete.
Online automotive shopping is a still a fairly new market, so it pays to take a look at these studies and learn what you can. If you know what to target and how, you'll improve your sales overall and make massive gains in the market.
Next time you're shopping online, think about the things you expect while navigating. By getting into your customer's head, you can better understand them and tailor to their wants. This means a happier customer and more business for you.