A disruption in the global supply chain is one of the more significant fallouts to come out of the pandemic, affecting almost every industry and consumer. Perhaps the hardest hit has been the automotive industry, as manufacturers have struggled to provide their dealers with new vehicle inventory. 
The supply chain disruption has created a ripple effect that can be felt throughout the dealership. Fewer cars on the lots mean dealers have less inventory to sell, which drives up the costs of vehicles. In turn, higher prices mean more people opt to buy used or keep their vehicles longer. Older vehicles mean more service and repairs. While an increased need for service and repairs would be good news for Fixed Ops, the disruption has also affected the availability of some parts, causing repairs to stall and customers waiting. This means lost revenue for dealers, which trickles up to lost revenue for OEMs. 
In the wake of the supply chain disruption, dealers have sought new ways to attract customers, create new selling channels, and drive new revenue. One effective method has been selling available OEM parts and accessories online. 
The Proof is in the Pandemic
When the pandemic hit in early 2020, dealers had to get creative, and those who began selling online saw a 27% increase in parts sales, despite the fact that, as a whole, dealers across the US saw a $6 billion decrease in parts revenue. Now, those same dealers are utilizing online parts sales to compensate for lost revenue from lower new vehicle sales.
Manufacturers can take note of the lessons learned by their dealers and encourage online part and accessories sales through parts programs.
Avenues to More OEM Parts and Accessories Sales
By partnering with parts eCommerce specialists to create Tier 1 and Tier 3 parts programs (or a hybrid of the two), manufacturers can help support their dealers by encouraging dealers to use eCommerce to sell their existing inventory, bring added cashflow into the dealership, and then stock additional parts and accessories with that added revenue.
Tier 1 National Parts eStore
With a tier 1 parts solution, manufacturers can sell parts through their own official eStore and leverage dealers' extensive locations nationally to deliver online purchases to their customers across the country. By establishing a national eStore, manufacturers can leverage the site as the official place to purchase their OEM parts. Orders can be placed with a participating dealer located nearest to the customer to fulfill the order. This helps dealers move more inventory and helps the manufacturer deliver the order to the customer in the quickest, most cost-effective way. It also provides a better shopping experience for the customer, strengthening the brand's reputation and driving loyalty and retention.
Tier 3 Dealership eCommerce Solutions 
With a designated parts web store, dealerships can expand their reach to a wide array of customers looking to buy parts online. Through a parts web store, dealers can market and sell their own inventory, rather than relying solely on orders from the tier 1 national eStore. This is a lucrative solution for dealers wanting to grow their business or tackle obsolescence or aged inventory issue. Another viable Tier 3 option could be integrated marketplace solutions allowing dealers to create product listings directly on third-party marketplaces with many existing parts shoppers, such as Amazon and eBay.
Tier 1/Tier 3 Hybrid
Manufacturers also have the luxury of offering a hybrid solution where dealers can receive orders that come through the national eStore and sell inventory on their own designated web store. For OEMs and dealerships looking to maximize sales, this option provides a robust solution to get inventory into their customers' hands (and vehicles).
Why Support Parts eCommerce
When OEMs support their dealers with parts eCommerce, they open up new selling channels and expand their dealer's market. Traditionally, the parts department relies on sales from repair shops, collision shops, and over-the-counter. This can be very limiting for most parts departments, and if there are shortages of certain parts, the dealer's ability to continue to sell like they always have is restricted even further. However, when dealers add online selling channels through their automaker's sponsored parts program, they can then increase their market exponentially.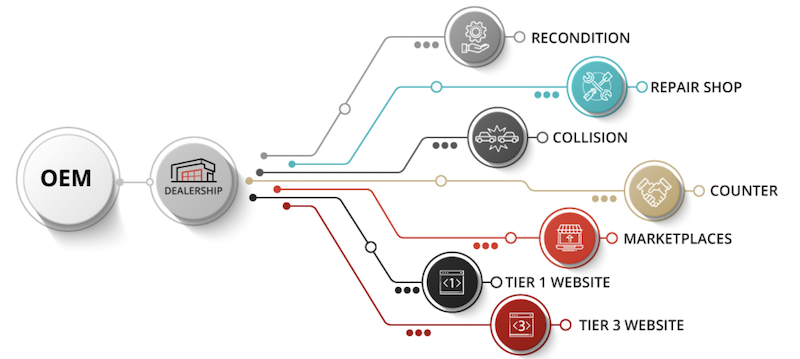 Despite challenges created by the supply chain crisis, the online parts market is expecting to deliver over $17 billion in parts sales, according to Hedges & Company. Many automakers have recognized the advantage of creating an OEM parts eCommerce program and the opportunity it offers for capturing those online sales. For dealers on their manufacturer's parts program, this can mean tremendous growth in the parts department.
Example of an AutomakerPartnered With RevolutionParts (Year One)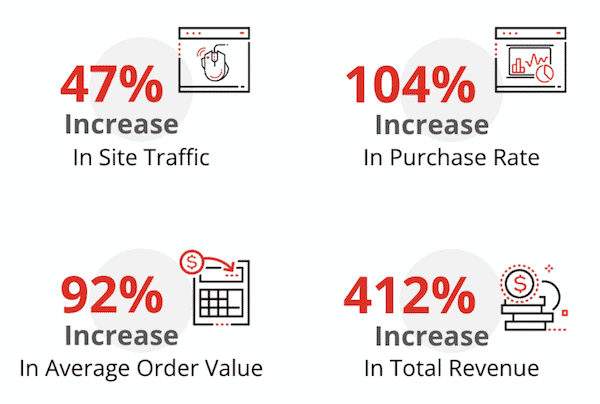 Manufacturers who have partnered with Revolutionparts and created hybrid solutions for their dealers have already seen a significant increase in parts revenue, purchase rate, average order value, and site traffic, demonstrating the impact a good parts program can have. 
Bottom Line
The current state of the supply chain has impacted the automotive industry in unprecedented ways, but establishing a robust parts eCommerce program for dealers can help curb the impact. Not only does it help dealers sell more parts and accessories, but it can also impact customer experience and how they feel about the brand as a whole. Every day, the world is becoming more digital, and customers expect a modern shopping experience.  
Contact us to schedule a free consultation to learn more about RevolutionParts' parts program solutions for manufacturers and how they can help mitigate the impact of supply chain disruption.