Amazon dominates the online auto parts sales sphere, generating over $216 billion in product sales per year. Of that, $10.3 billion was from auto parts and accessories alone. That's a lot of potential profit.
If you want to get in on the action and generate some revenue for your dealership, you're going to have to win the Buy Box. The Buy Box is the section on the right side of a product page where customers add an item to their cart or make an instant, "buy now" purchase. If you're featured there, you'll be able to take Amazon sales to the next level.
So how can you begin the journey to Buy Box domination? There are a few major factors to look at.

Order Fulfillment
Amazon determines who gets the spot in the Box through a variety of considerations, but fulfillment and price are the two most important to keep in mind.
When it comes to fulfillment, you can choose to have items fulfilled by Amazon (FBA) or fulfilled by the merchant (FBM). If you choose FBA, you will ship products to the Amazon warehouse, and from there, they will be sent to your customer. Qualifying merchants can also enroll in Seller-Fulfilled Prime (SFP), allowing FBM sellers to reach Prime members while housing products in their own warehouse. Choosing SFP or FBA has many benefits and will increase your chance of winning the Buy Box because Amazon is able to guarantee the quality and quantity of your inventory.
Fast Shipping
Your ability to get your parts to the buyer has a big impact on your chance of winning Amazon's Buy Box. Amazon prides itself on the ability to get items to their customers in as little time as possible, including 2-hour delivery, so it is no surprise this is something you would want to focus on.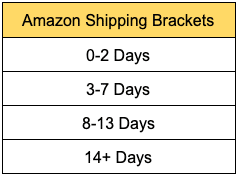 On Amazon, shipping is broken down into brackets of 0-2 days, 3-7 days, 8-13 days, and 14 or more days.
The quicker you can deliver your customer's order, the better. With RevolutionParts, you can provide fast shipping options, including same-day delivery for local customers.
Competitive Pricing
As far as pricing is concerned, you might think you need the cheapest price around – but this isn't always the case. Amazon looks at how competitive the pricing is in comparison to other sellers of the same product. This simply means keeping an eye on other sellers and modifying your pricing accordingly. Also, keep in mind that shipping is factored in! Amazon shoppers only care about the total cost of the product, so don't bother trying to hide your margin in an unreasonable shipping cost! You'll stick out like a sore thumb.
Customer Experience
Part of what gives you an edge when it comes to competing for the Buy Box is your Customer Experience Score. The score is based on things like seller feedback, shipping performance, and customer response rates.
Amazon is known for its dedication to customer satisfaction, so there's no wonder why your customer satisfaction rating is factored into eligibility for the Buy Box. A high rating also allows you the freedom to price more in your favor (but don't go crazy). Amazon shoppers also take seller ratings into account; the higher the rating, the more secure they feel making a purchase.
So how can you ensure a high customer satisfaction rating? Make sure you respond to customers quickly and get things shipped out on time (especially if you're FBM or SFP).
Get Started
Winning the Buy Box dramatically increases your opportunities for sales. Owning that real estate also allows you a greater chance of hitting OEM incentives for selling a certain volume of product. Amazon is all about volume selling. Since it's easier to meet these numbers, you can lower margins knowing you can get 5-10% back by meeting incentive requirements.
When it comes to selling on popular marketplaces like Amazon, you don't have to do it alone. Being a seller without any support can be a real challenge, especially if you are trying to keep a large catalog updated. RevolutionParts offers many services to get you started, like a dynamic pricing tool that generates competitive pricing for your SKUs. We also make it easy to import your entire catalog onto your Amazon store and manage it from a single dashboard with all of your selling channels. Our eCommerce solution also communicates with Amazon in real-time regarding the availability of parts.
Get ahead of the game by working with RevolutionParts to accelerate your parts department and establish a presence on Amazon.