Used car sales have long surpassed new car sales, and this trend continues into 2022 as Cox Automotive forecasts the year to finish out with only 15.3 million new vehicles expected to be sold and 39.3 million used sales. According to J.D. Power, May 2022 saw a 20.9% decrease in new vehicle sales compared to 2021. 
For many dealerships, the disruption in the supply chain has left them with a limited inventory and a decrease in vehicle affordability. Additionally, many consumers are opting to keep their older vehicles for longer rather than buy new or used. 
What does this mean for the average dealership? A huge loss in revenue from decreased new car sales. To help compensate for this loss in new car sales, dealerships need to turn their attention to other revenue streams, such as the parts department. 
As more people are opting to keep their vehicles for longer and/or buy used cars, the need for aging idle parts grows by the second. This is where the parts department can become a major revenue generator. With the right tools and selling channels, the parts department can maximize its sales and increase the absorption rate for its dealership. 
So, how can dealerships help their parts departments become strong revenue generators?
Sell to a Wider Customer Base
Millions of used vehicle owners are ready and willing to buy parts from your dealership. Getting your parts department on their radar is essential to maximizing sales. A strong online presence for the parts department can help widen your customer base.  
Depending on the needs and overall goals of the dealership and, subsequently, the parts department, different strategies can help your parts department create more selling opportunities. 
Strategy 1: List Your Inventory on Your Dealership's Website
If your parts department is still using an outdated parts form to gain parts orders, it's time for an upgrade. 74% of all parts purchases, whether they are made online or in person, begin with online research, and one of the first places customers may check is their local dealership. By listing your inventory online, your local customers can see what you have in stock and instantly get a quote for that part. Your inventory can easily be added to your dealership's website through a tool like RevolutionParts' Website Plugin. 
You can watch the video below to see how it works.
Strategy 2: Sell on a Designated Parts Web Store
Having a designated parts web store just for the parts department offers a variety of benefits. When a customer is researching online for a part, a web store makes it easier for them to find you. With a parts web store, your parts business can target a wider range of customers across the country and make it easier to compete against other online parts sellers, including aftermarket suppliers.
Strategy 3: Sell on Third-Party Marketplaces
Another way to strengthen the parts department's online presence is by selling parts on third-party marketplaces. Online marketplaces like eBay have millions of active users who make purchases from them regularly and are ideal for dealerships that want to sell to an established large customer base. Marketplaces are also the ideal place to sell your piling obsolescence. 
Strategy 4: Use a Combination of All Three
The best strategy to establish a strong online presence is to diversify your selling channels. Selling on your dealership's website, a designated parts web store, and online marketplaces gives your dealership the opportunity to reach more parts customers across the nation.
Grow Local Market With Same-Day Parts Delivery
Increasing your national customer base isn't the only way to leverage more sales in the parts department. Many dealerships are looking to grow their local market to help boost their bottom line. Generating enough revenue from your local market should always be top of mind. 
So, how can dealerships grow their local customer base and deliver the best quality parts buying experience, especially to wholesale customers that make up a considerable part of their business? 
Offer same-day parts delivery. Having a speedy delivery service for the parts department can help you grow your local business exponentially and make you the preferred OEM parts supplier.
With Local Delivery, you can deliver parts to your customers or have parts delivered to your service lane, with most orders being delivered within an hour. Your customers can order them, see the progress of their delivery, and get notified when it arrives.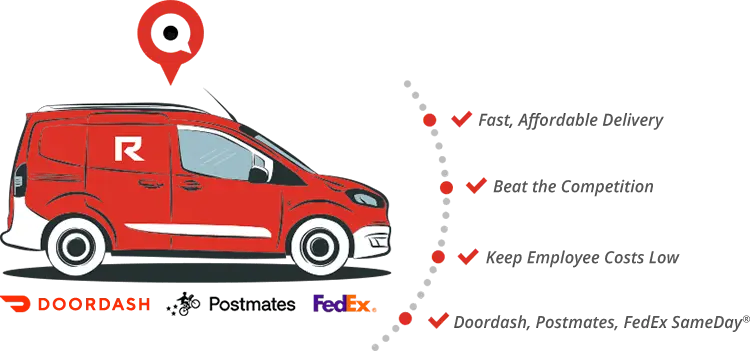 Invest in Digital Marketing
Marketing for the dealership should extend to the parts department. To better understand customer needs, behaviors, and buying patterns, it's important to have a strong digital marketing strategy for the parts department. Specialized parts digital marketing is one of the most effective tools for growing an online parts business.
Optimize Online – Invest in website SEO to improve rankings in a search engine. Make it easier for customers to find your parts department online. 
Email Marketing Campaigns – Create compelling email marketing campaigns for prospects and returning parts customers. Use them for parts quotes, special offers, and promos. 
Use Online Reviews – Use reviews for your parts department to increase customer engagement and website traffic. Use them as part of your SEO strategy. 
Spend Money on Ads – Set a budget for online ads. The higher the ad spend, the more likely your ads will be circulated online. 
Diversify Ad Types – Use different types of ads for the parts department. Search ads, shopping ads, and PPC ads can help increase customers' chances of finding your parts department online.
Improve the Buying Process with Automation
Make it easier for parts buyers to purchase directly from the parts department. Automation in the parts department is key to helping support this strategy. Here are some automated strategies you should give a try:
Customer Emails – Let customers know when their parts orders are ready, special offers at the dealership, and promos that reward customer loyalty. 
Parts Quotes – Automate parts quotes and pricing based on customer segments. This is especially helpful in growing your wholesale customer base. 
Marketing Ads – Automate when and where ads show up on social media and search engines. This helps your parts department identify the ads that your customers engage with most often.
Train Parts Staff to be More Sales-Minded
Your parts team may not think of themselves as salespeople, but they should! With the right training and motivation, you can help your team become more sales-minded.
Offering streamlined sales training can have a significantly positive impact. Encourage collaboration between the sales and parts departments to help parts staff cultivate sales skills. 
Offer incentives like employee-of-the-month, company gifts, and bonuses to provide additional motivation for parts team members to reach individual and overall sales goals.
Leverage More From The Parts Department Today
Maximizing revenue from the parts department is key to combating lost revenue from new vehicles. Dealerships need to streamline and automate processes to make the customer's buying experience easier. Use same-day delivery services and additional selling channels to grow business within the local market and establish a strong online presence to reach a wider customer base. 
For more in-depth information on maximizing revenue through the parts department, download our free eBook, "How to Make an Extra 1K a Day," to get some expert advice!