Is your inventory stocked to the max? Too many parts sitting on the shelf, not going anywhere? Freeing up shelf space in the parts department for new parts orders can be a challenge. A low turnover rate can result in slower sales, which spells trouble for your parts department. 
Your parts department needs to sell parts, order new ones that meet your customers' demands, and manage your inventory without making too many errors. What can you do to help support a faster turnover rate without sacrificing quality customer service?
These are the 6 best tips to help you do just that!
1. Sell on an Online Marketplace (Amazon and eBay)
The easiest way to sell more auto parts is to sell your parts in more places. New selling channels can help you reach a LOT more potential shoppers. Selling online can help you expand your customer base from your local market to a wider national market. 
Both eBay and Amazon are packed with people who are ready to buy! YOU can use these marketplaces to get in front of customers and get them what they need faster!
That said, eBay and Amazon are more competitive than your parts counter. You may not be able to price parts at MSRP. To make enough profit through these marketplaces, you have to use a cost+ pricing strategy.
You'll get less profit from individual orders, but you'll make up for it through sheer volume. MILLIONS of people are browsing eBay and Amazon every day. More people will view your online listing than walk through your department's front doors, which means you have more opportunities to sell.
Bonus! eBay Motors is especially great for moving aged and obsolete inventory!
2. Optimize Your Parts Counter and Dealership Showroom
Out of sight, out of mind, right? If shoppers don't know that certain accessories for their vehicle exist, how can they buy thm? Help customers find what they don't know they want. Do this by setting up an eye-catching display at your parts counter or setting up an accessory selling kiosk (like what Insignia Group does). You should make it as easy as possible for shoppers to see the cool things you have for sale.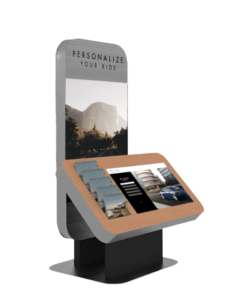 3. Investigate How Fast Parts Sell
If you're not tracking inventory trends, it's time to start! Tracking your current inventory turn rate can give you valuable insight into where you're getting held back. By tracking fast and slow-moving parts, you can adjust what you order accordingly. Order what you know you can sell!
4. Revise Your Pricing Strategy
On that same note, your pricing strategy could be holding you back. MSRP is a safe place to price, but it doesn't help you undercut your competitors, especially when it comes to creating your online pricing strategy. We always recommend that you follow the "Cost +," set up in a matrix so your prices are balanced across the board.
Need help visualizing this strategy? Take a look at this example matrix.

Let's say you're selling parts within the 30 to 50 dollar range. If you're selling them online, you should list the selling price at cost plus an additional 20%. This strategy can help you cover any overhead costs that come with an online marketplace while still generating revenue. Cost + can be profitable! We can't stress that enough! With a lower price, you'll attract more customers, and you'll make up the profit through higher sales volume.
Keep in mind that you may have to find the right strategy that works for you. If you are already partnered with RevolutionParts, talk to your account manager about creating a pricing strategy that will help you maximize profits.
5. Reward Employees That Meet Sales Goals
As they say, you can attract more bees with honey! Sometimes the best way to achieve your sales goals is to motivate your department staff to up their game. 
Instead of pressuring employees with goals, offer a reward instead. It's a good way to boost team morale and encourage them to upsell on their own.
Individual or team goals can be set—or both!
The reward doesn't have to be a huge paycheck bonus.
Cater lunch for the team

Give out brand merch! (T-shirts, hats)

Parts Employee of the Month award

$10-$25 gift card
6. Require a Deposit for Special Orders
If you're like most dealerships, a good chunk of your warehouse space goes to "forced" stock. That is special orders that shoppers placed but never came to pick up.
Requiring a deposit makes a shopper more invested in their order. They're more likely to actually pick it up if they've already paid for a portion of it. However, if they still don't show up for a part pickup, at least you don't lose a large portion of your revenue!
7. Run Volume-Based Promotions
Consumers love discounts. Oftentimes, they're willing to spend a little more money if it means qualifying for a good deal! Encourage your shoppers to buy more parts with promotions that they can only qualify for if they buy something extra.
 A few examples include:
$10 off any order over $250

Buy one get one half off

Buy three get one free
These deals are especially useful if you are promoting items that are usually sold together anyway. For example, the "buy two get two free" deal always works great for tires. Take some time to brainstorm which other parts or accessories are usually sold in pairs! Not only will you increase your revenue, but you can also encourage those customers to keep buying from you in the future.
Try running these promotions through social media or through email marketing campaigns and see where you get the most traffic from! It'll set you up for success later on.
Improving your inventory turnover is crucial to maintaining steady sales volume in the parts department. By utilizing these tips, you can help your parts department sell more parts, anticipate customer demand, and keep the right parts on the shelves.
Want to know how one online marketplace can help you improve your turnover rate and lower parts obsolescence at the same time?
Take a look at one of our most popular guides, "Unlocking the Secret to Parts Sales Success with eBay Motors." You'll learn how to maximize parts sales through eBay and how you can get started now!