Certain car parts, such as batteries, airbags, and seatbelt pretensioners need to be shipped with special care in order to ensure that they arrive safely—they require something called "hazmat shipping."
Hazmat shipping is not something your dealership should take lightly. If you fail to meet hazmat standards, you could face serious financial and legal risks, not to mention putting someone's health at stake. It's your responsibility to inform your customers and ship these items properly.
That said, it's no surprise that many dealerships choose to avoid selling these parts online completely to avoid extra complications. However, there are customers looking to buy these parts online, which means you can still drive major revenue from them if you don't mind dealing with an extra step.
Step #1. Get Certified
Without the proper certification, your dealership could be fined up to $75,000! Even minor errors in your paperwork or packaging can delay shipments and upset your customers (not to mention that mistakes could cause public safety issues).
Before you start shipping hazmat items, you need to go through special training with your shipping carrier. You can attend a public seminar or arrange for an in-house seminar, depending on what your carrier offers.
The seminar will cover all the information you'll need to know about paperwork, packing materials, labels, and more. You are required to have this certification renewed every three years.
FedEx's guide for how to ship hazardous materials is the most straightforward and can give you a basic idea of the steps. You can read more about UPS's rules for hazmat shipping here and USPS shipping standards here.
Don't be afraid to talk with your shipping carrier before you start fulfilling online parts orders if you forgot something covered during the seminar. Not adhering to these rules can lead to huge fines and legal trouble for your dealership, so calling your shipping provider is a good way to ensure you don't miss any steps.
Step #2. Set Your Pricing Strategy
There's an added cost for hazmat shipping. Each carrier will have different fees for different types of hazmat items. You can decide how much of this fee to pass on to your customers and how much you'll pay yourself.
Remember, a lower price will attract more customers, so you will want to take this into consideration when pricing your part. At the same time, waiving the fee altogether will cut into your profits. 
Test different pricing options to see what sells best. Once you've found the sweet spot for corresponding hazmat items, you can better structure your pricing model moving forward.
Step #3. Be Upfront with Your Customers
Hazmat shipping is not necessary for in-store shopping, so many customers won't understand why they have to pay an extra charge—especially something as hefty as a $40 fee. This might make you hesitant to tell your customers and instead bake it into the normal shipping price.
Hiding the fee isn't the answer. Be open with your customers and inform them why hazmat shipping is necessary. Once they see the potential risks of unprotected shipping for hazardous items, they'll appreciate your commitment to safety.
Step #4. Work With Your eCommerce Provider
Dealerships using RevolutionParts don't have to worry. We've marked all the hazmat items in your catalog so you know what they are. All you have to do is go to the "Product" tab at the top of your RevolutionParts dashboard and then click on "HAZMAT."
If your eCommerce provider doesn't flag hazmat parts, you run the risk of shipping a hazmat item in normal packaging, which puts your dealership at legal risk. Familiarize yourself with which auto parts are considered hazardous materials so you aren't caught off guard.
Common Hazmat Items Found In Vehicles
Engines
Batteries
Air bags and air curtains
Seatbelt pretensioners
Shocks and struts
Paint, adhesives, and sealants
Gasoline/Fuel
Fuel system components
Stay dampers
Speakers
Brake Accumulators
BR-134A Refrigerant
9 Classes of Hazmat Materials
​​Determine the correct classification of the hazardous material you are shipping. Hazmat materials are classified into different categories based on their properties, and each category has specific shipping requirements. Below are the 9 classifications of hazmat materials.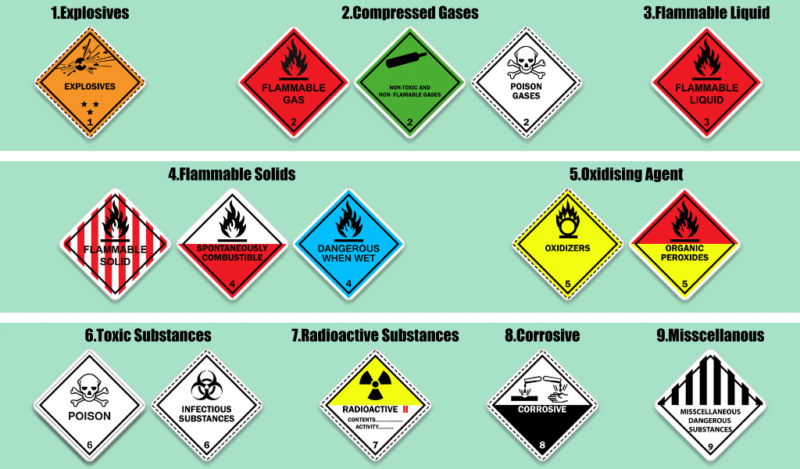 Bottom Line
Your shipping provider may be able to provide relevant information specific to auto parts during your required certification training, so don't hesitate to ask.
Safety comes first, but it shouldn't put limits on your profitability. With the right knowledge, proper communication, and an eCommerce provider you can count on, hazmat shipping can be a selling point of security that your customers can count on.
Whether you are shipping hazmat parts or non-hazardous parts, you can implement strategies that will allow you to profit from shipping. Download the free guide, How to Profit Off Shipping OEM Parts, to learn more ways you can turn a profit from a high-quality shipping and fulfillment strategy.