Driving sales in the new car department is quite the job. It takes effective advertising and technique to get people to ultimately feel comfortable making a purchase.
Having an additional channel to feed this revenue stream can make a huge difference.
How many auto parts dealerships are utilizing the online market as a means to drive business? The answer may shock you.
Only about 20% of current dealerships are implementing eCommerce solutions.
The Customer Experience Buying Parts Online
Buyers are constantly searching for parts online. In fact, 93% of auto parts buyers do some type of online research before making a parts purchase.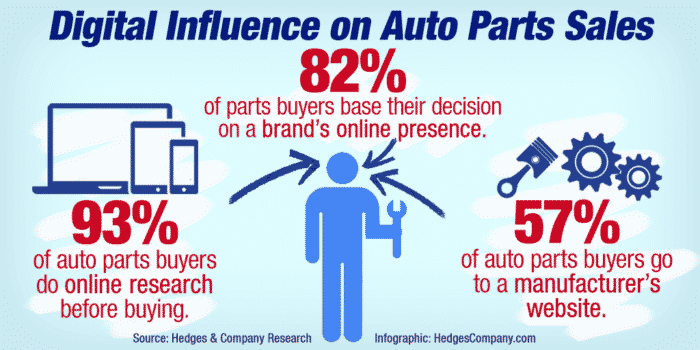 That being said, having the best experience possible when online shopping is one of the key components to building your dealerships customer base.
In most cases, the interaction a buyer has online is the first interaction with your dealership in general. How this first-time experience goes can make a difference (one way or the other) when it comes to them coming back for future purchases.
Generally, it doesn't take much to provide a great service experience through an online channel. Having a functional and organized website is where to start so your users can easily navigate and find what they're looking for. Answering customer service inquiries quickly adds bonus points.
Pricing is definitely a factor, so offering competitive pricing can be what initially attracts customers to your site. Multiple shipping options that make sense and a fast, reliable checkout finishes out the process.
It doesn't stop there, though. Now that they've made a purchase, it's time to retain them as a customer so they will ultimately buy a car from your dealership down the road.
Retaining Dealership Customers Through an Online Channel
While the ultimate goal is for a customer to buy a car from you, keep in mind that most people will be shopping for parts for their current vehicle until they decide that it makes more sense to buy a new one.
Maintaining a relationship with parts buyers is a way to make an impact that ultimately influences them to visit your dealership down the road.
When a customer purchases a car part from you, you've captured their information. This means you have a way to contact them even after the transaction has taken place.
Being able to contact past buyers gives you a world of possibility when it comes to advertising. You can take the information you have and keep them updated on sales and promotions so that they continually buy parts from your website.
This is a great way to earn some extra profit without even having to sell a vehicle. While that's the ultimate goal, it makes sense to know your audience and keep them buying something until that point. It's definitely better than sitting on your hands and waiting for a car sale to just happen.
The better the experience that your parts buyer has, the more likely they are to return. Eventually, they are going to get tired of servicing their vehicle and look towards another avenue: buying a new one.
People shopping for cars value the experience and like supporting businesses they trust. If they've bought parts from you before, they will probably be more likely to consider your dealership for their car buying needs.
By partnering with an eCommerce solution, you can get all the tools needed to launch your parts site, increase profit, and point people in the direction of the new cars department of your dealership.
Intrigued? Check out this face sheet to see how selling OE parts online can drive sales in all avenues.