What's trending in the automotive industry?
As the internet takes over and Millennials enter the automotive industry, things will never be the same. Expectations are changing and unless your dealership keeps up with the changing times, you'll be left in the dust.
Part of this applies to selling online and trying your hand at eCommerce, but even in the brick and mortar dealership, the automotive landscape is changing.
Here's a few of the things you can expect to see in the near future…
1. Buying New Vehicles Online
The internet is already a popular place to sell auto parts and used vehicles, but what about brand new, made-to-order cars, too?
By 2020, a Frost & Sullivan study predicts that 5% of all NEW car sales will take place online.
You're probably thinking, "Why should I care? 5% is almost nothing." But when over 17.5 million cars and light trucks were sold in 2015, it's actually a sizable chunk. (Hint: 5% of that number adds up to 875,000 cars.)
And yes, 5% isn't much. Right now, at least. But the number is only expected to grow.
Already Germany leads the world in online new car sales, with about 10% of new car sales taking place entirely on the Internet.
a.) An Online Showroom
In 2015, Audi launched the Audi VR Experience—an innovative and entirely digital way for customers to "test drive" their dream car without stepping foot in an actual dealership. After selecting a vehicle of interest, shoppers can put on the VR glasses and "explore" the car in virtual reality.
See what it looks like here:
Shoppers can customize their car to the extreme by selecting exactly which features they want or don't want. Model, color, and trim can be changed at any point in the demo.
Audi saw an immediate improvement in upselling when it came to add-ons, since customers were free to pick whatever they want rather than being restricted to whatever was available at the dealership. (Another reason why parts & accessories eCommerce will only get more popular in the years to come!)
Results: Audi saw an overall increase in car sales—about 60-70%. The virtual test drive turned out to be a success too, with about 50% of customers ordering a vehicle without taking a physical test drive.
After such a great success with their first showroom, Audi plans to create even more VR experience showrooms across the world.
In the future, customers will be expecting a one-stop shop for all their car needs. That means one website to buy a vehicle, parts, accessories, and services. Purchasing vehicles online may still be far in the future, but if you're already selling auto parts online, your online experience will give your dealership a head start.
Read More: Two Experts' Predictions about the Future of Automotive eCommerce
2. A Technologically-Advanced Dealership
With so many new technologies on the market, dealerships are already looking for ways to improve efficiency and customer experience. The most notable of these: tablets and cell-phones.
a) Tablets
With portability and convenience, it's no surprise that a study by Pew Internet found that in 2014 about 50% of the US population owned either a tablet or e-reader.
Some innovative dealerships have seen tablets come in hand in more ways than one:
Immediately look up the customer's VIN, dealership inventory, prices, and more.
Introduce a fast and accurate way to get the job done.
Improve customer experience and trust
Put your dealership ahead of the curve
Even if your employees know the numbers off the top of their head, it also gives your customers some reassurance to see the numbers for themselves.
Whether you're selling vehicles, accessories, or services, the customer will feel involved during every step of the process when they can hold the tablet and interact.
It can also works as a huge convenience boost!
When a customer arrives at your dealership, imagine walking up to their vehicle and signing them in via tablet—all without the need to exit the car. It streamlines the process and can save everyone time reparking and walking between the building and vehicle.
Forward-thinking dealerships have set up tablets in the waiting room for customers to use while their vehicle is being serviced. Tablets can even be added to a kid's play area, pre-installed with learning games.
b) Texting
Currently, phone calls are the standard when it comes to service updates. But has your dealership ever considered adding a texting option?
Texting is one of the fastest-growing forms of communication. It's been around for 20 years now, so it's had plenty of time to become a refined technology for quick and efficient contact with someone. And it's not just popular with millennials—Baby Boomers text a lot too.
Just a few benefits dealers have found:
Keeps customers updated in real time
Allows you to send images of the vehicle, like damaged parts or a finished repair
Makes the customers feel more involved in the process
Allows customers to refer back to previous texts, rather than forget what you said over the phone
With such a powerful and direct way to communicate, dealers have already seen higher approval rates and increased customer satisfaction. Others have seen more positive social media posts and improved customer retention.
As an added bonus, it reduces the amount of calls to your dealership. No more rushing to the phone only to tell someone that their vehicle isn't ready yet!
RELATED: 5 Customer Service Fails that are Driving Away Customers
3. Ease of Use Websites
It's no longer enough to just have a website. You need to have a good website. Preferably even a great website or amazing website.
Customers have so much choice when it comes to shopping online. If they find your dealership website or online parts store and don't like what they see, it's easy to find something else.
a) Website Necessities
In general, this means:
Clean, professional layout
Modern and unique design
Great visuals (powerful color scheme, high-resolution images, etc)
Fast loading site (less than 3 seconds)
Search bar feature
For parts & accessories eCommerce stores, you also should have:
Easy-to-navigate and accurate parts catalog
VIN decoder
Quick and simple checkout process
Trustworthy logos (PayPal certified, Google Trusted store, manufacturer logos)
Multiple payment methods available for customers (PayPal, Visa, MasterCard, and more)
Sometimes, you don't have much control over these things. It all depends on your eCommerce solution. If you think your parts website just doesn't compare to competitor sites, then it's probably time to upgrade.
You can see a few great parts eCommerce websites examples right here.
b) All-in-One Experience
Can customers get EVERYTHING they need from your dealership website?
As more and more shoppers buy parts and accessories online, your dealership would be smart to meet that demand. Attract local customers and improve loyalty by giving shoppers everything they need in one place: parts, service, vehicles, and information about all of it.
When you have an online parts store that you're promoting locally, cross-over sales can be a fantastic idea to generate more business. Offer customers:
Free or discounted oil change when they make spend $70+ on your parts website
Free car wash when they sign up for your online parts store email list
10% off coupons for your website, readily availble on the counter in your dealership
Read More: 5 Types of Coupon that will Drive Sales to your Parts Website
The more times a shopper interacts with your dealership, whether it's your physical dealership, your dealership website, or your parts & accessories website, the more likely they'll think of you first for all their automotive needs.
c) Mobile-Friendly Shopping and Browsing
As more customers shift to using smart phones or tablets, having a mobile-friendly website is becoming absolutely essential. Especially when Google recently announced a new "mobile-first" change to their algorithm, which will favor responsive and mobile-friendly websites.
In just the first three months of 2015, we saw an average 17% rise in mobile traffic across all stores on the RevolutionParts platform!
We're not the only ones to notice the trend. According to a recent UPS study, 52% of online automotive shoppers have bought parts or accessories from a mobile phone. The percentage is even higher for tablet purchases!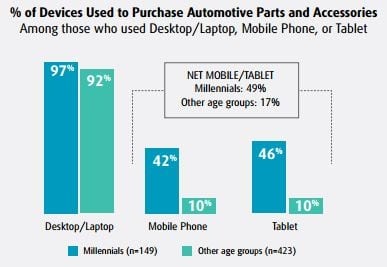 Imagine your customers is out in the garage, working on their car. They figured out what's wrong and want to make the purchase on their mobile phone. It's much quicker than heading inside to power up a desktop or laptop.
Since online parts sales are growing every year, that means more and more missed sales the longer you go without a parts web store…
And just HAVING the website isn't enough anymore. If your website isn't mobile-friendly, shoppers must squint at microscopic text and try to hit tiny buttons. Most customers will give up and make the purchase from somewhere else.
Mobile shopping is only expected to rise in the coming years. Can you afford to ignore it?
4. Content Availability
It's really easy to find information online. There are how-to guides and videos nearly everywhere you look. With the information online, you no longer need to be a professional to do standard vehicle maintenance on your own.
So it's not a surprise that auto repair DIYers are on the rise.
This is part of why the online parts & accessories market has such high outlooks for the upcoming years. More people than ever are researching and purchasing parts on the Internet.
a) DIY Video Tutorials and Installation Guides
If you want to reach that growing portion of the market, you need to draw them to your site. Some dealerships have started a YouTube channel for how-to installment videos. You can also review the latest car models or let people know about upcoming technology.
When DIYers watch YOUR how-to video, it's easy to connect through to your parts website. Imagine watching a video on YouTube, and then scrolling down to see links to all the necessary auto parts right there in the description.
They need to buy the part from somewhere, so why not buy it from you?
Read More: 3 Reasons a Video How-To Series Will Supercharge your Parts Website
Embedding any sort of video on YouTube also gives your website a boost to SEO, making it even easier for shoppers to find your site.
Studies have shown that videos can improve conversion rates by 80%. Something about a video uplifts customer confidence and helps them decide on your business for their purchase.
5. Electric and Hybrid Car Sales
Recent studies have also seen an overall increase in the sale of electric and hybrid vehicles. While they're still in the minority of cars out there, the number will only grow.
More than ever, customers are adopting a "green" environmental awareness and want to do what they can to reduce pollution.
Additionally, fears about skyrocketing gas prices and predictions that fossil fuels will run out before long make many car shoppers even more aware of how that'll impact the vehicle they buy.
Most dealerships will readily agree to seeing an increase in questions about vehicle fuel-efficiency. In fact, a 2012 study named fuel economy as the most important car-buying factor for Americans.
What does this mean for your dealership?
a) Electric and Hybrid Inventory (and experience!)
Reserve a few spots for hybrid or electric vehicles in your inventory. Currently, 1% of all cars on the road are electric or hybrid, so having one "green" vehicle option for every 100 cars you sell is a safe bet for proportion.
More importantly, make sure your parts and service departments know how to deal with hybrid and electric cars. Train your service employees for it, AND make sure your parts department has the right equipment on hand to sell.
With so much information readily available on the internet, more and more DIYers are buying the parts to fix the car themselves.
b) More than the Bottom Line
On a similar note, adopting "green" business strategies in your dealership can go a long way in improving relations with customers. It can be as simple as setting up a recycling system for waste or purchasing recycled paper or coffee cups.
Everyone knows that eco-friendly options cost more. So when customers see you adopting "green" business strategies, they know that your dealership cares about more than just the bottom line. This, in turn, will make them more open to working with you.
If you decide to go more green at the dealership, make sure to add a page about it to your website! Break down every step your dealership has taken, from installing LED lights to stocking 100% recycled coffee cups.
Eco-focused customers will be much happier and more willing to shop with you when they see you're taking steps in that direction. Millennials are a much more environmental-conscious group, and when they're the future of the market, it's worth your time to appeal to them.
6. And More…
a.) Car Vending Machines
Have you seen Carvana's coin-operated car vending machine? The 5-store building holds as many as 20 cars and is intended to help customers avoid salespeople.
Even thought your dealership can't start its own car vending machine, there's a lesson we can learn about why Carvana's venture is popular among car buyers.
More and more, shoppers aren't looking for a pushy salesperson. For Millenials in particular, the "hard sale" is just not appealing. Adapt by focusing your sales team on excellent service and offering genuine help and advice instead of just a sale.
b.) 3D Printing
There's also the an industry trend in manufacturing auto parts … with 3D printing!
Consumers who own older vehicles can buy the parts they need for DIY repairs and maintenance. For automotive companies, this means parts that are cheaper, lighter, and faster to produce.
Someday, dealerships could have their very own 3D printer inside the parts department!
Parts Managers could "stock" obsolete parts without taking up any shelf space. These auto parts can be created on-demand, without fear of losing money due to obsolescence.
Read More: How to Eliminate Obsolescence for your Parts Department
What Else?
It's hard to predict exactly what to expect in the coming years, but keeping an eye on the current auto industry trends can give you an idea. The whole industry is shifting increasingly digital, so in the long run, selling auto parts online will boost your online presence and, by extension, your profit line.