Are you letting customers walk out your virtual "door" without even trying to change their minds? The truth is, most eCommerce stores give up the second a customer closes their browser—even though it's costing them sales.
A customer visits your parts store, fills their cart with goodies, and then leaves the page for some unknown reason. Except most of the time, that customer was ready to buy. So why would you give up on a sale so quickly?
According to a study by Statista, the majority of shoppers decide against a purchase due to financial reasons. But a good portion leave because the website crashed (24%) or timed out (15%). They put all that effort into picking out the items they intended to buy, but never finished due to reasons beyond their control.
Which is where an abandoned cart email comes in.
By contacting a customer via email to remind them of their abandoned purchase, Peak Marketing was able to recover 12% of their supposedly "lost" sales, while a Salecycle study saw an amazing 29.9% recovery rate.
The difference in success rates shouldn't be surprising. The quality of your cart abandonment emails plays an enormous role in how many customers return to your site.
Below we have a few examples of automotive cart recovery emails that you can learn from.
Example #1: NAPA
To start strong with a fantastic example, there's NAPA Auto Parts. They do a great job with the email—almost everything about it is perfect. This is what it looks like:
Your customer needs to recognize your brand right away. There's a good chance they were shopping at multiple websites, so the sooner they remember your particular parts store, the better. This email is another way to reinforce your brand.
NAPA played this part perfectly. They did so much right:
Logo (used twice)
Company color scheme
Unique greeting that fits the target audience ("If you're looking to get your hands dirty…")
Readily accessible contact information
The result? The email is instantly recognizable as NAPA. Additionally, we better understand the NAPA brand and what it's all about. They're friendly, informal, and ready to lend a hand. They also care about each customer's business, since they're willing to invest the time in creating and sending an abandoned cart email.
A personalized email can also boost your chances. If you know the customer's name, it's easy to code that into your automated email. Including an image and link to the parts in their cart can also make a big difference by reminding them what they wanted in the first place.
Example #2: BuyAutoParts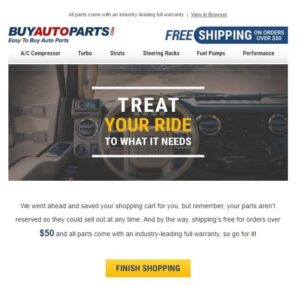 Another example of great cart recovery comes from BuyAutoParts.com. It's not as customized to the buyer as NAPA's email was, but it's still a powerful abandoned cart recovery email that can save the company precious sales.
Lower in the email, the email listed the part(s) left in the customer's cart, but just this top section by itself would make a good cart recovery email.
By not mentioning customer name or their items, it removes a level of complication from setting up the cart abandonment email in the first place. Rather than mess with the details of adding code to your email, you could easily send the same version to every customer.
What's great about this example is the deal they emphasize: free shipping on orders over $50. This isn't a special deal offered only for the cart recovery email—they run this promotion constantly. Not every customer would know about this though, so this is a great chance to remind your visitors. Most of the time, price is the reason a customer decided to abandon their purchase. If you can nudge a customer in the right direction by reminding them of your deals, then you'll find a lot more success.
The most successful cart recovery emails include an image. Whether it's an image of a part in your customer's cart (like NAPA did) or a generic car-themed image (like above), pictures are pleasing on the eye and make your email more enjoyable overall.
Example #3: JC Whitney
Although it's simple and not as colorful as the above to examples, JC Whitney also uses a basic cart recovery email to try to bring back sales. To the left is theirs.
Buyer confidence is another big reason why a customer would abandon their sale. If they're suspicious of your company or unsure about having the right part, they'll leave. JC Whitney counters this fear with a customer testimonial along with the line "providing quality service since 1915." With any luck, this will bring back customer confidence and save the sale.
JC Whitney also included links to social media. While Facebook and Twitter are strong standards for any company to have, Pinterest and Instagram are nice additions. They make the company feel more approachable, and in many cases may even encourage customers to ask questions about their order. Again, this can improve customer confidence and become the tipping point in the decision to buy.
A few days later, JC Whitney followed up with a second email (on the right).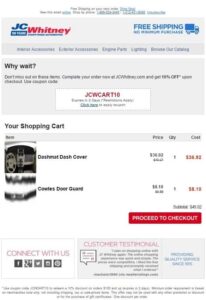 This time, they include a discount: 10% off during checkout. Similar to BuyAutoParts, JC Whitney recognizes that price is an important factor in the buying process. A few dollars just might be enough to sweeten the deal and win a sale.
At the same time, they saved the discount for the follow-up email. Some customers know about this trick and will intentionally abandon their cart in hopes of snagging a discount. To counter this, hold off the discount for a later email so you're not cutting into your profit line prematurely.
If you do offer a discount, make sure there's a time limit to it. Whether it's a week or just 24 hours, creating a sense of urgency can work wonders in an email. Without it, customers may decide to deal with it later and end up forgetting. In the case of JC Whitney, they put a 3-day time limit on the coupon. It's enough time for a customer to respond, but not so much that they can put off the sale indefinitely.
Conclusion
Although it wasn't shown in any of these examples, some retailers have found a lot of success in listing "related offers" in their abandoned cart recovery emails. Even if the customer is no longer interested in what they originally shopped for, a similar item might catch their eye. It also pays to try different colors and formats to see what works best.
Of course, use common sense when setting these things up. You don't want to hit your customers over the head with constant emails. One email, maybe two, is really all you need. You can't win back 100% of those sales! If a customer continues to ignore your emails, then perhaps it's time to call it quits.
At the very least, your emails familiarize them with your brand, and they'll be more likely to remember you next time they need to buy. There's no risk to creating automotive abandoned cart recovery emails, so you don't have anything to lose. It may just make a difference!