Social media marketing is still the most prevalent form of online marketing for all businesses. In 2021, there were 295 million social media users in the United States, making up about three quarters of the population, and over 31 million social media users in Canada. Social media advertising is a highly effective marketing strategy, but it is also extremely competitive. To maximize social media marketing, you need to know what the benefits are for your parts department and how to use it well. 
Here are the seven ways social media can drive traffic to your parts site and help you generate more business.
Puts Your Parts Business in Front of Future Customers
Getting in front of new customers is one of the biggest challenges to expanding your parts business. Social media can help you get your parts site in front of more potential customers at a faster rate. Social media metrics and campaign tools can help you create content that you can then expertly target to the right audience, in the right place, at the right time. In order to capture their attention, you need to know how to serve content to your customers effectively. This is where social media targeting really comes into play.
According to leading research, up to 54% of active users on social media use social media platforms to browse and research products. If over half the individuals on social media are using it as a way to research companies, products, and services, then you need to find ways to narrow in on customers who are searching for your products through targeted marketing. 
To target social media content effectively, you first have to identify your target market and your target audience. Your target market is the specific group of people that would be or are interested in the products that your company (dealership) offers; in this case, parts buyers. Your target audience is the more specific subset of the two. It's the specific audience subset that defines that group based on demographics, interests, values, and buying history. You can have more than one target audience. In fact, the companies that see the most success on social media have multiple target audiences that they segment and serve specific types of content to. 
Let's look at an example target audience and how you can use this information to create effective social media content. 
Let's say you notice the bulk of your parts customers are:
Men between the ages of 25 and 44.

Avg. income is $54,000.

Have buying habits that include auto parts and accessories purchased within the last year.

Interests include following car blogs, posting to forums (don't be afraid to expand your search based on additional interests you see your potential customers engaging with).
How can you use this information to your advantage when creating and serving social media content?
When creating social media posts/ads, narrow your audience reach to specifically target people that match your target audience.

Use language that resonates with them.

Post content during a time when they are most active (this might take a few test runs to get right).

Post content that features desired products to appeal to your target audience's needs.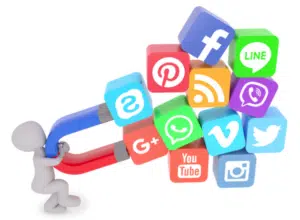 Helps Get Customers Engaged
Getting content out to your customers is the first step in the process of gaining leads, and getting them to engage with you (more specifically, your website) is the next step. Measuring what social media campaigns your customers like, comment on, or click on to put them through to your website can help you determine what content works best for your customer base. It can help you better determine their needs, values, and interests, and can help you get them to the nurturing stage of the customer journey. 
The question is, how should you measure customer engagement? It's hard to know what you need to look at when you first start, but once you gain enough data, you can better understand what your customers like and what they need from you. 
At the foundational level, these are the things that you should always be measuring when you post anything to social media:
Likes, comments, shares:

These individual metrics add up to the whole picture and help you see which posts perform best overall.

Post engagement rate:

This is calculated by the number of engagements divided by the impressions (reach). A high engagement rate means that people who see your posts are interested in them.

Account mentions:

Organic mentions that aren't part of a reply tend to indicate strong brand awareness. This is more geared towards platforms like Instagram (which may not be applicable to your social media strategy, and that is okay).
In your social media reporting, the following two metrics should take precedence at the post level:
Impressions:

How many times a post shows up in your customers' feed/timeline.

Reach:

The potential unique viewers that a post could generate (i.e. your current followers + their list of friends/followers).
By measuring these areas of engagement you can identify what content is most popular among your target audience, streamline your strategy to create more content like it, and gain traction among new customers.
Builds Brand Awareness For Your Dealership and Parts Department
Establishing a strong customer base requires building a strong image. Social media can help you build your brand image and transform prospects into loyal return buyers. Having a strong image makes it more likely for your customers to refer you to others in the future.
Here are some of the things that companies with the best brand image on social media have in common:
Consistent visuals (logos, colors, fonts, banners, graphics).

Strong brand voice and tone (keep your messaging the same, identify your core words and phrases, and audit your social posts/campaigns to keep the voice consistent).

Create multiple accounts to focus on different areas (use certain platforms to promote special offers the most, use other platforms that are great for videos).
Let's look at Nike as an example. Nike is one of the leaders in social media branding. Nike's social media posts and ads are instantly recognizable, generate an extreme amount of engagement, and have some of the highest conversion rates out there. That's because they understand what works best for their audience. 
Just take a look at this image.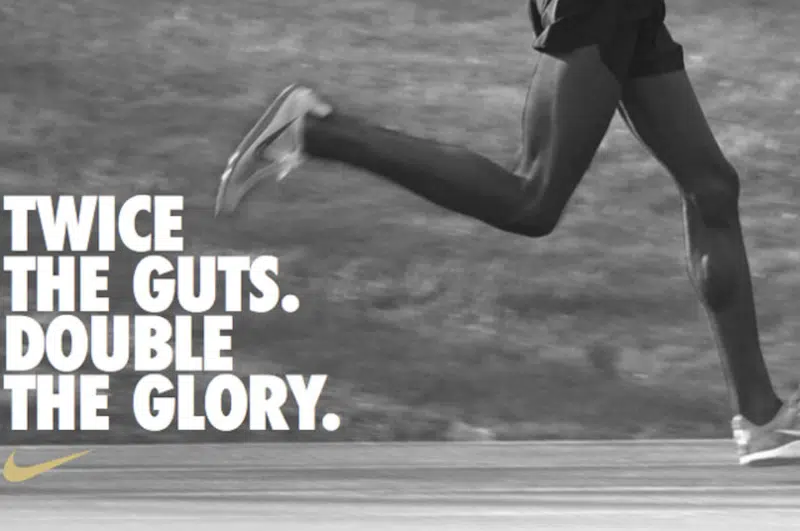 What works in this image that lets consumers know, "That's Nike!"
Recognizable logo and font

Uses brand colors (black, white, and gold)

Messaging is strong (the copy is simple and makes a statement)

Simplicity (photograph is strong and clean)
Helps Increase Your Referral Rates
Customers who have an excellent buying experience with your parts department can help do a lot of the work on social media for you. Whether it's through reviews, comments, or even just general praise on your social media, they can actually be your best source of customer referrals. In 2019, as many as 80% of social media referral traffic to eCommerce platforms/websites came from Facebook. 
Any time a buyer has a positive experience with your business, you can use that interaction to generate new business. You can encourage buyers to leave comments or rate your website on your social media by creating a referral program. Offer buyers who refer you to a friend on social media or who leave a 5-star review a special discount on their next purchase. There are ways for you to encourage customers to take some of the strain off of finding prospects. Plus, it's a great way to build word of mouth. 
Remember that you should respond to customers who leave comments and reviews. Always thank them for their input, and be sure to ask them about what you can improve to make their buying experience even better. It's quality customer service that everyone can see.
Helps You Anticipate Customer Needs
Social media can also be a great resource for predicting customer needs before they know they need them. Through social media monitoring and interactions, you can get a better idea of what kinds of things customers want from your parts business. It's a 24-hour job though, so don't keep your social media on the back burner. 
According to a study published on Statista, nearly 47% of online consumers like a company more, or will look at it more favorably, if a company responds to their questions or complaints on social media. The faster the response time, the more likely a customer will become a return buyer in the future. Plus, when your customers have a positive experience with your customer service approach on social media, they will shout it from the rooftops. It's basically free publicity!
What should you look for on social media to help you anticipate their needs (especially for customer service-related issues)?
Look for customer complaints about processes like shipping, ordering, and order errors (remember to respond to them as part of your customer service strategy).

Look for positive customer reviews and follow up with them about how you can make their experience better.

Look for customers in need of parts and accessories and help direct them to your part site and get the sales process started.
Keeps You Ahead of the Competition
Social media is a great way to gain insight into your competitors' actions. You get a front-row seat to find their strong points and their weak points on social media. It also allows you to see what's popular among your competitors and find ways to be creative with your social media. 
If you can identify your main competitors on social media, you can use that information to tailor your social media strategy and make it personal to your brand. The "similar-but-different" approach can be an effective baseline strategy. 
When looking at your competitors' social media, ask yourself these questions:
Who are my competitors? (You should list your top 5 to research before you start the process).

What social media platforms are they on?

What success are they seeing on these platforms? (How many followers do they have? How many page likes? What's the average number of comments on their posts?)

Identify any threats to your social media (slow follower growth, a limited number of target audiences, or even broader industry changes (like supply shortages or the rise in self-driving vehicles).

How do they handle customer interactions and customer service on their platforms?
Social media can be your greatest asset or your worst enemy. You need to make it work for you if you're going to achieve these benefits. Not sure where to start to revamp your social media strategy? Take the first step to solidifying your marketing plan with our free guide, "Marketing Made Easy with the RevolutionParts Platform." It'll give you tips and tricks on how to use marketing to incentivize customers to buy from you again and again.