Generating enough revenue in the parts department isn't just a matter of finding new customers to sell to. Repeat buyers are the real money-makers when selling parts, which is why it's important for your parts department to set customer retention goals. 
What is customer retention? Customer retention is the number of customers you have who make repeat purchases from your parts department. The more customers you have who continue to buy from you throughout the year, the better your customer retention rate will be.
Why Are Repeat Customers Important?
Over 50% of online revenue comes from repeat customers, making them the most important and profitable customer segment for any online business. Not only do repeat customers maintain steady sales, but they also save you money in the parts department. 
Nurturing existing customers is cheaper than investing in acquiring new customers. It takes less money to create customer nurture strategies. The question is, how can you create the right strategies to improve your customer retention rates and get more repeat customers?
Identify Your Audience
Which customers are most likely to buy from you again? What are the differences between local retail customers and wholesale customers? If you're selling online, what is unique about these customers?
Knowing more about your customer base can better target your sales techniques. There are some key identifiers that you can use to help you determine who could become a strong repeat customer.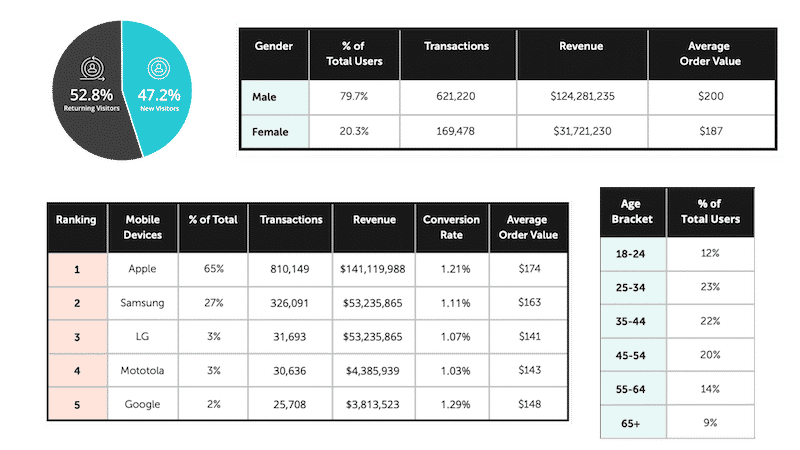 Top 5 Customer Retention Tactics
There are a variety of tactics your parts department can use to create a solid customer retention strategy. Depending on your department's goals and current processes, you can choose which tactics to give the most attention.
Customer Service is King
If your goal is repeat customers (and it should be!), then customer service should be your top focus. Parts departments that prioritize customer service say it is the biggest driver of a successful business. 
Instead of explaining it, we'll let you see what our top dealers are saying about how much they value customer service: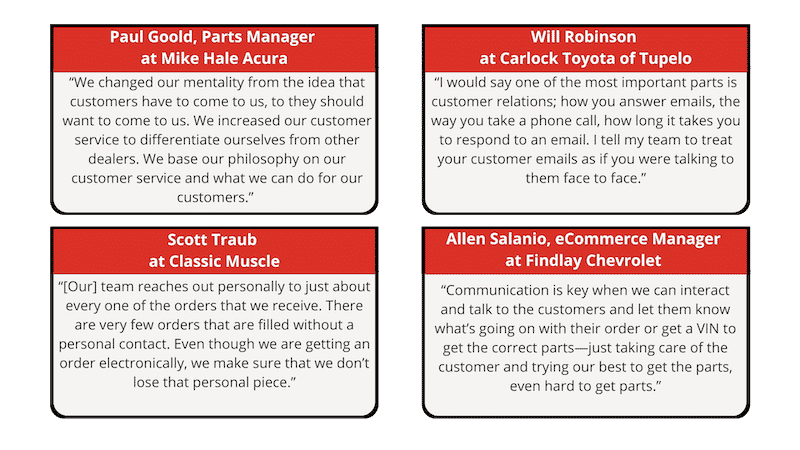 Stay in Touch! 
You need to establish strong relationships with your buyers to build a solid customer base. Reaching out to customers regularly can help encourage customer loyalty, especially if you give them valuable information. 
Got a sale going on next month? Send your repeat customer candidates an email with a special promo offer to get an additional discount on their next purchase. 
Preparing for the holiday season? Send customers a personalized email to wish them happy holidays.
You can even send articles, videos, and helpful tutorials on recommended parts or accessories for their vehicle or what to consider during their next tune-up. Teach them why buying genuine OEM parts can be better than aftermarket parts. 
Creating a line of communication between your parts department and people who have bought parts keeps your business top of mind next time they need another part.
Incentivize Your Customers to Return
One way to get customers to come back is to incentivize them with sales, promos, and discounts. 
If you offer a customer rewards program or similar program, get them to sign up and use their rewards on purchases in the future. 
Showing customers that you care about the state of their wallet as much as their parts order is a great way to get them to come back and do business with you.
Use Packaging to Your Advantage
If you are shipping an order to a customer or having it delivered to their home or business, you'll probably have to pack it up. This is a great opportunity to use that packaging to your advantage. 
When your package is delivered, this is a rare moment when you will have your customer's complete and undivided attention. Use this moment to promote inventory, recommend similar parts and accessories, incentivize them to buy from you again, or give them a gift that will reinforce their positive view of your business.
Try adding one of the following items to your next package:

Ask For Feedback
When all else fails, get insights from your customers and ask them to give you feedback on their shopping experience. People like to know that their voices are being heard. If customers have problems during their shopping experience, you can offer them direct solutions. 
Whether through a survey or online reviews, getting customer feedback can help you determine what changes need to be made to make the buying process easier. 
Customers appreciate being listened to and are more likely to shop with you in the future because of it. Ask questions, listen to concerns, and learn how you can provide a better experience. 
Make Return Buyers Your # 1 Revenue Generator
Growing a strong base of loyal customers is the best way to secure your parts business. With the right tools in place, your parts department can become the number one source of repeat business at the dealership. 
Interested in learning more about how to drive repeat business in the parts department? Download our free guide, "Drive Customer Satisfaction For Your 3 Main Parts Customers," and learn how you can deliver quality service to different customer types at the parts counter and online.