Is your parts department struggling? It's time to rework your strategy. If your parts department is operating at slow speeds, low efficiency, and experiencing higher losses, here are five tips to help you manage your parts department more effectively. 
Price Parts Competitively 
Price point is important to your customers. Most customers think that ordering OEM parts directly from the dealership costs an arm and a leg. This causes them to go to start their search online and buy from aftermarket retailers to find the lowest price. While aftermarket retailers can price items extremely low, they can't ensure high quality. You can. 
When you sell your OEM parts online through your own branded web store or through a marketplace such as Amazon or eBay, you give customers searching online an opportunity to buy a reliable OEM part from your department. 
You don't have to price at the lowest possible cost, but you do have to price competitively. Show your customers that they're getting more value for their money while still being cost-effective. 
Want to find the best pricing structure for your department? Develop a pricing matrix that works best for your department. Use our example pricing matrix to help you determine the best competitive price you can offer your customers.
Join Forces with the Service Team
The best way to streamline your customer service experience is to join forces with your service department. Parts and Service departments need to work together to give customers the best experience possible. The parts department needs to anticipate what parts the service department will need. The service department needs to help the parts department maintain quality customer service. 
If your parts and service departments aren't on the same page, your customer satisfaction will suffer. 
Plus, when you work together with your service department, they can help you drive up parts sales while you help drive more business to their department. 
If you want to learn more about working together with other departments at your dealership, download the FREE guide on how to Sync Up Dealership Departments.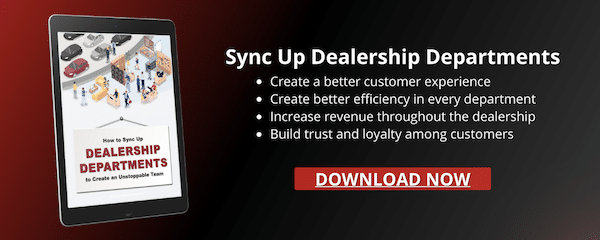 Master Your Inventory Management System
Keeping tabs on your inventory can be a nightmare. It all depends on how well you manage and document it. Using digital tools to help you better manage your parts inventory can help your department, but you need to have the right procedures in place to stay on top of it. 
As the Parts Manager, you need to anticipate what the service department needs long before they ask for it. Take a look at your inventory and then look at the parts that get requested the most. Make sure to have fast-moving parts in stock at all times. Have procedures in place to identify obsolete parts. That will help your department avoid errors. 
Above all, remember to analyze and understand your data. It's not enough to know your current inventory. You have to anticipate what parts you'll need in the future, especially for parts seasonality. Look at purchase history, past sales activity, existing stock, and demand. 
Prioritize Your Customer Service
If the service department is the bulk of customer service activity, why should your parts department be concerned about the quality of its customer service? Customers interact with every aspect of the dealership in some way, and the parts counter is no exception. If you can provide quality customer service to everyone who comes in, you can encourage customer loyalty. 
How can your parts department improve its customer service?
Be informative but don't waste time

Answer questions when they come up

Notify customers when orders are ready

Keep customers in the loop on parts arrival
Give Customers a Modern Buying Experience
Customers are looking for the best shopping experience, and many of them are shopping online. Online shopping allows customers to find what they need, order it, and get it shipped to their homes in a quick time frame. It's convenient and easy to use. Your parts department needs to do the same. 
How can you improve your online shopping experience for your customers?
Make it easy-to-use: they need to find and order parts fast

Offer fast or same-day delivery to local customers

Recommend products based on their shopping cart
Give your customers the best tools to get what they need with no hassle. 
Get Started With RevolutionParts
If you want to create a successful parts business you need to focus on strategies that will help you sell more parts, increase revenue, and improve customer experience. The best place to begin is with parts eCommerce. Schedule a free demo with a RevolutionParts expert to get started!